Parent's experience: starting home education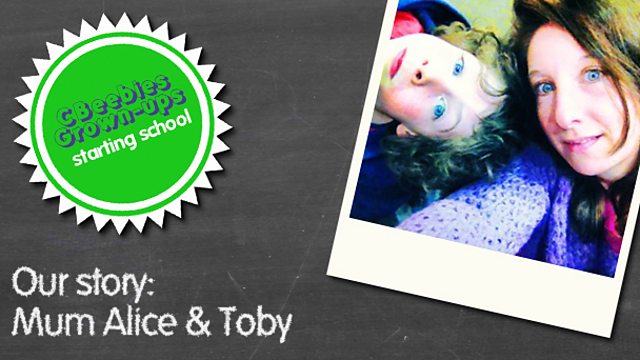 Mum Alice* talks to CBeebies Grown-ups about her experience of starting home education with her son Toby...
Can you tell us a little bit about you and your child
I'm a landlady and I also read tarot cards when time allows. I enjoy socialising, skiing, horse riding, reading, the theatre and I am currently self-learning to crochet. I've one 7 year old child, who I home educate (and one on the way). My son is mad into art, dance/drama, Minecraft, secret agent/spy things and riding his bike with his friends. He also loves live theatre productions. He is a competent swimmer as he started as a 5 week old.
Why did you choose to home educate?
I'd already chosen while pregnant that I wanted a home birth and through that I started reading various attachment parenting magazines. Home education featured in these and seemed to me like a great option. So whilst pregnant I already planned on home educating!
After my son arrived our bond seemed so strong that I couldn't think of sending him into day care, be that a nursery or a child minder. I wanted him to grow up in our home environment, rather than a care environment. When he was two years old I joined the local home education groups as all my friends were looking into nursery or preschool for their children. At the home education groups the style of parenting and education philosophy I saw sat right with my gut instincts. We've built good friendships and continued ever since!
Did you look around at other educational options?
No, not really. Through getting out and about whilst home educating, I'd seen school trips and really didn't like the way some school teachers treated and spoke to the children. I'd read about Steiner and Montessori approaches to education and liked their philosophies in general but not all of it. I still felt that these approaches involved having to learn things that the child may not be interested in or have a real passion for. Most schools are still split into specific age groups and I felt that children learned best when in mixed ages.
What did you do to prepare your child and yourself for starting to home educate – did you have to do a lot of research?
For me it was just a continuation of early education that every parent does with their child; helping then walk, talk, eat, etc! I followed my gut instincts with the lead of my child. By being part of the home education network I was constantly discussing home education and different educational approaches with other parents. I read various books by authors such as John Holt, John Gatto and Alfie Kohl as well as reading many magazine articles. It's been a continual process as my child grows. Life at home has just continued for my son, I haven't had to prepare him in any way to go anywhere. I have asked my son if he wants to go to school a number of times but it's always been a firm no. He has many friends who go to school and they all say they'd rather be home educated as school is boring! 
Did you have any worries about doing it? How have you overcome them?
No, life has been a continual process from a baby to a toddler to a child and has just evolved naturally. When I mention home education to other parents they often ask about exams and socialisation. Academic achievement through exams hasn't been a concern for me as I feel life experience and following your passions is more important than ten GCSEs. It doesn't mean that my son won't do exams but he'll be free to choose what he wants to do to fulfil his ambitions, currently he wants to be an actor in Star Wars so he goes to various drama and dance groups and is learning to read. He might need to take exams to go to drama school for example but he'll have the motivation to do that because he knows what goal he's aiming for. Socialisation is an interesting question but you need to consider how much of the school day is occupied sitting quietly with your age group with a short break time to socialise with children that aren't necessarily your friends. Through home education you make many friends of different ages through different avenues. For example, my son plays with friends on our street, meets people at home education groups, through swimming, dance, art, drama and woodwork classes and Beaver Scouts.
What has best the best thing about home educating?
Being able to go on day trips to various places like Lego Land, Alton Towers, National Trust properties, English Heritage, or museums where we get home education discounts. We can go on holidays or spontaneous day trips.
Our life is generally spontaneous as I follow my child's lead; for example, we might find caterpillars - so our day or part-day will be about caterpillars. We found some caterpillar eggs in the garden and currently we're watching them evolve into butterflies in an old fish tank!
How did your own experience of education compare with your child's experience?
I was lucky enough to go to a small private boarding school but my life was still timetabled like all schools with set times to eat, go to the toilet, study maths, etc. I had a lot of support at school as I was dyslexic and I feel that if I had gone to a bigger school I would have failed academically. I was really good at sports and excelled in that as it was my passion. I also enjoyed history as the teacher made it experiential - we'd go and visit historical buildings and then learn about the period in the context of what we'd seen. This really made sense to me and helped me learn. I'm still in the process of figuring out how best my son learns but I want to be able to tailor his education to suit him. At this stage he learns best from experience too so with home education we can follow that. If this changes as he gets older we can change too.
What do you know now that you wish you'd known when you started?
That socialisation needn't be a worry, in fact the opposite is true and I really need to make sure we have one home day a week. From September I'll be planning a home day every week as everyone needs some down time. We'll still need to walk the dog in the woods but we will also have time to dedicate to projects at home, family time and even just playing board games.
Also, that I don't need to worry about the future as children can't not learn. We don't need to necessarily put them on waiting lists for various activities as things will always become available and we don't want to race through their childhood. Their interests and passions change and life evolves.
Is there anything you'd do differently now?
Yes, wait. Play more, socialise less. Slow life down and allow time for just being.
I also feel that I should have delayed formal learning to read as my son wasn't ready for it when we started. He got the letters and sounds easily but the interest wasn't there. Now, a couple of years later, it's suddenly made sense to him and within a few weeks he's got it! The secret was following his passion - Minecraft. Some books appeared on the game, aimed at a few years older than my son, but given the motivation he started reading them and is now fluent.
Read about other parents' experiences of their children beginning education: 

Starting school: Beate & Lucas
Starting nursery: Emma & Fianna
Starting school with special needs: Chris & Harriet
Starting school - the teacher's story: Susan
Our interactive guides are packed with advice:

How will I copy with my child's first day at school?
Is my child emotionally ready for school?
Are you in a similar situation to our CBeebies parents? Join the chat on CBeebies Grown-ups Facebook or Twitter pages.
*names have been changed.