Gem's first CBeebies Christmas show
Gem from Swashbuckle is pretty excited about being in her first CBeebies Christmas show. We caught up with her to hear all about it...


What's it been like being in your first CBeebies Christmas show?
I've absolutely LOVED IT, I felt like I was living every child's dream, spending time with and working alongside such a variety of amazing CBeebies presenters and performers. I was very welcomed in to the CBeebies family and enjoyed every moment of it.

What character do you play?
I play one of Scrooge's office workers alongside Alex and Chris. Scrooge is very mean to us and makes us work in a very cold office and I really don't like the cold!

What did you most enjoy about being in the production?
I most enjoyed spending time with the cast as we all work on the same channel, but we don't usually get to work alongside each other, so it was great to hang out with old friends and make some new ones. It's funny, we all know OF each other, having seen everyone on TV, but we didn't all know each other until spending a week in Sheffield together!!

How did doing A CBeebies Christmas Carol differ from doing Swashbuckle?
There were a lot of similarities, I got to see two of my naughty pirates, watch a bit of slapstick fun and have lots of laughs, the only difference was that no-one had to walk the plank!!

What was it like performing alongside all the other Children's TV stars?
I learnt SO much!! It is really interesting seeing how people work, some people like to go over their lines a lot and rehearse with people in their scene even when they're not asked to, some like to sit around and have a good old chat, others have to take lots of phone calls and send emails...it's a real mixture. I just tried to cherish every moment and tried to actually get to know everyone and hopefully make some new long term friends!!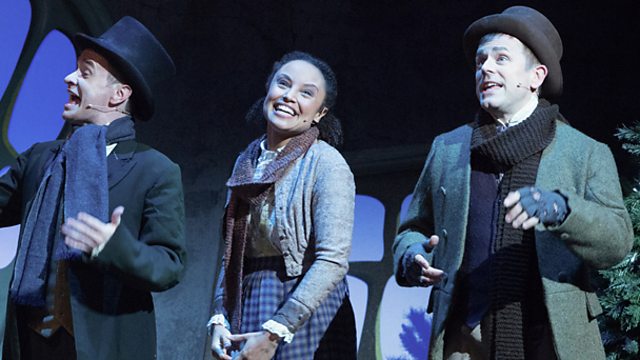 Any funny moments during filming? Did everyone remember their lines?
I laughed EVERY day whilst rehearsing and recording the show. There are so many great, talented people around and lots who made me giggle, like Alex – he often had me crying with laughter, as we rehearsed our song, he kept mispronouncing a word on purpose that just really tickled me!! There were moments when most of us forgot our lines or didn't quite hit our marks, but thankfully we did four performances to redeem ourselves!!

What do you think the audience will most enjoy about the Show?
They will LOVE seeing all of their favourite CBeebies characters in roles they haven't seen them in before. I'm sure it'll take some of them a brief moment to recognise us, but when they do I think they'll get swept away in the magic of the show. There are fantastic (and VERY catchy!) songs that they will sing along with and my naughty pirates do me proud by providing a lot to laugh at!!

How will you be spending Christmas this year?
I'm looking forward to spending time celebrating Jesus' birthday with my friends and family and preparing for my winter wedding which is happening early next year! Wishing you all a very happy and peaceful Christmas, may the new year bring you lots of love and laughter!! x

A CBeebies Christmas Carol will be on CBeebies on Friday 20th December at 4.45pm