The CBeebies website is changing...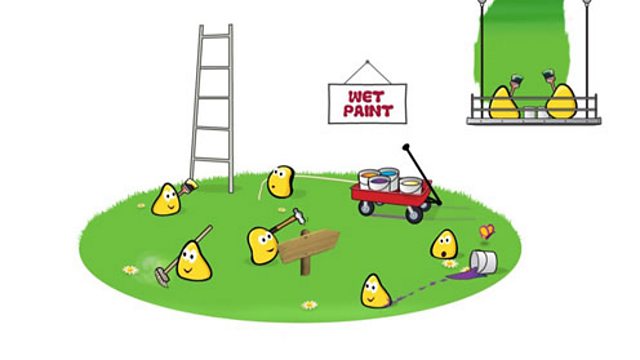 As a CBBC colleague once blogged, "Relaunching a children's website is a surprisingly perilous business." And he wasn't kidding.
With two CBeebies fans of my own I was honoured to be given this chance to give the CBeebies website world a makeover but then reality of the responsibility sets in - 1 million young children a week… the most loved BBC website… under 6s who can't read a blog or a press release… Not to mention my 6year old and 3year old will be very cross with Mummy if I break their site. Yikes!
So why have you changed it Mum?? Why? Why? Why?
As with all things, the web and technologies are continuously improving and changing. Change can be a sticky subject, particularly for kids. So I thought I'd start our journey by looking at some previous versions of the BBC's Children's website. CBeebies for the under 7s didn't become a channel until 2002 but the CBBC website was launched way back in 1998 and, as you can see, it was very different.
1998
In 1998 the under 7s were still included in the very yellow CBBC website. You can see that it is text heavy but we were beginning to think about different ways to deliver various types of games and shows.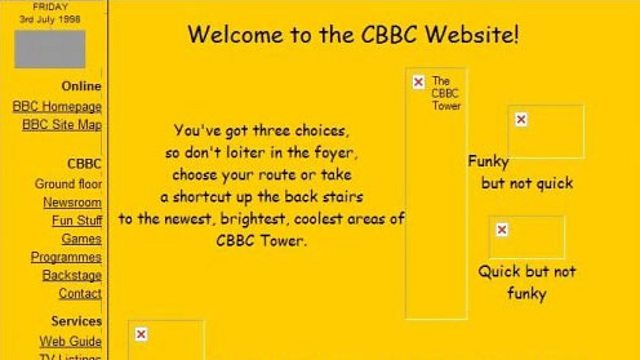 2002
I've searched the internet and our old broom cupboards to find this image of the first CBeebies website in 2002. It's beginning to look familiar - the yellow bugs have made an appearance as well as some classic shows we still have, such as Postman Pat, Pingu and of course the Teletubbies.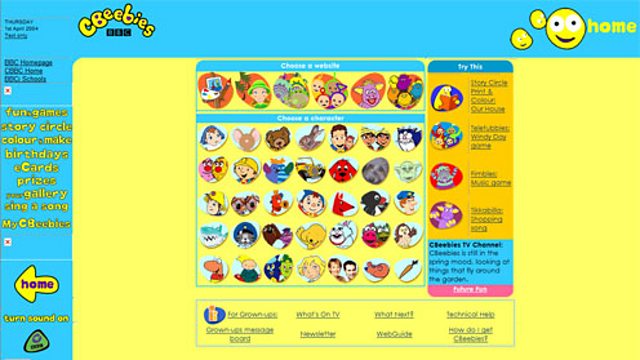 2007

In 2007, we're beginning to see CBeebies land with many of our loved shows skipping merrily through it. We can also see that the website is trying to cope with the breadth and volume of fun activities. In this site they've chosen a very grown-up menu that kids wouldn't be able to read.

5 years later with about 100 shows and up to 2000 fun activities, we are still struggling with this volume. More and more we see and hear that it is the child that who is exploring the site. Either by themselves or sat with a carer pointing at the screen.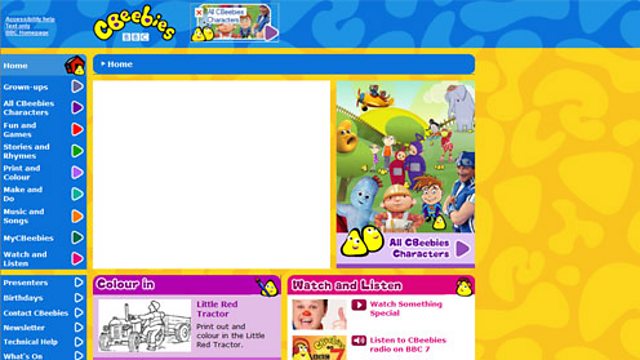 Now, this is very familiar! Except a few minor tweaks, this is very much the same site we've had since 2009. This much-loved variation of the website thought about giving kids the driving seat so they could recognise buttons and familiar images.

As with all things, life moves on. This 2009 site was a very good design that helped the child find their way around. Feedback and user testing over the years has told us that there are still areas we can tighten up on. In particular, helping the child get to their favourite page with fewer clicks of the mouse - or sticky finger swipes as it may now be.

Technology keeps evolving and so we also needed to build a site that moves on with it. We need a site that can keep up with the new gadgets coming out all the time - PCs, Macs, tablets, mobiles, IPTV (internet TV) and I'm sure many more are being invented as I type.
2012
So back to the present- in 2012 the decorating bugs are moving in.

Baby steps
This summer onwards will see a series of changes to the website. Rather than one big launch, we're trying to take it slowly so that the little ones can keep up. Thankfully our user testing has shown that kids explore sites a lot more boldly than we adults do. At their age they're used to being slightly lost and not knowing what's going on. Also, as we grown-ups know only too well - they're not frightened of breaking anything

We anticipate two big changes that your little ones may notice.
• A big in early summer that has taken the 2009 site and moved it across to a new wider screen. This is laying the path for future changes.
• Then for autumn we'll be taking this new site further by exploring what a newer brighter CBeebies land may look like.

How to explain the change to your little ones

We know that a few of your little ones may be upset about the change. It can be a confusing time but it can help if you stay upbeat about it and show them all the positives such as that all their old favourites are still there.

If they do get upset by the changes - perhaps you could spend a little time exploring the site together. We may try but we cannot shelter children from changes in life, but we can teach them how to handle it. Why not pretend to go on a voyage of discovery with them? Or, you could try to make it into a game with phrases like, "Let's see what happens if you press this button…" or maybe try hide and seek such as -"Where do you think your favourite game could be…". It may take a little time for them to find new routes to their favourite games but we're sure they'll get there.
Summer 2012

So watch out in the next week or so for our new site. We hope your little explorers will take a good look around and then dive into the new land to play with their old friends. As usual, that just leaves us grown-ups running after them trying to keep up.