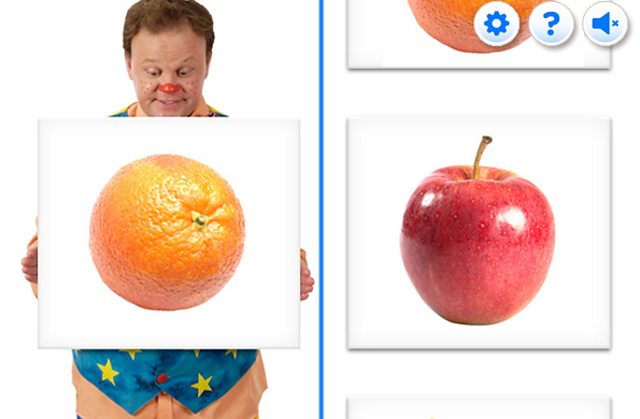 Now Something Special fans can play on the Tumble Tapp with 'Tumble Tapp Snap' - available on the CBeebies website
Mr Tumble's hi-tech gadget, The Tumble Tapp, was introduced to Something Special audiences last month - inspiring mixed reactions, ranging from "an 'i-Tumble'?...really?!" to "about time! is there an app we can download?"

So this week, as we launch its companion mobile game Tumble Tapp Snap, we thought it'd be good to write a blog explaining some of the background behind it…
So the big question is, what does Mr Tumble need a tablet for?

Whereas most of us have succumbed to relying on our mobiles throughout or daily lives, from waking us up in the morning to urgently tweeting about this week's Strictly costumes, it's understandable that we might expect a bit more restraint from a CBeebies legend such as Mr Tumble. Up until now, he didn't need hi-tech gadgets in his life, so what's changed? The answer to this lies in his audience…

Something Special appeals to a wide CBeebies audience, but especially to children with special educational needs (SEN). This audience is at the core of the show, and making changes to their beloved programme has to be a well-considered decision. While the Tumble Tapp is a bright, fun and modern prop for each episode, Mr Tumble's new gadget also parallels the increasing relevance of touch devices in children with SEN's lives…

The value of touch devices for Special Needs Users

Sometimes getting children with SEN to want to play can be a challenge, and if anyone can do this, we think Mr Tumble can!

While bright, noisy computer programs can provide great stimulation for children with SEN, for some children a mouse may require too much motor skill, and switch devices may be too indirect. The introduction of touch monitors has helped enable more users with SEN to interact with technology, but until recently, these were not readily portable, available or affordable. The development of tablet devices has changed this, and they are becoming increasingly relevant to children with SEN's day-to-day lives and classroom environments.

Now everyone can play on the Tumble Tapp…

Once Mr Tumble got his tablet, it seemed natural to make an online game that would allow children to play on their own Tumble Tapp - either on their desktop computer, or on a mobile device.

As an accompaniment to the brilliant, fully accessible Something Special: Out and About games, a Tumble Tapp game has a lot to live up to. (The development of Tumble Tapp Snap has involved lots of user testing with children with SEN, and consultation with special needs experts,) to produce an uncluttered, accessible matching game that can be tailored to suit the user…

Personalising the settings to suit your child…

So what about if one of the kids playing the game likes to match non-identical images, but another feels more comfortable matching identical images? Both of these are very important skills for building understanding and problem-solving but occur at different stages of cognitive development, so we've built a settings panel for adults, that lets them decide which type of matching game would best suit the child's needs and abilities. A similar function was used in the Something Special: Out and About games as a great way of empowering all children to play the same game, in their own way.
For Tumble Tapp Snap, we've expanded this to enable adults to change the way touch devices such as mobiles and tablets are handled - for instance, if the child doesn't possess the physical skills to swipe their hand across the tablet screen, they can switch to a version that only requires them to tap it.
For more information on the Settings panel, read all about it on our Grown-ups Tumble Tapp page, or check the game out for yourself on our mobile site.

A step in the right direction…

Our goal with this Tumble Tapp game has been to expand the ways in which all Something Special fans can engage with a much-loved character. By choosing to build the game in the new coding language called HTML5, we're able to make the game freely available on mobile devices via the CBeebies site, without players having to download or buy anything. This is no mean feat, and it's a continuing challenge to make the game work for everybody's mobile devices and fixing any little glitches - but as technology develops we plan for our games to develop too - in the meantime we hope that Tumble Tapp Snap is a good step forward…
Let us know what you think…
Building mobile games in HTML5 can be a tricky business - there's a lot of different handset types out there, all with different versions and operating systems. For this reason, when some people try this game for the first time they may encounter a few glitches. But fear not! We have some great HTML5 experts trying to do their best to fix any issues.

For this reason, we at CBeebies HQ are asking for anyone who experiences any problems to email us with the details so we can investigate.

Please include details on your handset, and any other information you might be able to provide such as screengrabs, and details of your operating system if you know it.

We'd be incredibly grateful for your feedback, as it will help us to build a great game that can be used by all!

Email us at cbeebies@bbc.co.uk, with the subject title: Tumble Tapp
Play Tumble Tapp Snap