Tee and Mo: Playing together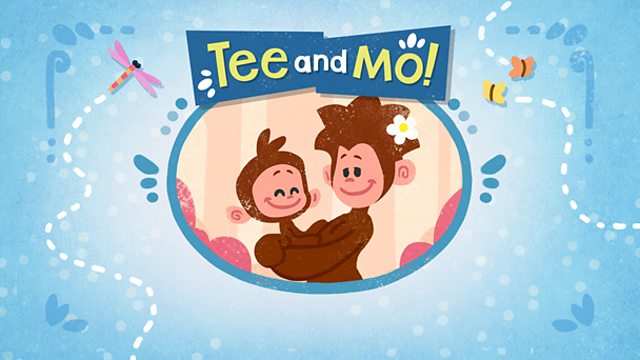 There's a brand new double act on CBeebies – Tee, an adorable little monkey, and Mo (his mum) – who get up to all kinds of adventures together. We chatted to the man behind Tee and Mo to find out more…
Hello, can you tell us a bit about yourself and your connection to Tee and Mo?
My name is Dominic Minns, I'm Plug-in Media's Creative Director and I – along with lots of other lovely people – created Tee and Mo, but I guess you could say it was my idea.
What was your inspiration for Tee and Mo?
I would say that my Mum was definitely an inspiration! I was the first-born in our family and I'm a boy, obviously, just like Tee. Mum has always spoken of that early time together as being incredibly formative and important. There's this idea that before you have children you think about the sort of parent you want to be, then your child turns up and has all their own ideas right from the start. Your child teaches you a lot about being a parent. 

It's arguably the most important relationship in our lives as it's the first, most influential relationship that most of us have. I find it fascinating that no-one has really looked at this relationship before in terms of a dual experience.
Why is Tee and Mo designed to be played by grown-up and child together?
There is sometimes a feeling that games are just for keeping children busy while parents get on with something else. Our research shows that these days people of all ages are playing games, especially on smartphones and tablets. We've found that parents are really interested in what their children are doing online, and keen to share the experience with them - so why not make a fun and meaningful experience that means you can play together?
What will children (and their parents) take from playing with Tee and Mo?
Tee and Mo is about emotional learning and understanding - but not in a preachy way. The story behind many of the games is that Tee, the child, wants to do one thing while Mo, the Mum, needs to do something else. They usually find that combining those agendas produces a quirkier, funnier result. So it's a little bit about seeing things from the other person's point of view, and about encouraging communication and imaginative play between parent and child – as opposed to; "I'm doing this, you're doing that, I'll see you at tea-time."
How have you found the process of bringing Tee and Mo to life? How long has it taken?
Bringing Tee and Mo to life has taken about two and half years to date, and I've enjoyed it immensely. It's been a very steep learning curve to develop the characters to the point where they're able to properly illustrate their relationship in a meaningful way, whilst remaining funny and fun. For example, we started out with some lovely character designs but they've had to evolve hugely throughout the project to facilitate the increasingly complex range of emotions we've needed to show. So it's been challenging, educational, really fun and exciting, but I don't think it could have happened any quicker!

Visit the Tee and Mo webpage