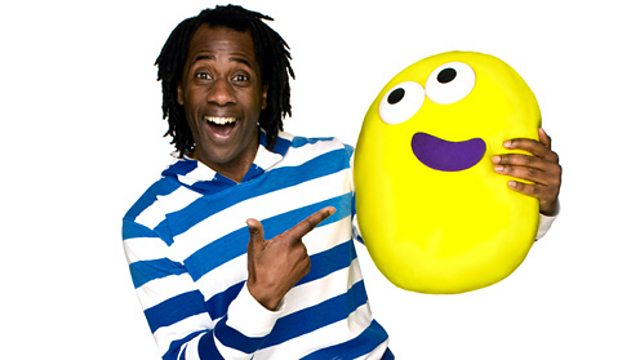 Sid
He's been with us since the very beginning of the CBeebies channel, but Sid is saying goodbye to life as a presenter in the CBeebies House this week (don't worry, you can still see him in Let's Play!). We caught up with Sid for a quick trip down memory lane…
You've been on CBeebies for more than a decade, but can you remember how you felt on your very first day?
Well, it was a long time ago, but I can remember that there were a lot of nerves about! But there was so much to think about, there was no point getting too worried. I was quite lucky, though, because I was sort of led into it. We had about a week to get to know the producers and directors, and there was a photoshoot with the other presenters before we started, so by the time I actually got into the studio I'd been gently brought into it and I was quite comfortable.
What I did recognise right from when I had the first audition was that if I was going to make this job work for me, I needed to be myself – so my focus for probably the first two years or so was 'am I being myself?' But then, of course, when you're working in children's television, and you're saying to yourself 'just be yourself….and look at the camera, and hold up the thing, and say that, and sing this….', you do start to wonder who you really are!
How has life in the CBeebies House changed over the years?
It's changed quite a lot! It's nice because I've been around to see every change. For instance, originally we recorded lots of links together as a team of presenters, then we began recording more on our own, so that gave me a whole different kind of experience.
Then when we brought in the zones, I had my own zone with lots of running around. Actually, that's one thing that's changed a lot – I do a lot less running around these days. Much less crazy boy and much more considered.
We still do little challenges though – like today I was recording a link where I had to throw little hoops over an anchor, and I still really want to win when we do things like that. Obviously we can't keep doing take after take, so I have to get a good score straight away!
What's the most bizarre thing you've had to dress up as?
Well, nowadays it's just about responding to any given situation and circumstance, so it doesn't really matter what I have to wear. But that didn't come until maybe a year into the job, so at the beginning someone would say 'put that box on and pretend to be a train,' and I'd be like, okaaay, well, I'll give it a go…. For me, back then, that simple thing was bizarre. Of course, now I've got a whole theatre show where a cardboard box is the main feature and it turns into all sorts of things, but ten years ago, doing that felt really strange.
Generally, though, I love it. This job has given me a love of dressing up and I never knew it could be so much fun. Especially doing Let's Play, I was living out all my childhood fantasies really – it's proper dressing up with costumes and moustaches and so on, and that's something I asked for – real costumes!
What did you want to be when you were little?
I wanted to be a footballer! Then the only other time I ever really seriously wanted to be something was in my late teens, when I wanted to be a firefighter. I actually went up for the job. I took all the tests and passed everything, apart from the eye test. I really didn't expect that to happen. I was really looking forward to it, but I have covered being a fire chief and a whole football team so far in Let's Play, so I've done it all in a way.
Do you have a favourite number rap?
Obviously the last raps 16-20 have all been words ending in 'teen', so that's made them more difficult to write. One to five were just brilliant though! I remember reading a review where a music critic had done a spoof album review of them, it was so funny!
What are you proudest of about your time as a CBeebies presenter?
Partly just staying for as long as I have – and also that I've maintained being myself. The feedback from the audience has always been great and I'm only leaving now because I want to so, whatever I've been doing, it must have been right…