Eric Carle answers your questions for World Book Day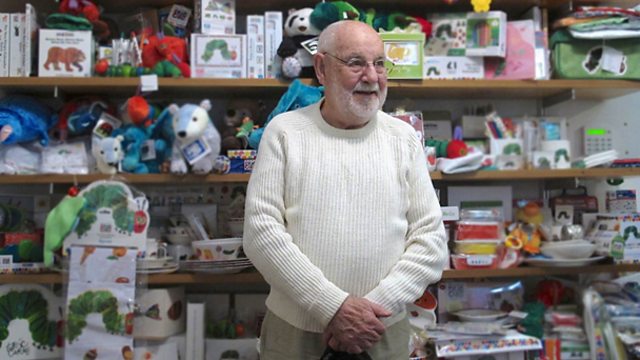 Children's author and illustrator Eric Carle
Thursday 6th March is World Book Day 2014, and to celebrate we were lucky enough to get the chance to put your questions to children's author and illustrator Eric Carle - creator of the much-loved classic The Very Hungry Caterpillar, which is celebrating its 45th birthday this year, and many more.
Here are Eric's answers to the questions suggested by our social media community...
'Have you ever thought about writing a sequel to The Very Hungry Caterpillar?'

I've been asked this question before and I have thought about it but so far I've done more "thinking" than "doing."
'How did you decide what food to give the caterpillar on Saturday?'
The Very Hungry Caterpillar who eats cherry pie and lollipops, is not one you would find in field guides, and is partially a product of my imagination. This is true for many of my characters. While I strive for a certain level of scientific accuracy in my books, I also allow for my own creative interpretation to emerge so as to create pictures that are pleasing and well-designed and entertaining.
How do you begin the writing process – do you visualise the pictures as you write or at a later stage?

To me, pictures need writing and writing needs pictures. A child once called me a 'picture writer', and that's a good way to describe me. It is the idea that comes first.
'What was your favourite book when you were little?'

I didn't have many books as a child, but I have very fond memories of sitting on my father's lap while he read the Sunday Funny pages to me. I enjoyed Mickey Mouse and Flash Gordon. But it is the closeness with my father, the connection we shared that made the most lasting impact. I feel strongly that by taking your child onto your lap, holding them close while you read to them, letting them know by this simple act that you care for them, have time for them and love them. Then sharing a book becomes more than pages with words and pictures.
'What inspires your stories?'
I am inspired by nature. I have always loved animals and insects and my father used to take me out into the woods when I was a very small child. He would peel back the bark of a tree and show me the creatures who lived there. Little crawly things. But inspiration and ideas for books can come from all kinds of places. Dreams, memories.
From Ailsa aged 4: 'Please tell us a joke'

This is a funny story, rather than a joke, but I hope you will enjoy it. I have been sent many gems, letters and drawings from children around the world. One of my favourite letters was from a reader who told me, I believe he was writing from Texas, that he wanted to come and visit me but he wasn't allowed to cross the street!
'Do you have a favourite out of all your books? Why?'
Do You Want to be My Friend? is my favourite book because it is about friendship, which is very important to children.
'How long did it take you to create the Very Hungry Caterpillar? Were you surprised that it was so popular?'
One day I was punching holes with a hole puncher into a stack of paper, and I thought of a bookworm and so I created a story called A Week with Willi the Worm. Then later my editor, who didn't like the idea of a worm, suggested a caterpillar and I said "Butterfly!" And the rest is history. The actual artwork did not take very long for this book.
When people ask me about the popularity of my work, I tell them honestly, I don't know the determining factor for The Very Hungry Caterpillar. I believe most children can identify with the helpless, small, insignificant caterpillar, and they rejoice with it when it turns into a beautiful butterfly. I think it's a message of HOPE. It says: I too can grow up. I too can unfold my wings (my talent) and fly into the world. This is a universal concern that children have: Will I grow up? Will I be able to function as an adult?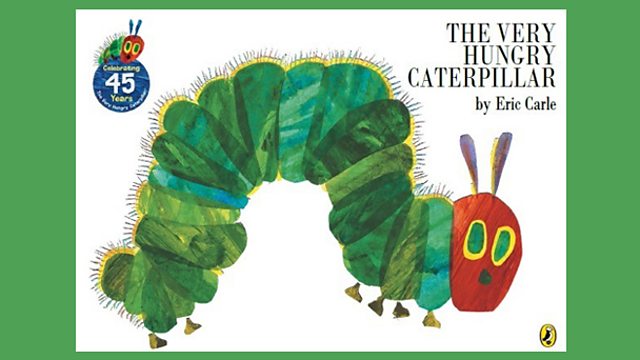 'I've really enjoyed reading "Slowly, Slowly, Slowly," Said the Sloth in particular the 'About the Sloth' foreword by Jane Goodall. Are there any other or will there be any foreword collaborations with experts in their field about animals/habitats in your books?'
I have great admiration for the level of expertise of Jane Goodall and other friends who have a particular focus in their work and who I have been fortunate to collaborate with in the past. But over time, I have realized that with my books I enjoy working on both story and illustration. That just seems to ring more truly to my creative expression.
Read more author interviews on CBeebies Grown-ups:
Jean Adamson
Mairi Hedderwick
Shirley Hughes
Giles Andreae
Anthony Browne