World Book Day 2013: Giles Andreae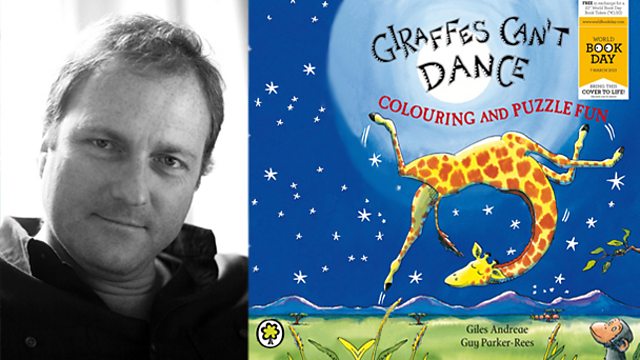 Giles Andreae, author of one of the 2013 World Book Day stories 'Giraffes Can't Dance'.
We chatted to Giles Andreae, author of one of the 2013 World Book Day stories (and CBeebies bedtime story) 'Giraffes Can't Dance' about books, reading and, of course, dancing...
What made you want to get involved with World Book Day?
It's an extraordinarily good way of getting books in front of so many children, which contributes directly to their ability to engage with the written word.
Your book 'Giraffes Can't Dance' is one of the books included in the World Book Day line up – what gave you the idea to write this book?
I saw giraffes galloping in Africa and was struck by how gracefully they moved despite their long and gangly limbs. It got me thinking how we call all do things that people don't necessarily expect us to be able to. We just need to find what it is that moves us.

Can you dance?
If you were to ask me - yes! If you were to ask my daughter - absolutely NOT!

Why do you think reading is important for young children?
 The written word is at the absolute basis of almost everything we do as we grow into adults. Being able to read well is fundamental to our ability to succeed in life.

What advice would you give to parents to get their children enthusiastic about reading?
 Share books with them. Read aloud with passion, with drama and excitement. Do the voices… have fun!

Were there any books you read as a child that inspired you to start writing? 
'Yertle the Turtle' by Dr Seuss was a big influence of mine. I'm astonished by how he can convey such deep messages in such a light, humorous and playful way.

Where do you get your main inspiration to write new books?
 Often from some throwaway remark that one of my children has said.

What would you say has been your secret of becoming a successful author?
 I'm lucky enough to be able to write rhyme fairly naturally. Making a successful book that rhymes can often capture the ear, and the imagination, of children.

What do you most enjoy about writing books for children?
I love reading my books aloud to children - particularly the funny ones. It's very gratifying to hear them laugh and enjoy the words that you have written.

Do you have a favourite book you read to your own children?
 I love the Nicholas books by Rene Goscinny. They are utterly charming and appeal to a very wide age range. They're great for family reading.

What makes a good bedtime story?
 Playfulness and an element of reassurance. You want your child to go to bed comforted and happy.
If you had to dress up as a book character for World Book Day, who would you be and why?
 Nat Fantastic from 'Nat Fantastic and the Brave Knights of Old'. I'd get a sword, armour, a helmet, a magic cape. What's not to like!