Show Me Show Me: A New Series!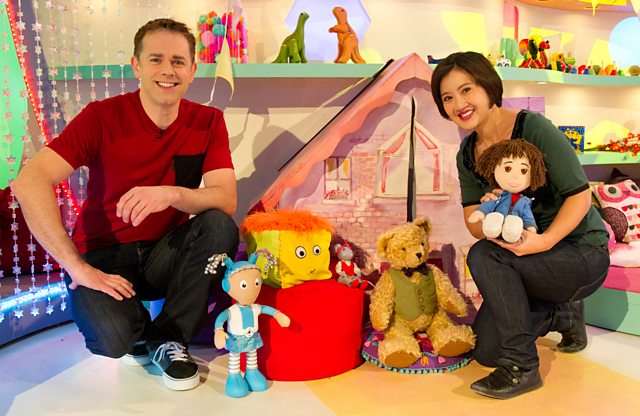 Chris and Pui on the Show Me Show Me set with the toys
CBeebies caught up with Chris Jarvis to ask him all about the brand new series of Show Me Show Me... 
When does the new series start?
'Show Me Show Me' is back on CBeebies next Monday 4th March. Please catch us at 10:30 and, if you couldn't believe what you saw, you can experience the whole show again at 2:30pm!
What can we expect from series 4?
Series 4 of 'Show Me Show Me' is still set in the playroom in the sky on the 10th floor of our tower block full of animals. Passing monkeys, giraffes and snakes, you'll arrive at our level where we have worms wriggling waving "hello!" Our neighbours tend to keep themselves to themselves - a bit of a relief in regard to the jellyfish and tigers. Apart from the worms, we are animal-free on floor 10. However in this series we are lucky to have some furry guests joining us - some gorgeous kittens who loved playing up to the camera, so cute! 
Did you and Pui write it?
We wrote a few episodes and all the sketches but we are very much part of a big team who write, edit, direct and produce the series. 
Are there any new characters?
Yes! We have six shiny new characters popping in to see us:
Michelle from 'She sells sea shells on the seashore', Old King Cole, Hickory Dickory, Rapunzel, Horsey Horsey and, my new favourite, Old MacDonald.
Why did you want to change them for this series?
Well our Producer, Adam, wanted to explore more Nursery Rhymes and the result is the six new characters. It really refreshed the programme without changing the feel or format. There are a few other subtle changes that kept us on our toes.
 Do you have a new favourite character?
Old MacDonald is played by Pui (of course!) and is hilarious.
He bursts out of the lift driving a tractor complete with trailer then wreaks havoc, knocking things flying and inadvertently setting his animals free.   
Will you still be showing us your groovy moves?
Yes, and I really hope everyone will join in too. Although it's the simplest part of the show and quite literally a quick game of 'Musical Statues', it's one of the most popular moments in the CBeebies day. It's lovely to hear so many people – young and old – join in. Every time I'm in the supermarket, I have this overwhelming urge to stop the muzak and shout over the tannoy "Freeze!"  
Are there any new songs?
There are new songs and some old favourites too. There's an episode all about postmen in which I loved singing "Mr Postman" made famous by the Beatles and the Carpenters – what a great number!
We've heard a rumour that Spots and Stripes the socks have got a new home, what's it like?
Yes! Although in the programme we have no idea the socks exist, I can exclusively reveal 'Spots' and 'Stripes' have a new place to hang out; it's called the 'Clonky Wonky Shelf'. This crazy piece of furniture has a haphazard arrangement of blocks, dominos, balls, slides, toy trucks, pieces of railtrack...you get the picture! With one helpful nudge from a sock puppet, a wonderful 'chain of reaction' ensues. I do hope you enjoy the results!
This series will include the 100th episode of Show Me Show Me – congratulations! After so many adventures in the Playroom, what's your favourite thing about the programme?
I can quite honestly say ALL of it! As a lover of Variety entertainment, it's a joy to work on a show that involves singing, dancing, acting, comedy, rhymes… even working with animals!
 Finally, any funny moments while filming this series?
Old MacDonald really tickled me. Due to the nature of the programme and the high cost of making television, most of what you see is filmed "as live" and unless something seriously goes wrong, we don't go for re-takes. However, Old MacDonald is such a bonkers character, it was necessary to re-record some of it due to excess giggling.     
I hope you'll find some of it funny ;)