Show Me Show Me Seaside Summer Special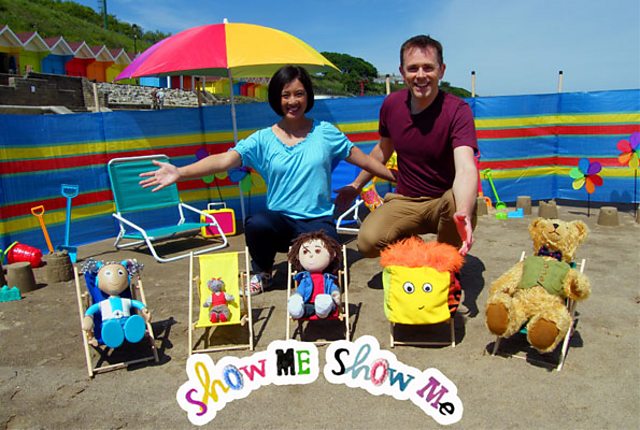 Chris, Pui and the toys on the beach in Scarborough
Hi there, Chris J here... reporting from a few days in sunny Scarborough. Well it was sunny for the first day, the last two were a bit soggy, but who cares when you're at the seaside and the cafe near to where you're staying does great fish and chips!
It was my first visit to Scarborough and I was mightily impressed with the place - and the people there. Thanks if you came by and said hello!
The first day of filming was incredible - gorgeous blue skies and sunshine all day. We took advantage of this and (having read the forecast), pressed on until late evening. We checked out the rock pools and found a small jelly fish, a mother crab and baby crab.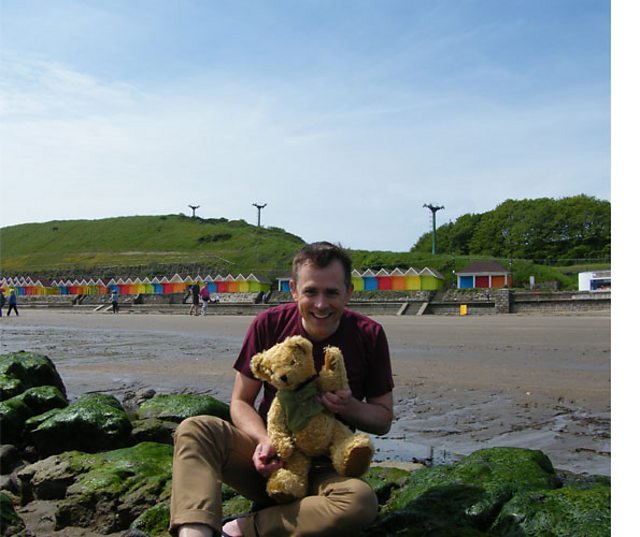 Teddington and Chris explore the rock pools...
When the rain really did pelt down, it was amazing just how many people still came down to the beach undeterred. Yes, you may want to wear a warmer jacket, but if you're 4 years old, it really doesn't matter!
The highlight of the shoot was seeing the Grand Old Duke of York marching along the prom without a care in the world. Even though the rain was pelting down, our brave old soldier carried on - not once allowing the weather to bring him down (nor up, nor half way up nor down).
It was around then that another celebrity joined us for a few seconds on the beach - John Barrowman happened to be in town doing a show, so ran onto the beach for a quick showbiz hello!
Oh I do hope you like the results of our time beside the seaside, beside the sea. It was a scream to do, thanks to a fantastic team. It was also very interesting taking 'Show Me Show Me' away on location. Until now we've only appeared on the 10th floor of the tower in the playroom in the sky, so I do hope you enjoy it in its special Seaside form.
There's loads of familiar stuff... groovy moves, wriggling worms, songs, rhymes and, of course, the toys - Stuffy, Tom, Momo, Miss Mouse and Teddington came along for the ride too.
Have a really good summer - and hopefully this will put you in the mood for exploring the great British seaside!
Chris
You can watch the Show Me Show Me seaside specials on weekdays from Monday 30th July at 10.05 (repeated at 2.05) and at 11.00 on Saturday 4th August.