New challenges for Chuggington's trainees!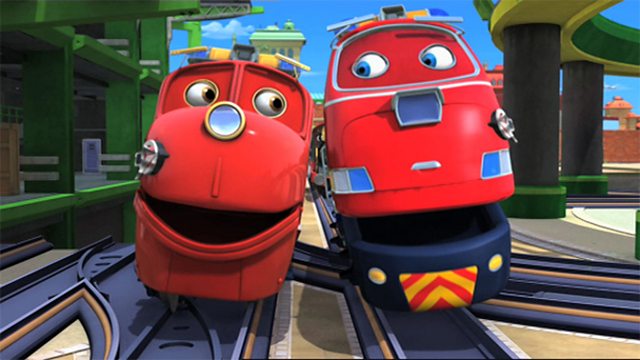 Chuggington returns to CBeebies next week, with new jobs and new challenges for some of our favourite characters. We caught up with Sarah Ball, Chuggington's director and head writer, to find out more… 

We hear that some of the characters have been embracing new challenges in this series…? 

Indeed - our three trainees, Wilson, Brewster and Koko - are moving up to more advanced training this series: Wilson will be part of the Chug Patrol rescue squad, Brewster joins the Chuggineers – a construction and engineering crew – and Koko learns with Speed Fleet, the fastest passenger trains. Little ones can see them all get their new roles in a special half hour show on Bank Holiday Monday!

What do you think little ones will take from the new series? 

Hopefully, children will be able to relate to the idea of the trainees "moving up" - it's just like going to a new school or a new class with different teachers and fresh challenges. The trainees will be stretched, but they'll have loads of fun and make lots of new friends as they learn. As always, the series has at its core the themes of teamwork, learning by doing, patience, perseverance, friendship, honesty and loyalty. 

What do grown-ups need to know about this series? 

We've really taken Chuggington up a gear for this new series. The adventures are more action-packed and exciting, there's a whole crew of new characters to meet, and brand new destinations to explore. 
As usual, we have fantastic voice talent – listen out for Fletch played by Joe Sims (Broadchurch; Casualty), Mtambo played by David Gyasi (Cloud Atlas; Dark Knight Rises; Dr Who), Emery played by Jordan Clarke (better known as JJ from Luminites, Britain's Got Talent finalists), Eddie played by Sacha Dhawan (Last Tango in Halifax) and returning guest artists Floella Benjamin as the Mayor of Chuggington and Warren Clarke as Speedy. 
Are there any new faces we should be looking out for?
Lots! There's Jackman, the heroic chief of Chug Patrol, who's responsible for Wilson's training. Then there are the Chuggineers - Zack, Tyne and Fletch - who are highly skilled at track laying and engineering. Zack is their foreman and he will take Brewster under his fender. Meanwhile, Hanzo, the fastest chugger in Chuggington, will mentor Koko. She'll have a lot to learn from him at the Chug-A-Sonic speed track where they practise together.  
Do you have a favourite moment from the series?
It would be hard to choose one – there are so many exciting moments! I am very proud of the opening episode "Chug Patrol: Rescue at Rocky Ridge", though, as I think it really sets up the new series well, showing the dynamic direction we've taken with action, adventure and storytelling.
 
Chug Patrol: Rescue at Rocky Ridge is on CBeebies this Bank Holiday Monday (26th August) at 5pm.

Visit the Chuggington webpage