Get set, grow: ideas for gardening with children
CBeebies mum and gardener Antonia has some top tips for growing things with your little one…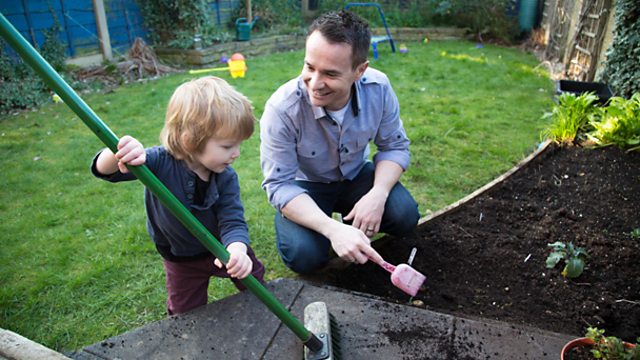 Children love watching new life spring from a tiny seed – it's like discovering that everyday magic really does exist. As grown-ups, there's plenty we can do to make gardening fun and rewarding for even the littlest or most reluctant helper!
Very young children will love helping to water the plants, harvest peas, or even join in with dead-heading flowers. Older ones can manage a wider variety of tasks such as digging, carrying, planting or mulching. Child-sized tools, colourful buckets or watering cans are a great way to encourage independence, as well as showing your child that this is their job, and that they're trusted.
You don't need a large garden or allotment in order for your family to enjoy gardening - anything from indoor window boxes or tubs or even an old sandpit can become a growing space. It doesn't need to be expensive either - egg boxes make perfect, compostable pots to grow seeds in, and empty toilet roll tubes can be used to grow good long roots on things like runner beans.
Here are my top five tips for gardening with children: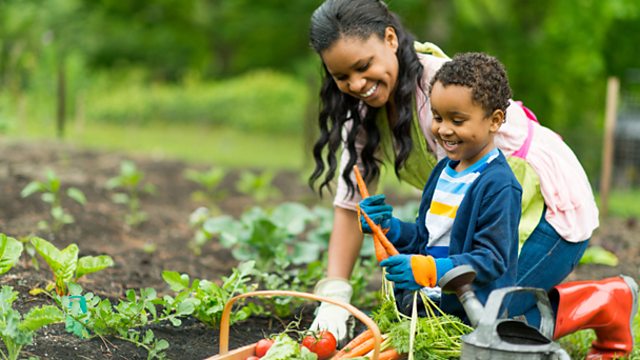 1. Get your scruff on...
Gardening with children is always fun, but not necessarily always productive. Let go of any ideas of perfection, put on your old clothes and embrace the mess. Encourage your children to explore and get dirty!
2. Recycle and re-use...
Gardeners pride themselves on their make-do-and-mend mentality. No expensive watering can? Simply repeatedly pierce the cap of a plastic milk bottle to create your own - perfect for gently watering seedlings. Old clothes and a broom handle can be turned into a homemade scarecrow, while banana peels wrapped around your tomato plants before they go into their final growing spots provide a potassium-rich feed for free. Cut-off tops from plastic bottles placed over baby lettuces are perfect for protecting them from slugs, and old photo albums are ideal for storing seed packets.
3. Don't forget to have fun...
Time spent outside shouldn't all be hard work - whether you're in your own back yard, on the balcony or in a community garden or park, make the most of outdoor fun too. Build dens, make a wildlife scrapbook or go on a minibeast hunt together, or get grubby and make some mud pies with your little ones.
4. I will never, not ever eat a tomato...
There's something about growing their own food from seed to plate that makes even the most reluctant child much more willing to try veggies - raising some tomatoes or baby carrots might be just the encouragement your little one needs.
5. Let your child be 'in charge'...
Make gardening a child-led activity, with lots of talk together - what would they like to grow? What are their favourite coloured flowers? What could we eat? If children feel that they have a say, they're more likely to stay interested and gain more from their early gardening experiences. You can help make sure that they taste success by including some proven garden winners in your planting - sunflowers and marigolds are really easy to grow, and radishes will go from seed to plate in a speedy 25 days. With a bit of foresight and planning, you can make sure that children's first growing experiences are happy ones.
More gardening ideas from CBeebies Grown-ups