Parent's experience: starting school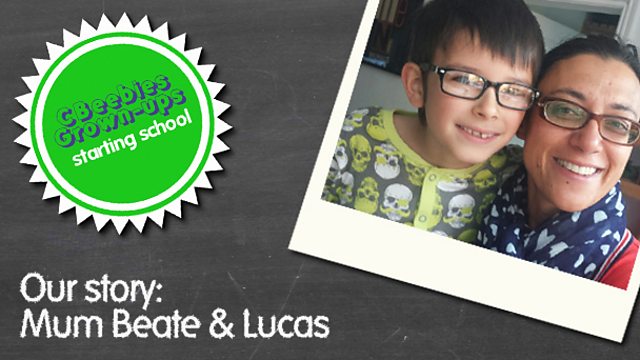 Mum Beate talks to CBeebies Grown-ups about her experience of her son Lucas starting Reception…
Can you tell us a little bit about you and your child?
Lucas is now six years old and about to start year 2. He has loved going to school, most of the time. Like any family we have lots of things we like to do together like riding our bikes, swimming and watching films. We love to bake and hang out at home too. Lucas loves music and enjoys djing and dancing. We are always up for a dance in our house! I work part time for a charity as their legal officer.
Can you remember how you were feeling on their first day – what happened?
I was more nervous than Lucas! It is a big thing handing your child over to others to care for and nurture and 4/5 years old is really very young! Or it seems to be. It was hard not to be emotional getting him ready… there is a moment when your heart stops as they stand there in their uniform… grown up but still so much 'your baby'. Looking back it was great to experience those emotions as it as much a rite of passage for you as it is for them… as ever the focus is on them but there is a lot going on for the parents too. I did have a proper cry when it was all done and he was there on his own… 'without me'. I found out later that many parents did the same.
Why did you choose the school that you did?
Proximity and green spaces as well as a good reputation were all key factors. It mattered that we stayed within our community as we anticipated that as friendships grew we would benefit from being close to those new friends and that has proven to be the case. Nipping to a mates after school is as much of a joy for Lucas as it was for me as a child. I should say that the Intake is 90 in Lucas's year which splits into 3 classes. That's a lot of kids. That was not our choice but it comes with city living.
Did you do anything to prepare your child for starting school?
Lucas had been with a child minder for a number of years and the work she did to prepare him for the big step to school was invaluable… sometimes it is helpful if others do some of the ground work about things that are changing. It might just be us and our son but he certainly listened well to his grandparents, friends and his child minder as they chatted about their own experiences of going to school, what their uniform was like, how much fun it is to meet new people. I do remember that Lucas had a view of school being fun and exciting in terms of what new stuff he could do there and learn there. We had to do very little by way of preparation and it was only in the last week before term began that we mentioned it again. Lucas took it in his stride as though… 'oh yeah that school thing is starting'. That is not to say that he did not have some wobbles, he did. We felt that if we talked about it a lot it might build in his mind to something hugely significant and we did not want it to be.
How did your child settle in?
He settled really well. He did not cry in the early weeks but was emotional on parting at times. The school took a gentle approach and there was time to hang out at drop off, see what was going on and we as parents knew that we could call if we needed to….of course I did! It was great to see Lucas accept all the new things that went with the day. Like where to hang coats, where to sit on the mat… lots of practical things that as adults we would not think much of but which are, to a child, really significant. How the toilets worked, how to get help if anything went wrong, who was peaking over the top, were topics of conversation at tea time…There were times when he was sad to see me go and needed reassurance that I would be back 'at 3' to pick him up. One excellent trick that a teacher gave me during a phase, much later on in the second term, when Lucas was more clingy, was to let him push me out of the door…. in a 'get going mummy' kind of way.
What has best the best thing about them starting school?
By far it is knowledge and the thirst for it that school has unleashed. We said to him that once he was at school there would be so much that he would know that he might not be able to keep it all in his head. That approach was not calculated but it struck a chord with Lucas and he has never stopped seeking more information… thank goodness for the internet…. how did our parents manage! It is also his confidence and his ability to socialise with a wide range of people that have been enhanced and developed. 
What were you most worried about when your child started school – Has this turned out to be a genuine concern?
I was worried that he would not fit in, not make friends and not enjoy learning. None of these have proven to be true! I was worried that the time away from us would change him and that the influence of other children and his playground experiences would affect him too. Some of this has happened but you realise that it is 'all good learning' and we have been fortunate to have an excellent and responsive teaching staff at our school who are very approachable and take everything seriously.
How did your own experience of education compare with their experience?
I loved school from the very beginning till the end. There were of course ups and downs but my vivid memories are of being cared for, valued and allowed to express myself. I learnt well and have some great tales to tell Lucas about when I kept getting one sum wrong and went from being the first to 'solve' it to being the last… he loves that story… 'silly mummy… rushing and getting it wrong… how many times did you get it wrong?...' When we looked back over his school work this year and I could see some similar comments about him needing to take his time, it was good to be able to share that common trait and talk about what to do to slow down and check your work. Getting things right has become important but not so important that he agonises over mistakes…. he learns, just like we all did and still do.
What do you know now that you wish you'd known then?
I know now that the school is caring and responsive. I had no idea how important it would be to see that in action. Early on when I had left a teary Lucas I called the school, the receptionist thought nothing of checking in on him. She reported in a genuinely happy way that he was fine and playing away. There was no sense of it being a bother or something that only a neurotic parent would do and could I please pull myself together, quite the opposite. It was a good experience to have and gave me real confidence and comfort. Being able to catch up with the teachers at the end of the day is not something I knew would be possible and it was and I so valued that. It meant that even if Lucas was not forthcoming about the day I had some idea from his teacher about what had gone on. Let's face it gathering information out of a youngster can be hit and miss. Lucas also liked to see me chatting to his teachers. It gave him confidence that we clearly got on. I must note here that when I say teacher I often mean the teaching assistant who, in my experience, have as much, input and knowledge about your child as the individual who is formally in charge of the class. I have also learnt to be led by my son's friendships and see where they take us. He has made some excellent choices in his new friends and we as parents have had new friendships to make too!
Is there anything you'd do differently now?
Hard to say. We are tremendously lucky to have a great school nearby. I might see the sobbing on the first day as less of a weakness and more as part of my own journey as a mother. I might not have down played the start of school as much and given him a bit more than a week to adjust to the end of the golden holidays. Now that we are locked into the 'school year' I do make an effort to let him know how many more weeks we have before us so that every day is a treat. I would be more accepting of the days when it was just not easy for Lucas to be left and not see it as a challenge or something that he should have become used to. For some children the realisation comes quickly that this is it for 5 days out of 7, for others it takes a while to sink in and that was the case with Lucas. When it did finally click he was in the second term and he was truly sad to have to stay 'for the whole day'. We got through it with support from the teachers, lots of hugs and a hefty push out of the door at the teacher's suggestion.
Read about other parents' experiences of their children beginning education...
Starting nursery: Emma & Fianna
Starting home education: Alice & Toby
Starting school with special needs: Chris & Harriet
Starting school - the teacher's story: Susan

Our interactive guides are packed with advice:
How will I cope with my child's first day at school?
Is my child emotionally ready for school?
Are you in a similar situation to our CBeebies parents? Join the chat on CBeebies Grown-ups Facebook or Twitter pages.