Christmas is fast approaching and here at CBeebies, our little Christmas elves have been very busy, lovingly putting together a massive sleigh-full of festive shows and treats to make this a truly magical Christmas for your little ones to enjoy.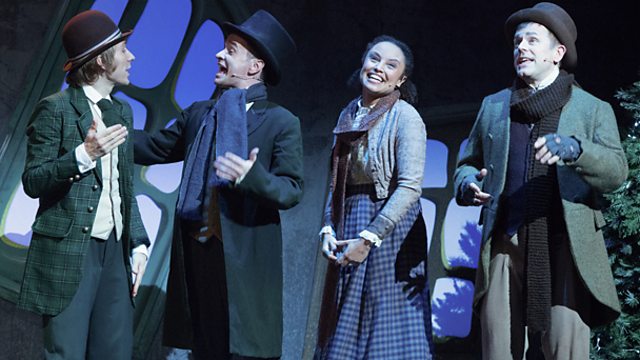 A CBeebies Christmas Carol
 The highlight of the CBeebies festive schedule is always the CBeebies Christmas Pantomime. This year we're breaking new ground for CBeebies and bringing Dickens to pre-schoolers with a special Christmas show, 'A CBeebies Christmas Carol' on 20th December! This musical version of A Christmas Carol has been specially adapted for the CBeebies audience and sees Andy take on the role of the mean and miserly Ebenezer Scrooge who needs a bit of CBeebies magic to help him learn to care for those around him and share in the joy of Christmas! For the first time ever the Christmas show will also be available as an interactive ebook to download for free to your tablet.
'Mouse and Mole at Christmas Time' (Monday 16th December) is a special one-off treat written by Joyce Dunbar which some grown-up viewers might recognise from their own childhoods! This wonderfully nostalgic festive film has been voiced by three of the country's best-loved actors. Richard Briers and Alan Bennett play the key roles of Mouse and Mole, and Imelda Staunton plays a meddling shrew, who wreaks havoc in their normally peaceful home.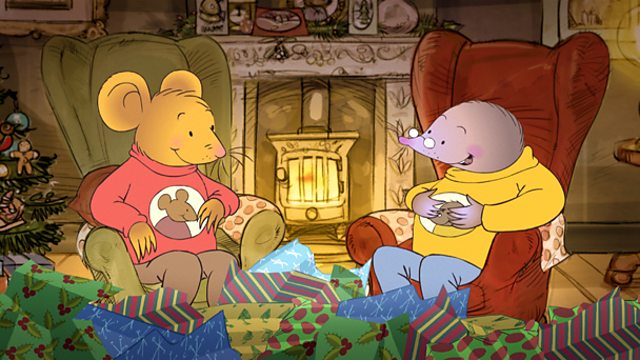 Mouse and Mole
On TV we also have sparkly new seasonal specials from lots of CBeebies' best-loved shows. On Wednesday 18th December you can catch Mike the Knight and the Christmas Castle which (don't tell the little ones!) features a special visit from the never-seen-before king, Mike's Dad, played by the wonderful Alexander Armstrong, and Mr Maker will be meeting mini makers around the world to see how they celebrate Christmas and make traditional decorations from each country.
 Little Octonauts fans will love 'A Very Vegimals Christmas' (Tuesday 17th December) - a double-length special, where the Vegimals' plans for a Christmas feast aboard the Octopod are interrupted when the Octonauts are entangled in a gigantic blob of sea snot(!).
 Magic Hands will be bringing one of the best-loved Christmas poems, The Night Before Christmas to life with BSL on 16th December. And on Friday 20th December Postman Pat comes to the rescue on a snowy day in Postman Pat and the Panto Horse and in 'Petal Light Picking' (Thursday 19th) Sarah and Duck go on a beautifully animated adventure to find some lights for their tree.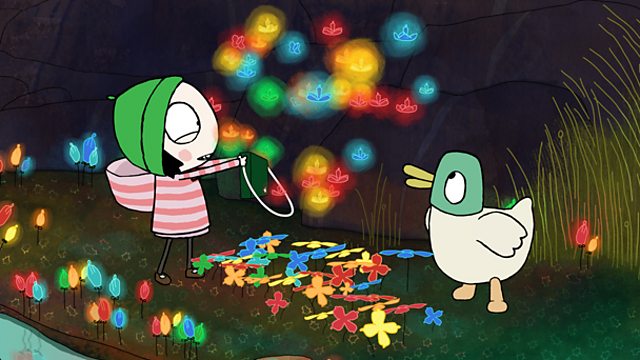 Sarah & Duck
Also on 19th December, Old Jack's Boat's Christmas special features a snow-covered Staithes, a brass band and a very moving flashback to Jack's younger days (N.B. Mums and Dads – you will need tissues!)
 There will also be lots of opportunities to see CBeebies Pantomimes from years gone by and classic Christmas episodes repeated all over the holidays so keep your eye on the TV guide for dates and times.
This year for the first time, we've put together all CBeebies' festive viewing highlights into a special Christmas TV planner for you to download and print off to make sure you and your little ones don't miss a thing!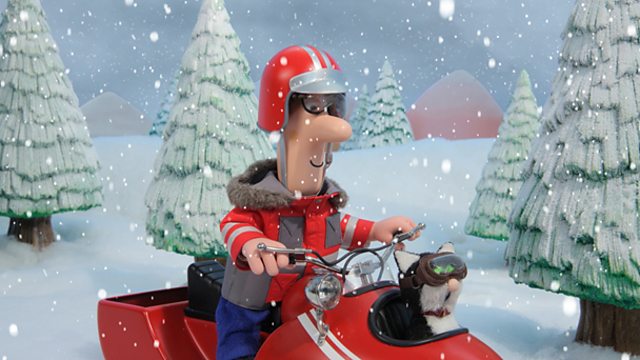 Postman Pat
The festive fun isn't just on TV of course, from the 1st of December the CBeebies website will be transformed by the much-loved CBeebies Advent Calendar. Every day until Christmas a new sparkly seasonal surprise will be unlocked for little ones to play with, like finding Little Monster hiding in Justin's presents, decorating an underwater Christmas tree with Old Jack and Salty and hanging up Christmas stockings for the presenters.
Our techie elves in the back room have been beavering away all year so that this Christmas, for the first time, you'll be able to enjoy the Advent Calendar on smartphones and tablets as well as just computers!
The CBeebies website is also brimming with fantastic festive activities for little ones to enjoy. There are loads of Christmassy games like the hilarious Justin's House Christmas game and the beautiful Sarah and Duck Christmas House game
For keeping little fingers busy over the holidays the website is crammed full of crafty seasonal things to make and do like Christmas cards from CBeebies characters like Mr Tumble and The Octonauts, tree decorations, paper chains, bunting, and lots more.
If the excitement of Christmas gets too much for your little ones and you both need a bit of time out from the mayhem, why not snuggle up together and enjoy a bit of quiet time listening to one of our Christmas stories.
As always you can keep up to date with all the daily excitement at CBeebies by 'liking' the CBeebies Grown-ups Facebook page and following @CBeebiesHQ on Twitter.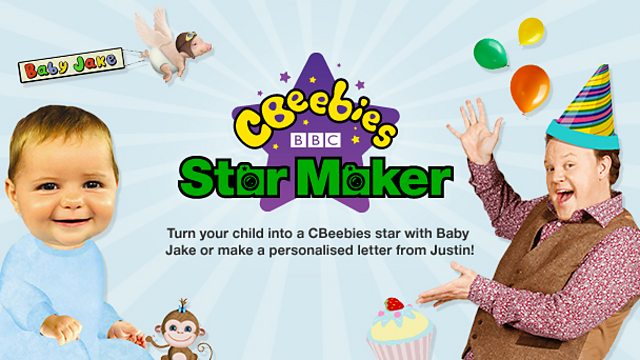 CBeebies Starmaker title screen.
And if you haven't already done it, here's a little early Christmas treat just for you grown-ups – The CBeebies Star Maker is a Facebook application that lets you upload a picture of your child and watch them star in a snowy Baby Jake video!