Let's Play: Sid's New Show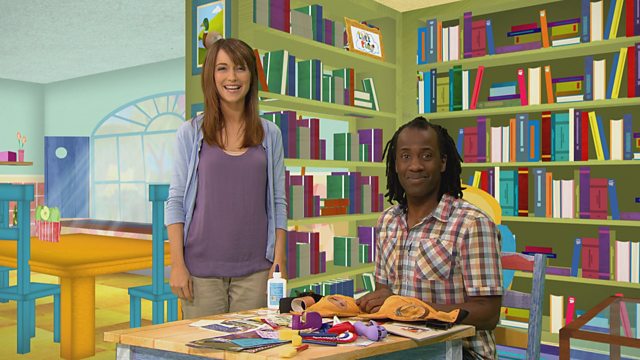 Sid and Rebecca in their new CBeebies show Let's Play!
I cannot believe that it is nearly 11 years ago since I first joined the good ship CBeebies and what a truly amazing journey it has been.
There have been so many highlights, far too many to mention, but the ones that are at the forefront of my mind are playing keepy uppy with the legend that is John Barnes for a CBeebies Christmas shoot; travelling to Kenya and filming in the Masai Mara for CBeebies Africa; and, more recently, meeting Her Majesty the Queen earlier this year and remembering to say "Ma'am" as in jam rather than "Ma'am" as in farm!
The last eleven years have given me the space to grow and develop as a performer and a presenter and I never dreamt I'd end up staying so long! But I feel that the time has now come to step outside the CBeebies house and explore new opportunities.
So, from April next year, I will no longer be one of the regular presenters in the CBeebies house. This doesn't mean that you won't see me on the channel, far from it! I have a new series called "Let's Play" starting on CBeebies next week which I am very excited about. "Let's Play" is presented by myself and Rebecca Keatley and the show will inspire pre-schoolers to explore the magic of play through dressing up, role play and pretending to be…well just about anybody.
It was a fantastic opportunity to play around with outfits, make up, wigs and voices as we dressed up as different characters from cowboys to racing drivers! I hope you enjoy our adventures as much as we did. Which was my favourite character? I will let you decide - there are plenty to choose from!
And I can let you into a secret that I am about to star as Jack in this year's CBeebies Pantomime "Jack and the Beanstalk". The Panto features all your favourite CBeebies friends and was recorded in front of a live audience in Manchester.
The CBeebies Panto is always great fun as when all of us presenters get together, there's lots of banter backstage! It will be like a dress rehearsal for me as I will also be appearing as Jack in a live theatre version of "Jack and the Beanstalk" later this year.
Back on CBeebies, I have just recorded some new Number Raps for the channel with Andy, this time looking at the numbers 11-15. You can catch these going out from Tuesday 11th December - an ideal date and perfect for the older CBeebies audience who can count beyond 10.
I am also thrilled to be embarking on a theatre tour with my own show which is something very different for me. And I have just recorded an episode of "Celebrity Mastermind" - wow, it was so nerve-racking sitting in that infamous black chair! I can't tell you how I did but be sure to tune in when it goes out on BBC One over Christmas.
So, it's not really goodbye as I will still be popping up on CBeebies in your living rooms but I'll also be enjoying the opportunity to pursue some new challenges. See you soon.
Check out the Let's Play page on the CBeebies Website for songs, clips and other activities.