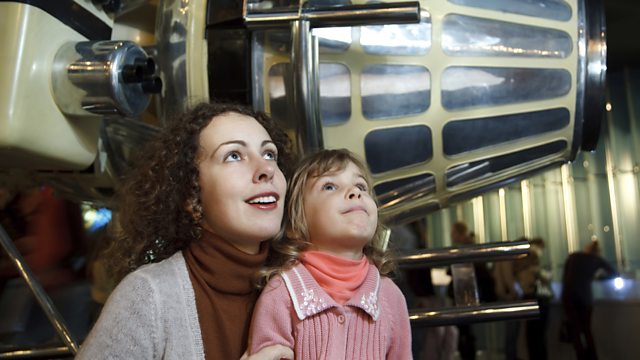 When he was three years old, my son was thrown out of an Aztec exhibition for shouting 'monster!' at a statue (which did look a bit like a monster).
I wrote about the incident in my newspaper column because I was so angry about it. Hundreds of families got in touch to say that they, too, were fed up of being treated in a similar way when they took their children to museums and galleries.
As a result, I set up Kids in Museums – a charity to give a nationwide voice to families who want museums to welcome them.
It's easy to assume that two year olds can't appreciate art, but my little boy was thrown out because he was appreciating the exhibition. Even though his comment was loud, it was completely appropriate – the statue did look like a monster!
I feel that you're never too young or too little for art, and if you haven't taken your family to a museum recently, I urge you to go as soon as possible, because I guarantee it'll be worthwhile.
At one time, museums were unwelcoming musty old buildings, with crumbling objects sitting in glass cases, and large signs saying 'Don't Touch' – but they are changing.
Explore your local museum – it's likely they'll have family events and workshops, family trails to follow, interactive displays, Saturday clubs, backpacks stuffed with jigsaws and puzzles to help you explore the galleries, cafes with children's menus and useful websites to help you plan your visit.
Visiting a museum can be a great activity for your child to do with their grandparents, too. My mother (aged 80), recently took her 12 year old twin grandchildren to the Imperial War Museum in London.
Brought up in Liverpool during the Second World War, she rarely talked to us about her childhood, but when she saw a replica 1940s house at the museum, she began to tell the twins about what her own room looked like as a child, how her family had kept food cold without a fridge, and how she'd had a radio just like the one in the display.
The next weekend, she arrived at our house clutching a battered brown envelope – she'd gone into her attic and found her old National Registration Identity Card. She showed it to the twins, and talked to them about the bombings and the loss she'd experienced.
I hadn't ever heard her speak like this before, and it wouldn't have happened without their visit to the museum.
Museums can be brilliant at enabling conversations between different generations that might otherwise be awkward or lack real meaning for children.
If I had to give one tip for a successful museum visit, it would be don't leave the gift shop for last.
Go there at the beginning of your visit, and let your child pick out their very favourite postcard (it shouldn't cost much, usually under £1).
Then go and hunt for the actual item in the museum. Your child will be more motivated to find it because they picked it out themselves, and it will stop them tugging on your sleeve asking when you'll be going to the shop.
By Dea Birkett, Kids in Museums
Have your very own museum adventure with Teacup Travels
Did you know that all the adventures in CBeebies' Teacup Travels are inspired by real-life historic objects from museums around the UK?
Download the Museum Map here and see if you and your child can find one of Great Aunt Lizzie's treasures from the show at your local museum (or one you're visiting on holiday).
If you visit your local museum, come and tell us about it on the CBeebies Grown-ups' Facebook or Twitter page - we'd love to see your #museumselfie!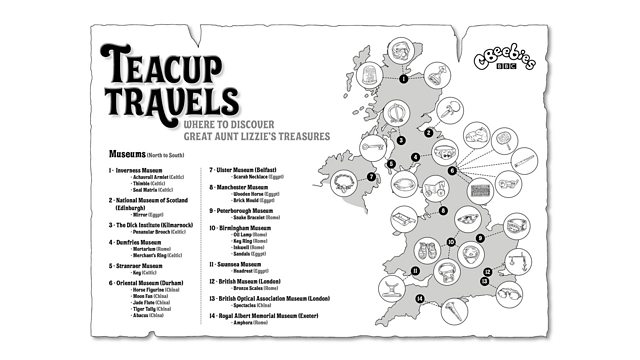 Find where you can see all the artefacts featured in Teacup Travels