'My Story' brings history for kids to CBeebies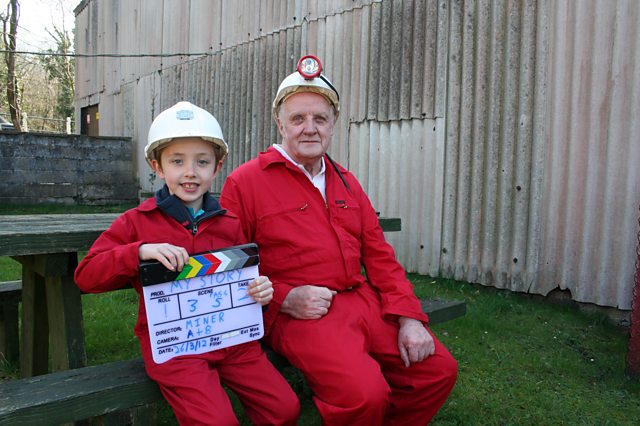 Hayden finds out what it was like to be a miner in a pit in Wales, with his Grandpa, Bryn.
On Monday 24th September a very special new show is coming to CBeebies. 'My Story', made by our CBeebies team in Scotland, is very different from anything we've done before.

We'd been thinking for a while about how we could do a show that brought history to life for the CBeebies audience - no easy feat when, as we discovered, most young children can't compute the idea of the world existing before they did!

In each episode, children uncover family stories with the help of an older relative or friend. Whether it's discovering where Mummy grew up, or more about where Grandpa used to work, the children find out things they didn't know about some of the people they know best, finding out about the past in a fun way that's relevant to them.

For My Story online, we wanted to create a resource for families to be able to explore and tell their own story together. Before we did anything, we talked to lots of parents, carers and children from as many different types of family groups as possible to find out exactly what kids knew and felt about history.

One consistent theme with all the families was that the children loved looking through photos and talking about stories about their families.

We decided to take this as our starting point and began thinking about creating a special scrapbook that would be a home for the photos and stories that the children collected on their journey.

The families we spoke to really liked the idea of the scrapbook, some of them also said they'd attempted to use family tree type activity books with their children but had found that they didn't accommodate anything but a 2.4 children family model, never mind accommodating the unconventional ideas children had about who and what made up their families (things like pets, favourite toys and imaginary friends).
Parents also told us they wanted something that was flexible in terms of the time needed to complete the activities.
We realised that any scrapbook we gave people to make would need to be as flexible and open-ended as possible, and really allow families and children to put themselves into the story. The My Story book has lots of pages for kids to draw themselves and their family, and has an option to upload photographs- something that all parents thought was a good idea, and that parents of SEN children said was essential.

Research also shows that using pictures and scrapbooks in this way can be a really useful way to help your children find out and express their feelings about everything from their first day at school to the loss of a loved one.

While our families felt there were resources around for the everyday issues like going to the dentist, there was a real lack when it came to the big stuff, like bereavement and family separation, so we wanted to accommodate that too. We'll be talking in more detail about using the book to help children talk about these kinds of issues on facebook, twitter and the CBeebies Grown-ups site in the coming weeks.

There was one final request from the parents- have lots of print-outs so that children can make books away from the computer.
My Story starts on 4.30 on Monday 24th September on CBeebies.
You and your child can make their own 'My Story Book' online here.
Or print it out and make one to keep from here.
We hope you and your child enjoy My Story, do get in touch and let us know what you think about it...