Katy returns with I Can Cook On The Go!
Hi Katy! What have you been up to over the summer?
Hello! I've been so busy this summer. I went on holiday to Norway which was great fun and I've been travelling all around the country with the live stage show of 'I Can Cook'. I've also been popping in and out of the CBeebies house to see my friends Sid, Cerrie, Alex and Andy to play some games and have a giggle. But the big thing I've been doing this summer is filming the new series 'I Can Cook On The Go' and that's been really exciting, especially with all the new bits this series.
What can we expect from the new series? Are there any changes?
This series is all about healthy eating and using food as fuel for energy to go out and play and do fun activities. We've got some great recipes to share; they're all healthy and having eaten them all, I can say they are really tasty too! And as well as the food you'll see the children and I taking part in loads of fun activities that we hope will give families lots of ideas for things to do together.
There a few other changes too. We've got a revamped outdoor kitchen including a very special cookbook, and I've got a brand new look as well. Also for this series, we have a special episode called 'I Can Cook On The Go - A Special Surprise'. It features some amazing guests and I can't wait for everyone to see it. But I won't say too much about it just now - it'd spoil the surprise!
Wow, what kind of activities do the kids get up to?
We get to do so many different and fun things. We went surfing, which was something I never thought I'd see myself do on I Can Cook! We also did a children's adventure course, pony trekking and rock pooling, rollerskating and hockey, streetdance and traditional playground games. We even met some birds of prey!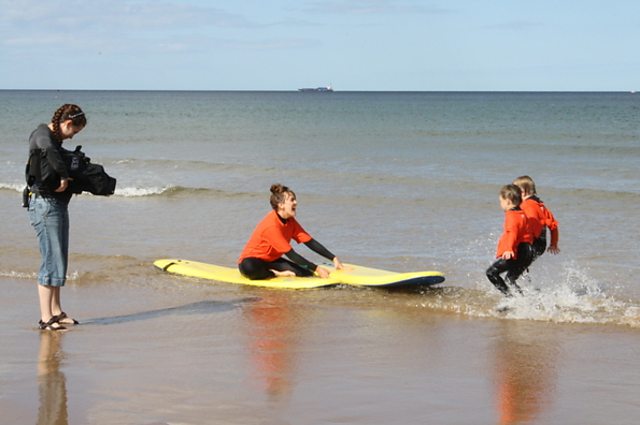 Are there any new characters?
There are indeed! We have three new characters. There's Horace, my van, who I travel round the country in (he has the longest eyelashes ever!). Horace is also home to Mr Spoon who helps the children and I to identify the right size spoon to use when a specific size is needed for the recipe. There's also Pinchy Parrot who helps out when we need a small amount of an ingredient. She's especially helpful in making sure we don't make some of the recipes too spicy!
We have some new rhymes this series, and alongside favourites like the 'Washing Hands' and 'Tidy Up' songs, we've got an updated 'Travelling Song.' I'm particularly excited about our brand new 'Energy' song, which is a celebration of eating healthily and having energy to play because of it.
I think the great thing about this series is that through the cooking and the activities, there's so much for children to do and it really is a celebration of 'I Can' for them. We have a lot of fun with the ingredients, looking at their colours, their smells, and their shapes which are great for encouraging children to use their imaginations. We also do counting of ingredients and learn about more and less through things such as the weighing game - we even make flour clouds! Oh! And I can't forget the banana dance, I won't tell you too much about it, but I guarantee everyone will be doing it by the end of the series.
Do you have any favourite recipes from the show? What can you recommend?
Another first for 'I Can Cook' is that in this series we also make drinks - a watermelon cooler and a cucumber and apple based one called 'Super Green Dream.' Both of those were really tasty and I did drink quite a lot of both of them! I also really enjoyed 'Katy's Amazing Carrot and Squash Cookies' and also the 'Summer Sundaes.' It's really hard to choose one favourite though as all the recipes are SO delicious.
Any funny moments during filming that you could share with us?
We had an amazing team making this series - we were constantly laughing in between filming which really helped when we were out in the cold and rain! They were always coming up with crazy things for me to do in the 'Energy' song - singing whilst standing on your head or whilst riding a horse is definitely a skill! I also have to mention 'Fish Face' - it caused a lot of laughter on set.
What have you got planned now you've finished filming this series?
Well, if I get the time, I'd love to learn to skydive but with being so busy that might have to wait till next year. For now, though, I'm going to have a few days rest and then it's back on the road with the 'I Can Cook' live shows!