Cooking with Cat: banana yoghurt ice lollies and savoury pastry tart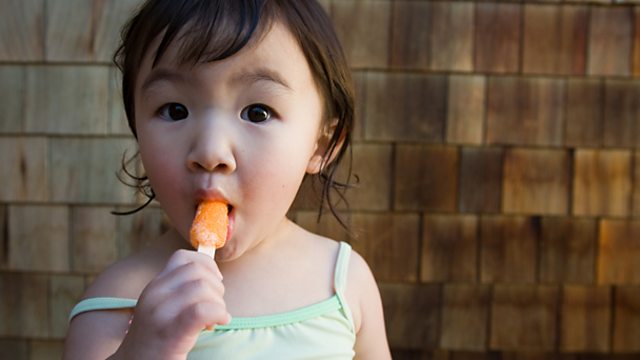 istockphoto.com/vitaphoto
Cat's been cooking up a storm in the CBeebies House this week – and if you'd like to try her summery recipes with your little ones, we've got all the details here. We've love to see a photo of your efforts – email us a picture on cbeebies@bbc.co.uk!
Banana yoghurt ice lollies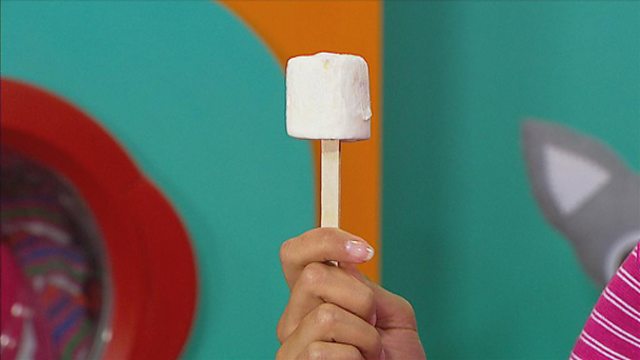 To make six small lollies you will need:
160-200g natural or Greek yoghurt
1 tsp runny honey
1-2 bananas
6 empty mini yoghurt pots (washed)
Lolly sticks
Sheet of foil
Or you could use ice lolly moulds, if you have them.
Method:
Mash the banana(s) until very pulpy
Mix the yoghurt, honey and mashed banana together in a mixing bowl
Using a teaspoon, carefully fill the mini yoghurt pots with the mixture
Make small slits in a sheet of foil over the centre of each yoghurt pot (this is to keep the sticks in place)
Place the lolly sticks in the slots
Freeze for minimum 2 hours
Savoury pastry tarts
To make a savoury pastry tart you will need:
1 sheet of ready-made puff pastry
Tomato paste (you could use pesto if you prefer)
A selection of your favourite foodstuffs (sliced and diced) from the fridge or cupboard e.g. mushrooms, peppers, onion, ham, cheese, sweetcorn, peas, olives
Beaten egg or milk

Baking tray and sheet of baking parchment
Cooling rack
Pastry brush
Oven gloves
Method:
Remove the ready-made pastry from the fridge about 15 minutes before preparing (it helps prevent it from tearing when you unroll it)
Cut out a sheet of baking parchment to line the baking tray
Remove packaging from the pastry and unroll onto the baking tray (trim the sides if too big)
Turn the oven on to 200 degrees / gas mark 6
Prep your toppings by washing, sieving, chopping or slicing
Spread the tomato paste onto the pastry using a flat-edged knife or back of a spoon leaving about 3cm around the edge
Add the toppings as desired
Using a pastry brush, brush the edges with beaten egg or milk
Place in the oven for 25-30 minutes
Remove and leave to cool slightly on a rack before serving
Don't forget to wear an apron and wash your hands!
More recipes for kids from CBeebies
Tips on cooking with children from BBC Food
Proud of your little one's culinary efforts? Send us a picture on cbeebies@bbc.co.uk or join the chat on the CBeebies Grown-ups Facebook page, or with @CBeebiesHQ on Twitter.