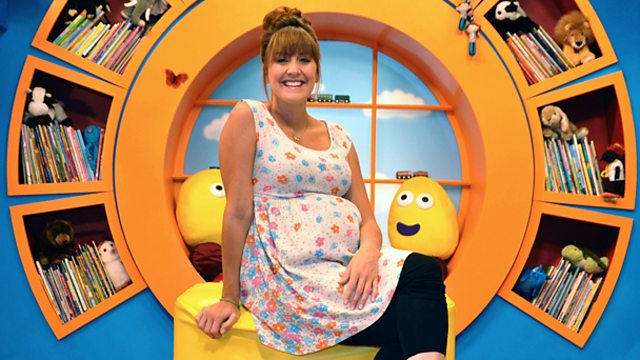 We know you've all been itching to find out how CBeebies' Katy is getting on with her pregnancy, so we caught up with her for an update on all things bump-related. Here's the latest from our very own mum-to-be…
Hi Katy, how are things going so far? 
I'm feeling surprisingly great actually. Probably something to do with having spent a lot of time in the sunshine recently, swimming in the sea, going to music festivals and seeing friends!  I'm getting really excited about meeting the baby now. It's started kicking loads and I feel as if I know it already. 
Have you had any funny or strange reactions to your baby bump from the little ones you've met in the last few months?

My friend's daughter calls it a "lump" which cracks me up.  A little boy the other day asked me what I'm having, and I said "I don't know – I just hope it's a baby and not a frog!" He thought this was the funniest thing he'd ever heard and immediately told his mummy that Katy from CBeebies has a giant frog in her belly. I hope not! I'm quite scared of frogs...

Have you been 'nesting' and getting ready at home for the new arrival?

Not really because things have been so busy! Luckily, I've got loads of time later this summer to do that.  Mind you, I'm blown away by people's kindness – I've been offered second-hand goodies left, right and centre!

How are you coping with such a busy summer and a baby bump in tow?
I just take lots of breaks, drink loads of water and have heaps of naps. It's pretty cool really. If it gets really bad I'll just buy a wheel barrow and get everyone to push me about!
How's the dad-to-be feeling? How do you think other dads in the same position can best support their partners?

Just like me, he's really excited too!  It's an exciting journey for both of us, and it's cool to be going through all these "firsts" together.  When I asked him about this question, he joked that he feels a lot of pressure because I'm on CBeebies – everyone keeps saying I'm going to be such a great mum because I spend all my time around children.  He's going to have to work hard to brush up on his kids' games to keep the baby and its friends entertained!
Sounds like everything is going well, Katy – thanks for giving us an update!