CBeebies Blog: Same Smile is back! By Nisha (and the pandas..)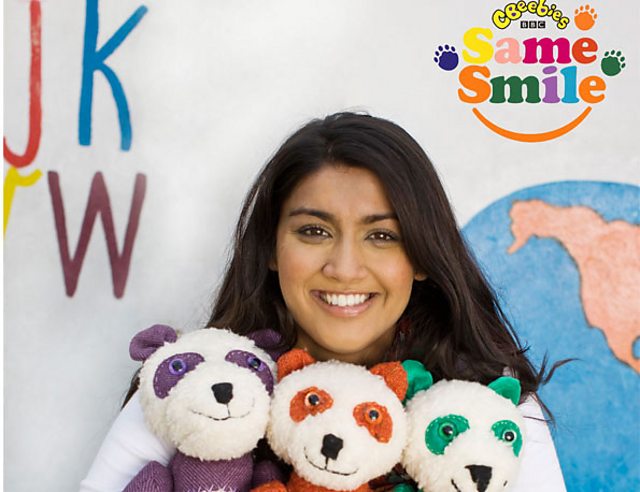 Hello! Nisha here writing from Same Smile HQ.
I can't tell you how excited we all are about the brand new series of Same Smile starting on Monday 13th June (at 10:45am). We've had such a lot of fun travelling round the country meeting the UK's amazing children.
The pandas are back after a nice rest and some relaxing spa time (yes Mish has put on a little weight) and you may have noticed that the magical Same Smile suitcase has undergone a little make over of its own!
As for little Mogo, cheeky as ever, Mogo has been on some amazing adventures with the kids including looking after lambs, having muddy fun in wellies and even some metal detecting! Moosh has been busy too… Bollywood dancing, as well as going to a martial arts class and getting dressed up as a very nice fairy. Mish went to a pyjama party, on a space adventure and was a knight for a day! It's been all go!
We've been on the road over the last few months travelling the length and breadth of Britain, visiting some fabulous nurseries and amazing kids. We started out in Belfast and went on to visit beautiful towns all over the country: Ullapool, Llanelli, Whitby are just a few we visited - all the places we went to were amazing! Luckily the Same Smile tricycle is pretty sturdy and stood up very well to all my pedalling.
We've had extra special fun this year with our nursery activities. We always try to make sure the kids have a really great day with us making things, dressing up or having a splashy time! This series we'll see the kids foot print painting, exploring their own back yard, making funny face pancakes even running their own animal hospital! (don't worry - the animals are of the stuffed variety!).
We hope you and the little ones have as much fun watching as we did making this new series. Watch out for me nearly dropping a wobbly jelly, riding a tiny tricycle and throwing some crazy shapes on the dance floor! Honestly the things I do for those Pandas!
Oh! And do check out the website too! www.bbc.co.uk/cbeebies/samesmile
Having listened very carefully to your feedback, we realised that a lot of the little Same Smilers out there would love a panda of their very own. So, coming soon to our website, we've put a little pattern together and we're hoping you'll all get crafty and make a panda!
Thanks for reading this blog! And don't forget to tune in weekdays at 10:45 from Monday 13th June 2011.

Best
Nisha & the Pandas