Justin's House
Justin's House, CBeebies brand new comedy starring Justin Fletcher is finally here! We caught up with the show's two runners, Beth and Elliot to find out what it's been like working on the first ever CBeebies show to be filmed in front of a live studio audience...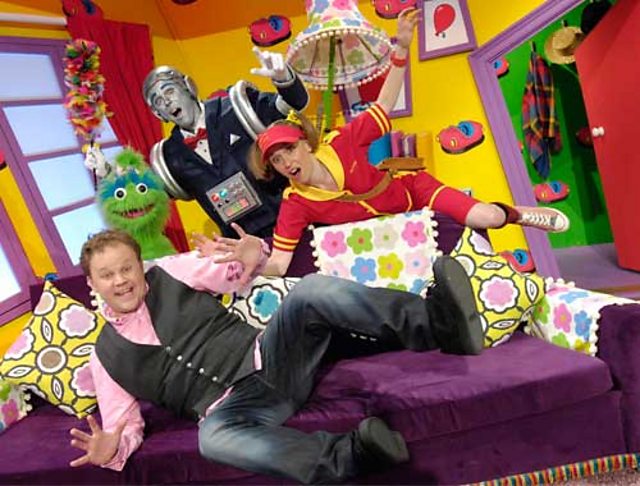 So what does being a runner on Justin's House involve?
B: Basically, being a runner involves assisting the production team however we're needed.
E: That can be anything from general fetching and carrying, to sending CDs and lyric sheets to the local schools involved so that they can learn the songs for the show. We're also on 'Little Monster Duty' every other week meaning I get to take part in the show and help our puppeteer, Kat operate Little Monster, who pops up all over the place in Justin's House causing trouble.
What's Justin's House all about?
B: Justin's House is a slapstick, pantomime style comedy, and probably the closest thing CBeebies has to a sitcom! It's filmed in front of a live audience of 150 children which is a new experience for all of us...
E: In the first episode Justin (messy, prone to slapstick accidents) moves into his new house where he meets Robert, his extremely tidy live-in robot helper, and Little Monster, who the kids go crazy for - especially when she's being chased around the set by Justin and Robert! Every episode Dee Livery, (the delivery lady) comes to deliver the 'Justin Times', Justin's own personal newspaper. It tells him what's happening in Justin Town that day or which special guest is coming to visit - each episode it's a different CBeebies star, prepare yourself for some very funny cameos..
B: Throughout the rest of the series we see them play games, sing songs, cause chaos and throw a few custard pies along the way. .
What's an average day like for you in the studio?
B: An average day in the studio is very busy but great fun. In the morning we rehearse both shows with the cameras for the first time, which is amazing considering that only gives one morning to rehearse both episodes with actors and the camera crew together. We get the audience in and seated (no mean feat with 150 3-5 year olds!) then the filming begins. During the week our researchers Anna and Ellie visit them at school to teach them the songs for each episode so on the day the whole audience can sing along and get really involved.
E: It still really amazes me how much impact the live audience has on the show as their laughter and reaction to what they're seeing on stage really breathes new life into the shows that we've been rehearsing all week.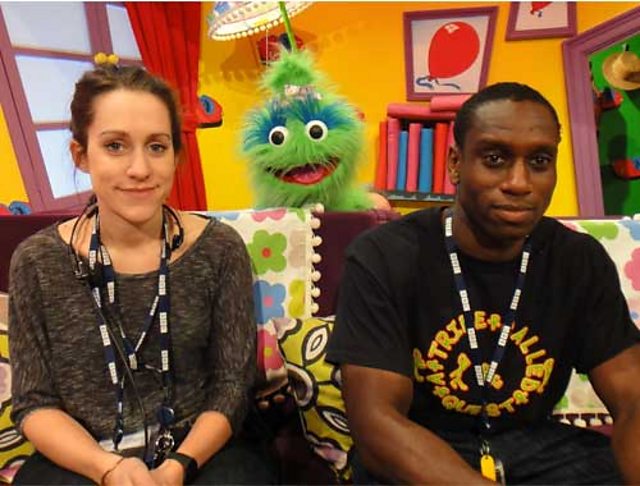 Do you have a favourite episode?
B: My favourite episode is called 'The Tidy Prize', where Chris Jarvis visits to show off about the Tidy Prize he has won for being the Tidiest person in Justin Town. Robert the Robot loves tidying, and is put out by Chris' Tidy Prize and his top-of-the-range feather duster 'The Featherard 500'. Chris tries to teach Robert and Justin how to be as tidy but, they quickly realise that being tidy is actually really boring and get Little Monster on the case to trick Chris into getting really messy!
E: I really enjoyed 'Get Fit Justin', where Justin, spurred on by Robert and Katie from 'I Can Cook', decides it's time for a healthier lifestyle. There's a sequence where Justin runs to the shops to pick up salad ingredients only to come back each time to discover that they were already in the house. That whole scene really brought home what a funny guy Justin is and his wheezing and panting to the various camera positions showed you just how much stuff he has to remember in a scene.
What have you most enjoyed about working on Justin's house so far?
B: I think helping Kat do Little Monster in the first episode is still my favourite moment of the series. This one of my first jobs in Children's TV, so it was really warming to be able to see how much the audience enjoyed the show and to hear them go mad for Justin and Little Monster.
E: The evening before we filmed the 'custard' episode with Auntie Justina, the cast and crew of the show gathered in the loading bay of the studio to watch Justin practice the show's end scene. This involved him placing a custard-filled bowler hat on his head that projected a stream of custard into the air. I remember standing watching and thinking that a couple of months before that moment I was working behind a bar and now I'm involved in something where I get to watch Mr. Tumble shoot custard from his head! It was a surreal but very enjoyable moment.