Parent's experience: starting school with special needs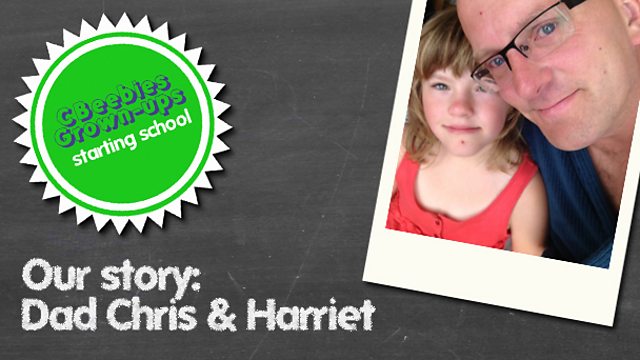 Dad Chris talks to CBeebies Grown-ups about his experience of his daughter Harriet, who has special needs, starting school…
Can you tell us a little bit about you and your children  
Harriet is a twin who is diagnosed with Prader-Willi Syndrome (PWS) and was born premature at 28 weeks. She is a non-identical twin to her sister Roberta which explains why her sister is not affected by the condition. Harriet and Roberta also have an older sister, Izabelle, who is nine years old and is very keen on sport. From receiving Harriet's diagnosis my wife and I decided not to live the Syndrome as life-changing, we didn't want to be consumed or hindered by the challenges that lay ahead. It is still early days but this mind set has defined us as a family and we are keen to pass this on to people who have just received a diagnosis.
Can you explain a bit about Harriet's condition and how it affected what you looked for in a school
Having Izabelle at school already and hearing about other kids with PWS attending mainstream school meant it was quite an easy decision to place Harriet at our local primary school. Our eldest daughter did have emotional issues in her first few years at school and these were dealt with in a very supportive way by the school, with an emphasis being placed on social and emotional wellbeing rather than academic achievement, so we felt that this was the way forward for Harriet. Harriet had many issues on starting school and as the school had little experience in special needs it did have to rise to the challenge. The challenges that were presented to us were teaching assistants learning basic Makaton, toileting issues, supervision around lunch time and portion sizes and addressing speech therapy being provided by the local authority.
Did you look at many different schools?
We didn't look at different schools as we didn't want to split siblings up and we had followed the progress of a child Izabelle's age at the school who has Down's syndrome and were happy with what we were seeing. However, in retrospect, as we have now kept Harriet back a year we feel that knowing what we know now, perhaps a special needs school may have been able to offer a better path. By this we mean that whilst Harriet is currently at the bottom of the educational tree at our local primary school, had she gone to special needs school, she may have been at the top of the tree there.
Can you remember how you felt on Harriet and Roberta's first day at school?  
On dropping Harriet off at school for her first full day along with her sister, we both felt that we had reached a milestone in moving forward with the twins' development and were not needed quite as much as we were previously. One private thought that I do have, though, is that we send kids to school far too early.
What happened on the day?
On Harriet's first day from what I remember she was fine, and knowing that she was there with her twin also helped and we felt that we had given enough support to them both prior to them starting. They'd also attended two half days in the previous term to help familiarise them with the school.
How did Harriet settle into school? 
Harriet settled well into school life and was able to flourish in her early years. We would attribute her settling in to the nature of children with PWS.
What has best the best thing about her being at school – what has she enjoyed? 
The best thing about Harriet being at school is that she has formed friendships and built ties with older children within the school who have taken a great liking to her. 
Is there anything you'd do differently if you did it again? 
Yes, there are things we would do differently. The main one is that we would consider a special needs school. This does not in any way detract from the hard work and dedication that has been put in place by our children's school, but reflects how we feel Harriet may have been better placed. 
Read about other parents' experiences of their children beginning education: 

Starting school: Beate & Lucas
Starting nursery: Emma & Fianna
Starting home education: Alice & Toby
Starting school - the teacher's story: Susan

Our interactive guides are packed with advice:
How will I cope with my child's first day at school?
Is my child emotionally ready for school?
Are you in a similar situation to our CBeebies parents? Join the chat on CBeebies Grown-ups Facebook or Twitter pages.