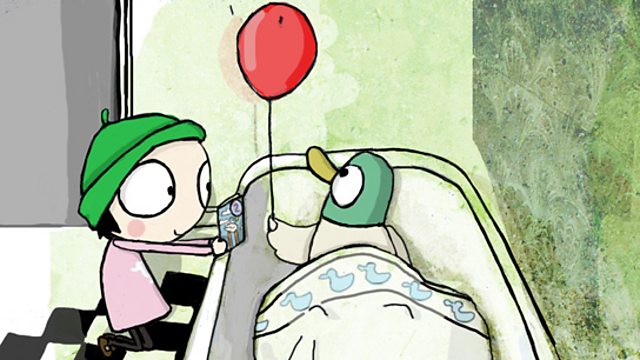 Sarah and Duck
We chatted to the creators of Sarah and Duck, Sarah Gomes Harris and Tim O'Sullivan: 
Can you tell us a bit about Sarah and Duck?
S: Sarah is a little person that hangs out with a Duck. They plod about, encountering odd bits and bobs in the world around them.
T: The show is all about Sarah and her best friend Duck. Together they have all sorts of adventures both big and small, at home and out in their wonky world.
Where did the idea come from?
S: A drawing I did whilst trying to come up with other ideas on another show. Procrastination, basically.
T: Sarah and myself would always joke about Sarah having a Duck as her best friend and that they would live together and fly around in a bi-plane. Then Sarah did the first ever drawing of Sarah and Duck and it all grew from there.
The show looks beautiful! Who did the illustrations?
S: I did all the early development, with a little help on backgrounds from Adrien Merigeau, a French (slowly becoming Irish) artist based in Kilkenny. The art team headed by Annes Stevens and Rebecca Whiteman, both very skillful and diverse artists who illustrate in the style.
T: Sarah designed the characters and key locations to start with. Now there is a whole team of talented artists making all the beautiful art for the TV show.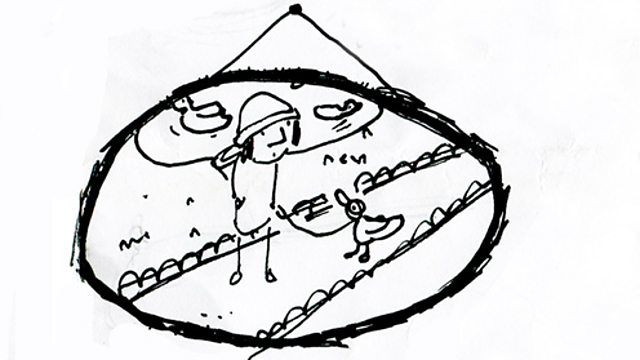 Sarah and Duck initial drawing
What kind of duck is Duck?
S: A mallard. Who's evolved a bit, but not by much.
T: Duck is a Mallard Duck, the kind you find in almost any pond or lake.
Do you have a favourite episode?
S: Kite Flight captures the two characters in their most basic and charming essence, but the offbeat music in 'Sarah, Duck and the Penguins' also stands out.
T: Strawberry Souffle is currently my favourite, as it one of the most imaginative episodes and has music by one of my favourite composers, Tchaikovsky...though my favourite changes all the time as each episode is so unique.
What did you most enjoy about working on the series?
S: Coming up with ideas at the very beginning. It was the easiest thing, listening to some music and watching these two characters plod about to it in my head. You felt very convinced by them both which was exciting, knowing they would do well in some form. Had the show not been made they would have been a comic.
T: Seeing it come alive bit by bit is very exciting as the stories take on a life of their own through every stage. But I do especially enjoy working on the music as it brings together all the amazing animation and artwork of the show.
Strangest thing that happened during the production?
S: After pitching the show at Hungary to loads of TV executives, they had a closing party in a concert hall set into an old quarry. Very draughty place and the seats looked and felt like they were made of old dinosaur bones. A gypsy band played afterwards and plenty of food and drink was put out, but I lost count of the amount of people asking me where my Duck was. I was wearing my own green nubby hat and had to take it off and hide in a cavern. That, and, Tim plays Flamingo. Yep.
T: I think the silliest thing so far was me getting my tap shoes out and doing a little dance for an episode about Sarah accidently buying a pair of these noisy shoes.