Here and There: A blog by Mr Bloom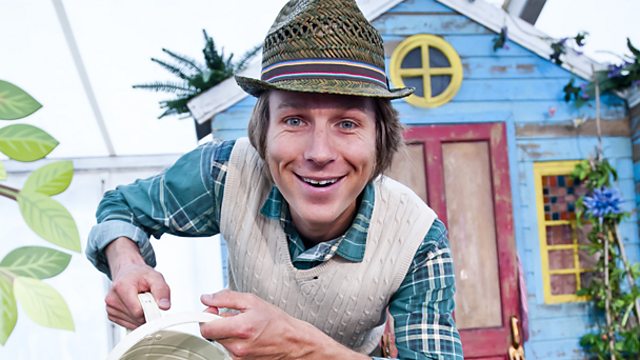 Mr Bloom is out filming a brand new series called 'Here and There' this summer. He's travelling to locations all over the country to encourage children to explore and take pride in their local surroundings.

In each episode Mr. Bloom meets a small group of children (Tiddlers) who tell us what they love about where they live and what they like to do with their families and friends. He's written a little diary of his first week out on the road to give us a taste of what to expect…

Hello there everyone! This summer I'm going out and about, "Here and There" to meet lots of Tiddlers and find out what they like to get up to near where they live. Last week I went to Falkirk in Scotland and I had a great time!

On Monday I met Sean, Luca, Keira and some of their classmates. These Tiddlers are lucky enough to have a river running past their school. With their teacher and a local River Ranger - Mrs. Bell - we went down to the river to do some "kick sampling." Under the grown ups' supervision, the Tiddlers donned their wellies, picked up their nets and began to gently kick up some of the river bed in the shallows. They collected samples in their nets and then on dry land we examined the creatures in trays containing some of the river water. I found out that the more creatures living in the river, the healthier the river is. We found lots of creatures so that was good! We also saw some sand martins, little birds that build their nests in small holes along the river bank. The grass around one of the benches beside the river was a bit overgrown, so we decided to tidy it up. The River Rangers cleared the grass, the children painted some rocks to make a colourful rockery and we planted some flowers. Job well done!

On Tuesday I met Beth. Beth and her friends have a small orchard at their school. They've planted lots of flowers to attract insects to the garden to encourage pollination of the apple and pear blossom. After visiting the school orchard, the Tiddlers and their teacher took me to meet Mrs. Miller at Callendar House Park. Mrs. Miller is an apple expert and she has been teaching the children how to care for the trees and help the apples grow in their school orchard. In the walled garden there, the children helped Mrs. Miller with a process called "thinning out". This is where they remove some of the smaller apples from the trees in order give the remaining apples room to grow! I also visited the Georgian kitchen at the house and brought back an apple pie for everyone to share. It was very tasty!

On Wednesday I met some Tiddlers at the Bo'ness and Kinneil Steam Railway. Findlay, Cerys and Noah really enjoyed showing me around the museum where there are lots of different types of steam engines and carriages to look around. Cerys explained how trains were powered, using steam created when the coal fire burned to heat the water in the engine. Noah really liked the old mail train carriage where the post workers could sort the mail as the train travelled along. We met some more Tiddlers and took a ride on an old steam train which was great fun. I brought along a mini train made up of flower planters and we got to work planting it up to add a spot of colour to the picnic area; for all the other visitors to see.

On Thursday the rain came down and we got a wee bit wet at the Falkirk Wheel, but it didn't dampen our spirits; because the Wheel is the only revolving canal boat lift of its kind in the world! Prasoon, Hannah and Ben love to visit the Wheel and watch the canal boats with their families. We saw how a traditional lock works and how a boat can be raised up or lowered from one level of water to another. Then we got to ride in a boat and travel on the Wheel. The wheel can move up to eight boats at once and it rises 35m into the air – that's the height of 8 double decker buses stacked on top of one another! We could see a long way from the top. After our ride, we made some little boats of our own from empty drinks bottles and 'sailed' them along the mini canal in the water park area. It was great fun!

On Friday, Mikayla, Neiv and Charlie showed me why they love visiting Westquarter Glen. It's a beautiful place with lovely woodland walks and a waterfall. The children help their community keep the glen tidy and along with Jessica from the local Litter Picking Team, we tidied up after a recent wildlife event that had been held there. I brought along some of the other Tiddlers I'd met earlier in the week and after a safety briefing from Jessica, we got kitted up with bibs, gloves and litter grabbers. The glen was nice and tidy again in no time!I had a really great week in Scotland and I'll be off visiting the north west of England next. So be sure to catch up with me again soon when I'll be...Here and There!

Mr Bloom: Here and There will be on CBeebies early next year.