Peter Rabbit comes to CBeebies!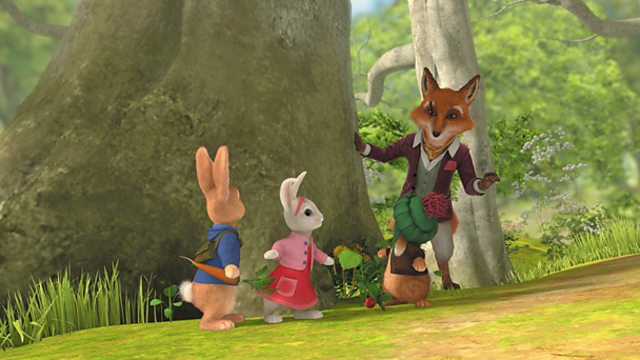 Peter Rabbit comes to CBeebies next week, and we can't wait! We caught up with Sarah, the Production Executive, to find out more about the making of Peter's adventures…



What's your role on the production? 




I'm Sarah, and I'm the Programme Executive for CBeebies. I work alongside the production company at every stage of production, from scripts to the finished episodes. I've been working on the show since March last year, so I'm really excited that the series is coming to screens soon!



So, are these the original Peter Rabbit stories?


It's a modern-day interpretation, featuring brand new tales based on the Potter books, and retaining the well-loved characters and locations. Making this programme for a CBeebies audience gave us a lot to think about, though. As anyone who is familiar with the original books will know, Peter and his friends often face the very real threat of predators, but because this show is aimed at five and six year olds (the older end of the CBeebies audience) we had to be quite careful with how this was presented. For example, in Beatrix Potter's original 'Tale of Peter Rabbit', we find out Peter's father got put in a pie by Mr McGregor! In the new series, Peter's dad is absent (though we never find out why) and Peter has the journal he left, which contains all kinds of things to help Peter have his own adventures – from maps detailing where the juiciest strawberries can be found, to instructions on how to build a sledge or the location of secret tunnels.


The producers asked themselves at every turn 'if she was alive today, how would Beatrix Potter make this television series?' We strove to retain the core values in her books – the seamless blend of humour and drama, heart and adventure, animal and child behaviour, the natural world and the fantastic. So the stories are thrilling, but we always know Peter and his friends will be OK and outwit the predators. We tried to keep the feel of the classic books while ensuring the storylines are just as engaging and relevant for modern audiences. 



Are there many changes from the original characters?



All the familiar characters such as Jemima Puddleduck, Jeremy Fisher, Mrs Tiggywinkle and Mr Tod feature in the series. But the focus is very much on Peter Rabbit and his two best friends, Benjamin Bunny and Lily Bobtail. The character of Lily Bobtail is brand new and she's based on Beatrix Potter herself! Beatrix was a strong, outspoken and intelligent woman, and Lily is definitely a self-assured, smart little girl. But Beatrix also loved wildlife and had a nurturing element to her. So Lily in turn is affectionate and has a caring side – she even has a pet ladybird called Florence! She's always a core part of the adventures along with Benjamin and Peter – sliding down tunnels, playing in the treehouse, and she isn't afraid to get her paws dirty! We hope Lily will be a strong character for little girls to identify with, alongside Peter and Benjamin.   
The trio really complement each other well – Peter is brave, quick-witted and loyal but sometimes reckless, whereas Lily is the brains of the outfit: intelligent, logical but no pushover. And little Benjamin is young, always hungry and sometimes lacks confidence, but brings a lot of charming, comedic moments to the show. The dynamic between them could be compared to the characters in Harry Potter. They're always going on adventures and always manage to outsmart the baddies!



How did you manage to recreate all the settings and characters in such detail for the animation – was it a long process? 



It was important that the look of the show felt like Beatrix Potter, so the colour palette is quite soft and the producers invested a great deal of energy making sure the settings and backgrounds reflected the natural world that Beatrix loved so much.


The production team visited the Lake District, took thousands of photos and continually referenced them to make sure every detail of Peter's world was authentic . Lots of the locations you'll see in the series are based on actual places they found close to 'Hilltop' (Beatrix Potter's first house in the Lake District). For example, Peter's burrow is a real fir tree they found in the woods near Sawrey! The Bobtails' hill and house was also based on a tree close by. They also managed to get 'Hilltop' into the show too - it can be seen behind Jemima's coop.



What can children learn from the series? 


Peter's resilience and bravery are the driving force behind every story, and in each episode the characters demonstrate aspects of problem solving and maintaining friendships, which are important skills for little ones to learn. Peter's self-belief and his determination to achieve whatever he sets out to do will hopefully help to show children the importance of perseverance. His catchphrase is "a good rabbit never gives up!" and it's a good lesson in how to be tenacious and to always try again when things go wrong. 


We hope that the Lake District setting will also encourage little ones' enthusiasm for the outside world, showing them that being active and exploring the world around them can be an exciting adventure – and also help them to appreciate nature and the environment.



What do you think makes the show appealing to its preschool audience (and their parents)?



Great characters and traditional story-telling are the cornerstone of every appealing programme, and thanks to Beatrix Potter, we have an embarrassment of riches to draw on in both regards. But I think it's Peter's character that will really appeal to the audience – he's a fun, mischievous adventure hero, who's vulnerable to mistakes. His world isn't perfect, but he still triumphs with the help of his friends – and through it all he remains optimistic and resilient, which will speak to parents. These are stories about friendship and family, growing up and avoiding obstacles – timeless tales of survival and triumph over adversity.



What do you like most about the show? 



Lots of things, but in particular the amount of detail that is lavished on the main characters to make their movements mimic real rabbits. So, if you watch carefully, you'll see lovely little touches in the animation: from the shake of a tail, to the twitch of an ear or how the rabbits lope along on all fours. So much time and care has gone into the series, and I really think it shows. I do have a particular soft spot for Benjamin though – he's absolutely adorable!