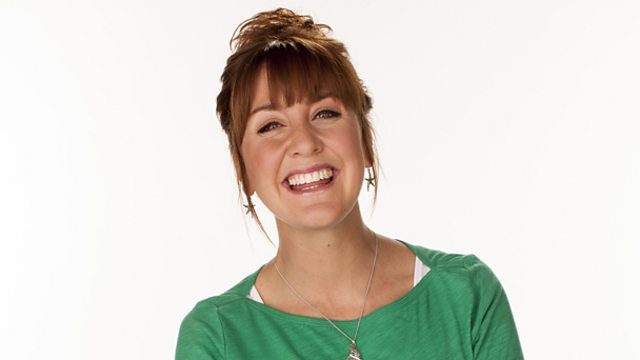 We caught up with CBeebies presenter Katy recently for a bit of a chat - and it turned out that she had some pretty big news to share with us...why don't you tell us about it yourself, Katy....
Katy: Yes, I am having a little bubba!
CBeebies: That is exciting! Congratulations! So, what are you most looking forward to about becoming a parent?
Katy: Changing their dirty nappies and staying up all night. No, I'm only joking! I actually can't wait just to sit, watch them, play with them, love them and show them the world.
CBeebies: We know you're usually a very busy person, so how are you coping with being pregnant - have you had to scale back on all your activities a little bit?
Katy: I have to cut down because my body just can't do as much as it normally does. More naps, early nights, less zumba classes, more slow lane swimming and less climbing mountains.
CBeebies: Definitely less mountain-climbing! Do you have a hunch about whether you're going to have a boy or a girl? 
Katy: No idea. We want to keep it as a surprise!
CBeebies: Have you had to cater for any unusual cravings?
Katy: Not really. Does cheese and pickle count? I really can't get enough of it. I have completely gone off all my favourite foods like falafel and hummus. I wish I had a weird craving though like rubber or ice...
CBeebies: Mmm, tasty! Have you thought about any names yet?
Katy: We've got a few up our sleeves, yes ;-)

CBeebies: How about when the little one is here - how do you think you'll juggle work and childcare?
Katy: I don't intend on working too much in the first 6 months to a year as I just want to spend as much time as I can with the baby. After that I will be looking to my amazing family and friends for help most of the time, they are all very supportive and loving.
CBeebies: Well, we'll certainly miss you while you're away, but we're sure you'll be busy enjoying life with your new addition! Thanks for telling us all about it!