Magic Hands is a ground-breaking new show featuring poetry for children translated into British Sign Language. Ashley Kendall, one of the show's new presenters dropped in to blog about his experiences making the show…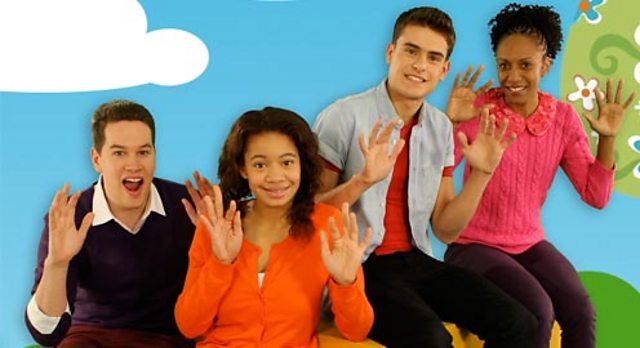 Ashley Kendall, second to right, is one of the presenters on the new CBeebies show, 'Magic Hands'
What was the inspiration for Making Magic Hands?
The inspiration to make such an ambitious project had several angles. Firstly, it was impossible to pass up the opportunity to work on a mainstream television project with the BBC - it was a first for Remark - the production company, and it's also the first project of its kind, having an entirely deaf cast using British Sign Language.
It's a wonderful chance to be able to show a deaf AND hearing audience the power of sign language; it's so rare for deaf children to truly be able to appreciate the power of poetry, as there simply isn't access to these works in sign language. It's great exposure to the literature, and we are able to influence, educate and entertain all at the same time.
We hope that letting hearing children see sign language in action will make them realise that we can all come together when language barriers are down.
What were the challenges of translating poetry into BSL for children?
One of the misunderstandings about sign language is that it is one sign for every English word - it simply doesn't work that way. The grammar does not follow English rules - it is a language all on its own. Therefore there were key words and concepts in the original poems that had to be re-imagined for translation into BSL. All the signs had to work together cohesively, and also, adaptations had to be made to make the signs and language used suitable for very young children.
Can you tell us a bit about Remark, the production company that made Magic Hands, and how you work?
'Remark!' was established in 1999, and has grown from a tiny company, to now being the largest Deaf owned and operated company in the UK. The Media department, now has a huge amount of skilled camera operators, editors, presenters and writers. We make lots of different projects from documentaries to news and current affairs and training, all in-house. I had already had some presenting experience with Remark when the opportunity to be in the original 'taster' for Magic Hands came up. A while later, I got a job in the Media department as a researcher, and when Magic Hands was given the go-ahead, the team saw the potential in me to be one of the hosts of the show.
How did you get into acting and performing?
I was born and raised in a Deaf family, and through my education I discovered my love of Media. I've had previous on camera presenting experience, with the program "Let's Go Wild" for the community channel, and also as a presenter on "The Hub" - Remark's current affairs programme made monthly. I have had acting experience both on screen and quite a lot of theatre, so I like to think I am naturally confident in front of a camera. I've also travelled around the world three times, which makes me always eager for new adventures.
What would you like to do next? Is there a dream presenting job that you'd really love to do?
I'm going to carry on working at Remark increasing my media experience. My presenting dream would be to work on any major BBC production – a great example of course is Blue Peter - I want to show the world that being Deaf shouldn't hold you back from any experience. I am also climbing up the ranks in professional construction and am now very interested in property development and how that is structured and operates. I also hope to carry on my love of travelling!
Do you have a favourite poem in the series?
It is utterly impossible to choose a favourite poem - they are all my favourites.