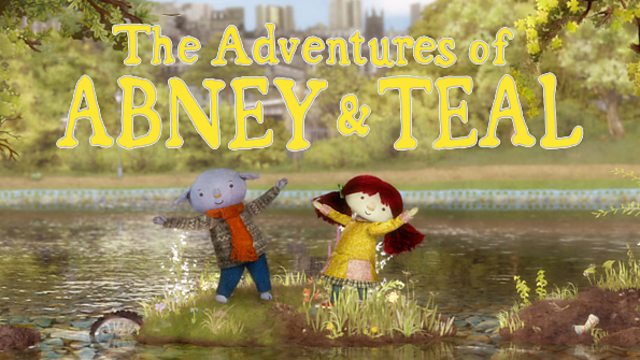 Hi, I'm Joel Stewart, Creator and Director of The Adventures of Abney & Teal. I designed the characters, and painted all the bits and pieces that their world is made up of. I work with the team on all the stories, and I oversee the finished look of the show, I also helped develop a lot of the music, and have my nose poking in just about everywhere!
I am primarily a book illustrator, who also writes (and plays a bit of music). I have always been interested in film and animation too, so when Anne Wood, founder and Creative Director of Ragdoll Productions, approached me about the possibility of developing something entirely new with them for television I jumped at the chance!
The series is about Abney and Teal who live on an island in the middle of a lake, in the middle of a park, in the middle of the hustle and bustle of the big city. They share the island with an array of odd characters, and the most everyday activities seem to get them all into a host of trouble!
All the characters were invented in my sketchbooks, but it wasn't until I was out for a walk in Victoria Park in East London that I found myself casting them on an Island in a park in a city. I was just staring out at the island across the water and began to imagine the characters from my sketchbook going about their business in that setting. I heard the sounds of the city all around and realised that this was a whole world in itself, and went home to think about the best way I could make that world come to life.
For television I have been most excited by the possibilities for exploring things I hadn't been able to in books. For me a good drawing has a sense of movement in its lines and works perfectly on the page, but here I was interested more in the possibilities of combining puppets, painting, and techniques with a filmic quality. I knew that bringing all these things together would require a fantastic production team. But even now after nearly three years working on the show I'm still astonished by what we've achieved by using all these traditional, and not-so traditional methods!
I always had strong ideas about what the show should look and feel like (and we've surpassed most of those), but equally exciting has been writing with the brilliant Matilda Tristram and Steve Roberts (who is the creator of the fantastic Dipdap series), and also with Anne and the editing team. Together we've made some stories which I am just over the moon about, and I hope you will be too!