Conor McNamara: Swashbuckle's Squawk goes to the World Cup in Brazil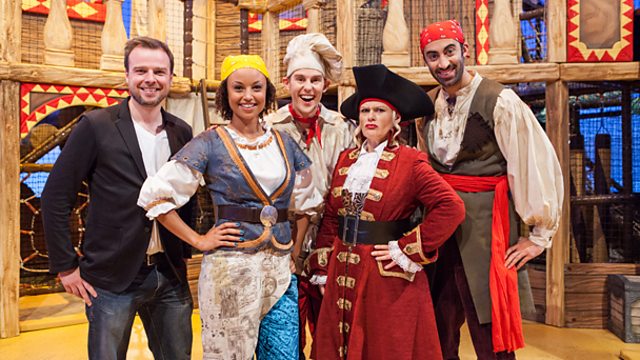 CBeebies Grown-ups is lucky enough to have not one but TWO representatives at the World Cup in Brazil this summer – Radio 5 live commentator Conor McNamara and his alter ego, Swashbuckle's very own Squawk the parrot will be keeping us up to date on what's happening during the tournament. Squawk will also be bringing all the sounds of Brazil to little CBeebies Radio listeners.
We caught up with Conor as he was packing for Brazil to find out what it's like juggling life as a professional sports commentator with his role as TV's most famous parrot…


Hi Conor, what transferable skills from being a football commentator have you been able to bring to your other role as the voice of Squawk on Swashbuckle?
The big rule in football commentary is not to 'peak too soon'. You can't get too excited too early in a game. For example if someone scores a brilliant goal and the commentator goes absolutely crazy, then he has nowhere left to go should someone score an even better goal later on.
However in Swashbuckle each game is like commentating on a World Cup Final winning goal! The excitement really is turned up to eleven.
Not surprisingly my voice is always more hoarse after doing Swashbuckle than after doing a football game.
The high energy of the programme is really infectious and I'm sure that's a big part of its success with young viewers.
What do your BBC Radio 5 Live commentary colleagues make of your double life as Squawk?
Squawk is a source of great amusement to my colleagues. Many of them assure me that I always chirp like a parrot even when I'm not being Squawk. The fact the programme goes out on Saturdays and Sundays (traditionally busy football days) adds to the mirth.
Squawk gets mentioned A LOT on BBC Radio 5 Live. He hasn't been mentioned on Match Of The Day yet, but I'm sure it's only a matter of time.
Have you ever tried out any of the Swashbuckle games? How do you think you'd fare against the pirates?
I've hung around the set just hoping to asked to take part in the games... But no luck so far! Cook and Line are very sneaky, especially when they hide the jewels, or other game items, on purpose, but I really fancy a go on the slide! I don't mind admitting that the soft toy rats and mice kind of freak me out, though. I'd like a go on the cannons too, that looks like a lot of fun.
What I'm always glad to avoid is 'walking the plank' - the cast don't have to over-act to appear really scared of that !
We know you're a dad – what do your children think of you being Squawk?

My kids are very young, so they think everyone's Dad is a parrot! My daughter got quite upset once because Squawk didn't wave back at her when she waved at him on the TV.
You and Squawk are both heading out to Brazil for the World Cup – what are you most looking forward to about the tournament?
A World Cup in Brazil is something I've always dreamed of attending. It's been a long, long wait since the last one held there - and it could be another lifetime before they host another one.
Squawk is travelling with me and I'm a bit concerned that he snores! That said, I think he'll really be in his natural habitat when we visit the Amazonian city of Manaus. Where better for a parrot than a tropical jungle?
Squawk will be giving his 'birds eye view' of the tournament for CBeebies Radio, so expect plenty of colour and atmosphere from Brazil.
Do you watch or play sports with your kids?
Absolutely. I think children can benefit from taking part in as many different sports as possible. Balance, stamina, decision-making... Sport is crucial in helping a child grow. For all the talk of living in a digital age, there is still not a computer game that can give a child the immersive experience you get from playing sport.
What do you think children gain from experiencing things like the World Cup?
One of the really interesting things about Swashbuckle is that the children don't always win the game. The games are not fixed. If a team of children 'lose' a game, they are encouraged to keep trying hard or congratulated for their efforts. I'm not a fan of giving 'winners' medals' to everyone all the time for the sake of it. Learning to be a good loser is a very important thing. And remember, a sportsperson doesn't have to win gold at events like the World Cup or the Commonwealth Games to become a hero to a child.
As a commentator, you're always meticulously prepared for games – any tips or tricks for parents whose little ones expect them to be a fount of football knowledge?
You get away with very little these days. If you don't know your stuff, you will be caught out. There's so much information available now in the media and the Internet. But opinions are still a very important element of sport and everyone's opinion is valid. You don't have to be a complete 'statto' to be a sports fan.
Were you into sports when you were little? What can parents do to encourage their child's interest in sport?
The most important thing is to remember it is supposed to be fun. I don't think parents should put any pressure on young children playing sport. Over-zealous parents can really spoil the fun for youngsters. Kids' games aren't the World Cup final, they're just a bit of fun.
I do believe that children should be allowed explore lots of different sports when they're young. Just because Mum and Dad like football (or whatever) shouldn't mean that the child should only be exposed to football and not other sports.
Are you looking forward to a summer of sport, or will it be passing you by? How do you get active with your little ones? Join the chat on facebook.com/cbeebies or @CBeebiesHQ.