Shirley Hughes - author of Dogger and Alfie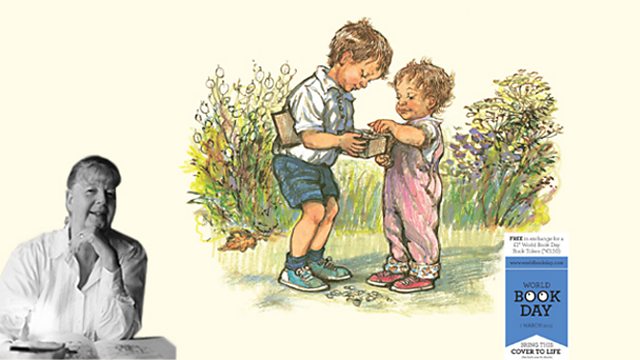 Shirley Hughes, author of one of the 2013 World Book Day stories 'Alfie's Shop'.
We asked Shirley Hughes, author of one of the World Book Day 2013 stories 'Alfie's Shop', about what inspires her illustrations, what has made her characters appeal to generations of children, and how she has juggled her work with motherhood and grandmotherhood...
What were your favourite books when you were a child?
My favourite books were 'Josephine and her Dolls' by Mrs H.C. Cradock, which was illustrated by Honor C. Appleton, 'Winnie the Pooh' by AA Milne, illustrated by Ernest Shepard, 'The Wind in the Willows' by Kenneth Grahame (also illustrated by Ernest Shepard), and later the 'Just William' books by Richmal Crompton, which were illustrated by Thomas Henry.
The settings of your books seem very real - are there particular places that inspired your illustrations?
The settings of the Alfie and Lucy & Tom books are inspired by real London streets around Notting Hill (before it became ultra smart!), and also a street in Hammersmith. They are typical London terrace houses with back gardens.
Are there other children's authors or illustrators currently working whose work you especially admire?
Some of the contemporary illustrators I admire are David Mackintosh, Ian Whybrow, Lauren Child, Chris Riddell and of course my daughter Clara Vulliamy.
Lots of grown-ups have told us that they grew up reading your books, and are now sharing them with their own little ones. What do you think makes characters like Alfie and Annie Rose appealing to successive generations of children?
If Alfie was living in real time he would be thirty by now (a sobering thought!). And of course I am thrilled that the stories about him and his little sister Annie Rose continue to be enjoyed. Perhaps it is because pre-school children still go to the park, dig sandcastles at the seaside, get very excited about birthdays and Christmas, and maybe even have a best friend who is rather like Bernard?
How did you juggle your work with being a mum (and now a grandmother)?
Often, with great difficulty! When my own children were young I taught myself to concentrate in short spells because I was always being interrupted. But my family have inspired many of my stories and I am very grateful to them all, especially my grandchildren, who can always make me laugh.
Was there ever a real Dogger (or a toy that inspired him)?
Yes, Dogger is a real toy. He is very old now and has given up making public appearances, as he prefers a life of quiet retirement.
Do you have a favourite amongst the books you've written?
'Dogger', I suppose, and Alfie because he continues to give me inspiration. I also love doing picture books for rather older children, like 'Stories by Firelight', 'The Lion and the Unicorn', and 'Ella's Big Chance', which may open up possibilities of children exploring myths, legends, costume design, or even more recent World War II history for themselves.
Did you read aloud to your children when they were little? Do you have any advice for parents who want to help their little ones enjoy books?
There were (mercifully) fewer distractions around when my own children were little, so I read aloud to them a lot. Often we shared a longish story in instalments, something which was possibly a bit beyond what they were reading to themselves. I tried to leave it at a cliffhanger moment in the plot. I think children still love it if there's a special read-aloud time built into the day, and look forward to it long after they have learned to read themselves.
Is Alfie still having new adventures? What do you think he'll get up to next?
Alfie is certainly having new adventures. 'Alfie's Christmas' is coming out this autumn, and I am working out a rough for another Alfie story, but that's under wraps right now.