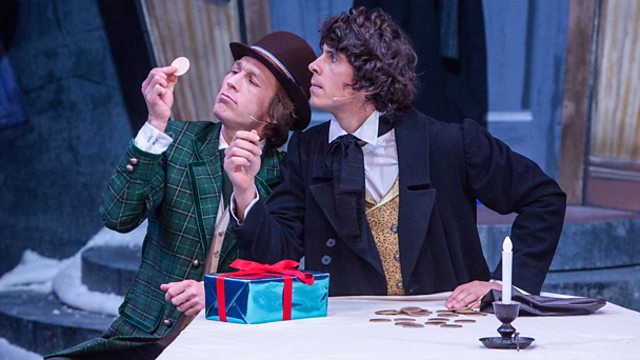 Ben Faulks and Andy Day in A CBeebies Christmas Carol.
Christmas is fast approaching and behind the scenes at CBeebies, a team of top telly professionals have been beavering away, putting together the most important viewing event of the year - the CBeebies Christmas show! We caught up with Jon Hancock, the show's producer to find out how it's coming on...
Hi Jon! Can you tell us a bit about A CBeebies Christmas Carol, this year's Christmas show? 
It's CBeebies' special musical adaptation of the classic Dickens novel. Mean and miserly Ebenezer Scrooge is a man who doesn't care for Christmas and doesn't share with those around him. With a burst of CBeebies magic we help him change his ways!
 We have been working hard planning the production since Easter this year and it culminated in a week in Sheffield in early November. There, we rehearsed for a few days and then performed and filmed the show 4 times. It's a brilliant production – packed with CBeebies stars who each perform fantastically – and I'm confident it's going to be a real highlight of this Christmas for the whole family.
What do you hope children will get from the show?
First and foremost I hope children are captivated by the story and really enjoy the show. I hope that some would really take to heart the message of Scrooge's character change too – that it's much better to care for people and to share what you have than be mean, grumpy and selfish. That's a brilliant lesson we could all do with hearing occasionally!
What was it like filming it in front of a live audience in Sheffield?
It wasn't a problem filming in front of the audience per se – we do that with plenty of other shows on CBeebies (Justin's House, Swashbuckle) – what was challenging was that the stage at The Crucible is shaped such that the audience are ALWAYS in the back of shot! The last thing we wanted was someone looking bored in the background! But thankfully it's a riveting watch and the times you see audience in the programme are a brilliant illustration of how much people of all ages were engaged by the show.
Any standout performances/ funny moments we should look out for?
Gosh – this sound cheesy, but I really love each scene for different reasons and I've so enjoyed seeing the CBeebies presenters excel in their roles. Chris plays a brilliant Bob Cratchitt and worked so hard in the rehearsals. Robert the Robot is brilliantly funny. And there are two children who make special appearances. They were fantastic to work with and steal the show!
 There's also a shot of a small boy who is so captivated by a particular scene that he's dancing along and it makes me smile every time!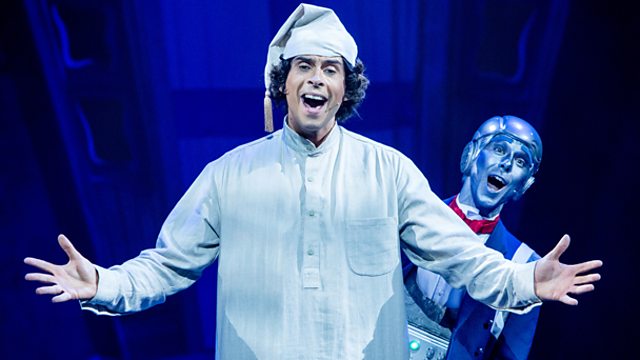 Andy Day as Ebeneezer Scrooge in A CBeebies Christmas Carol
 Does Andy make a good baddie?
Andy Day as Scrooge is genuinely superb – it really shows off how good he is as an actor, singer and stage performer. He strikes a really good balance of being a baddie, but not scary.
And finally, can you reassure us that in true CBeebies panto tradition, Justin will be wearing a dress?
I don't like to spoil surprises, but YES. Yes he is. And it's the most colourful/loud dress I've ever seen. Turn down the brightness on your TV sets!
 A CBeebies Christmas Carol will be on CBeebies on Friday 20th December at 4.45pm