Parent's experience: starting school - the teacher's story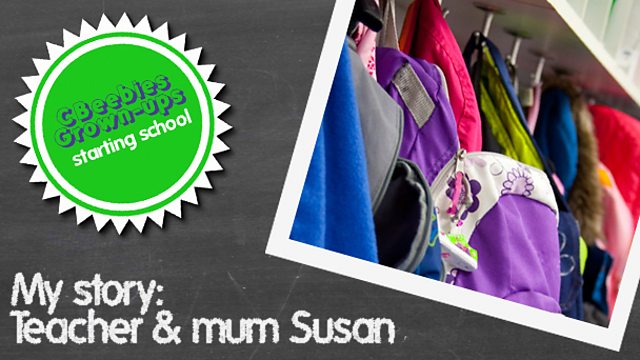 Mum and early years teacher Susan talks to CBeebies Grown-ups about what it's like when you're a teacher and your own child is starting school...
Can you remember how you were feeling on the first day – what happened?
That's the trickiest part of balancing being a teacher and being a mum – I wasn't able to take time off work to be there to take my son to nursery on his first day. I remember feeling nervous, apprehensive and excited for him all at the same time. I had lots of "But what if…." doubts and questions in my mind, but deep down, I knew he would be fine. He was going be kept far too busy to give me a second thought,  so I made sure I was as cheery and positive as could be, so that he could sense there was nothing to worry about!
Why did you choose the educational setting that you did?
The Ofsted report was of little importance to me, it was the experiences and thoughts of other parents of children who had previously attended the nursery that were vital in answering any questions that I had. I'd been lucky enough to have completed one of my teaching practices at the school during my degree, so I already had a feel for what kind of setting it was. I also attended an open day before my son was due to start, so I had the opportunity to have a good look around. I liked what I saw - I even managed to 'borrow' a few new ideas to take back to the school where I teach in nursery, too!
Did you do anything to prepare your child for starting their education?
Yes, loads! Having a good idea of what the first few days and weeks at nursery were likely to be like, my son and I did lots of walks past the entrance to the school, and talked in a positive way about his new "big nursery". From the age of one, my son had attended a different nursery, so we talked  about the familiar things that he had already experienced –having a peg for his coat, having a carpet where he would listen to stories and sing songs and rhymes etc. We also made sure he was well rehearsed with his 'pleases' and 'thank yous', knowing how teachers love good manners! I felt it was important to develop his independence skills – simple things like taking his own shoes on and off, learning how to put on his own coat, or wash his hands by himself. We also talked about who to go to if he needed help with things, and I mentioned the nursery staff's names regularly, so that they began to become a more familiar part of his life.
How did your child settle into their new situation?
Brilliantly….or so I was told! Everything we heard from the nursery staff was positive. The initial 'wobbles' when saying goodbye to his daddy in the first few days were soon forgotten when he was distracted by a member of staff for a cuddle, or invited to play with a favourite toy. As a teacher I know that it's the parents who find the initial drop-offs and goodbyes incredibly difficult, so I reminded myself that if I was a fly on the wall in my son's new nursery, the tears would have become a distant memory just minutes into the session!
What's the best thing about them starting their education?
So many things – new experiences; friendships; discovering new likes and dislikes; coming home tired (and often filthy!) and ready for lots of cuddles at home with me – to name just a few. The opportunities and resources that can be offered in a nursery environment are vast – the bikes on the tracks, building on a large scale, and the messy and creative play (when any house-proud parent tries not to cringe at the thought of the mess in their own four walls!) Most of all, though, it was the development of my son's social skills, and seeing him grow and change as he learned how to rub along with new characters and new personalities. And of course, those "Look what I can do now, mummy…" moments when he proudly shared his new learning at home.
What were you most worried about when your child started school? Has this turned out to be a genuine concern?
If I'm honest, the most important question then (and still now that he's older) was "Will he make friends? Will he be well-liked?" and "Will the staff understand the little quirks and character traits that make him who he is?". We all want our children to be the best that they can be, to be popular with others and to have traits in their characters that other people find appealing. So far though, no complaints……but maybe I am a little biased!
What do you know now that you wished you had known then?
That it would all be fine! My son settled quickly into nursery, and he has continued to happily skip to school every single day since. I couldn't have asked for more.
Is there anything you'd do differently now?
I honestly can't think of anything I'd do differently…..except make sure that the clothes in his bag that we'd provided to be kept in nursery in case of any 'incidents', actually fitted him properly! I clearly remember the day I arrived to collect him, only to find him wearing an almost skin-tight t-shirt when he'd had too much fun during a painting activity. I was more concerned that the staff would think I was a terrible parent!
As an EYFS teacher, how was it being on the parent side?
Interesting! I chose not to tell the staff at my son's nursery what I did for a living because I didn't want any teacher-to-teacher discussions – I wanted to be a mummy. The staff at my son's nursery were all fantastic. It was great to hear the kind of resources and activities he was enjoying, and it reassured me to know he was getting a great 'diet' of opportunities to experience. On the whole I suppose it wasn't much different to the experiences of any other parents, other than understanding it 'from the inside'.
As an EYFS teacher, is there any advice you would give to new parents about interacting with their child's class teacher?
Yes, talk to us! Lots of teachers are lucky enough to be parents, too, and all EYFS staff welcome being kept up to date about changes at home for the children in their care, like if your child is tired, or a has had a change of circumstance like moving house, or has been unwell.

We love to hear the good news, too, like artwork they have made at home, photos of events for them to share with others, or recent achievements or reaching milestones such as riding a two-wheeler for the first time. EYFS staff work closely to plan the 'next steps' for every child's learning. We can make that learning even more individual and personal to a child if we get to hear about their home lives, too. We also have a wealth of experience if a child is reluctant or is finding it hard to master a new skill, and are always happy to share advice and ideas about how parents can best help their child at home - we can often offer lots of interesting suggestions to help parents make the learning more fun at home, too.
Read about other parents' experiences of their children beginning education...
Starting nursery: Emma & Fianna
Starting school: Beate & Lucas
Starting home education: Alice & Toby
Starting school with special needs: Chris & Harriet
Our interactive guides are packed with advice:
How will I cope with my child's first day at school?
Is my child emotionally ready for school?

Are you in a similar situation to our CBeebies parents? Join the chat on the CBeebies Grown-ups Facebook or Twitter pages.