Swashbuckle: A new pirate show comes to CBeebies!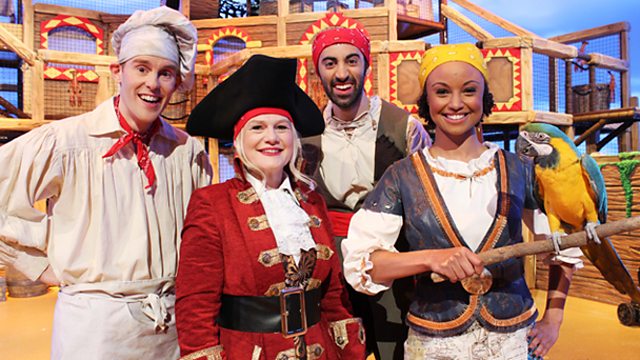 The cast of Swashbuckle
On Saturday 6th July, a new ship sails into CBeebies harbour. The 'Scarlet Squid' is the setting for CBeebies' brand new pirate gameshow, 'Swashbuckle'.We caught up with its most dastardly crew member (CBeebies series producer and Dad, Jon Hancock) to talk pirates, soft play and gunge…
CBeebies: So can you tell us a bit about Swashbuckle?
Jon: Swashbuckle is CBeebies' first ever physical gameshow. Set on a giant (3 storey high!) soft-play pirate shipwreck, every episode has a team of 4 daring Swashbucklers (children aged approx 6) who take part in large scale physical games. It's like a pre-school pantomime Crystal Maze meets Funhouse!
The premise of the show is that our host, Gem (Gemma Hunt – a fantastic presenter who you might remember from CBBC a few years ago) has had jewels stolen by the 'baddy pirates': Captain Sinker and her bumbling sidekicks, Cook and Line. Gem enlists the help of a team of Swashbucklers to win them back in pirate/shipwreck themed games! Every time the team win a game they win a jewel for their treasure chest, and if they collect all 5 jewels then one of the naughty pirates has to walk the plank, landing in the Ship's Mess (a vat of green coloured slop!)
CBeebies: What was the inspiration for making Swashbuckle?
Jon: We know how much our audience love pirates, plus, we know that lots of the the older ones enjoy shows like Total Wipeout and Splatalot, and that they happily tear around soft-play centres! We therefore wanted to make a pirate-themed physical gameshow on a big scale, that our audience would really enjoy.
CBeebies: How did you find filming the series? It looks like it was a lot of fun…
Jon: The cast are a brilliant bunch. Gem is a fantastic presenter who always made us giggle. Ella Kenion who plays Captain Sinker is a very established comedy actress and had us all in fits. But Richard David-Caine and Joseph Elliott who played Cook and Line are new to TV and were so obviously having as much fun as the kids who took part, so they stole the show for me! In every episode there is a comedy sketch involving Cook, Line and Sinker and nearly every day it took all the cast and crew's concentration to get through these without bursting into laughter. They nearly all involve Sinker getting splatted/pied in some way and sometimes – even in the finished programmes – you can tell that she's very close to cracking! I've got fond memories of those sketches being filmed – you know you're onto a good thing when the crew are belly-laughing even though it's the 4th take because it's so genuinely funny!
CBeebies: How does being a parent help inspire your work?
Jon: I am a parent of 4 children – the middle two are twins and the perfect age for Swashbuckle. I've been using them as my crash-test dummies for the series: taking them to soft-play centres and timing them to see how long it takes to run from A to B! I'm not so sure they've ever got into "pirates" as a theme before, but they certainly have energy to burn and can get round soft play centres like rats up drainpipes, so it's been really fun to test ideas out on them and see how simple the rules to games need to be, and what physical limitations they have.
My youngest has just turned 3 and as a girl, you might not think she'd be into the show, but she has really understood the programmes I've played her – she's shouted encouragements at the screen and loves seeing the funny and messy bits! I keep catching her singing the Swashbuckle theme tune around the house and she's trying to perfect the Swashbuckle Salute! When I dropped her off at Playgroup this morning she said she wanted to paint Gem a picture of her treasure chest … so I think the series has struck a chord!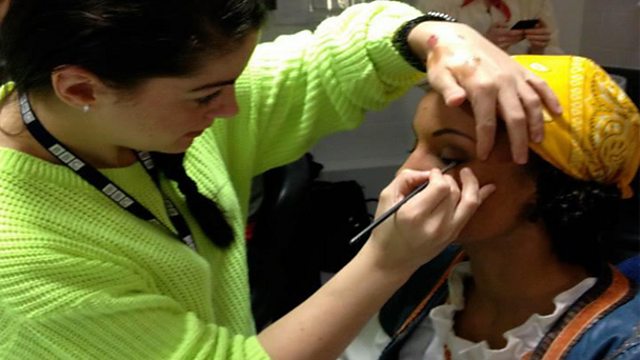 Even lady sailors need a little help here and there...
CBeebies: As a parent, you probably had quite a lot of experience of soft plays already, we're guessing…
Jon: I think I've got a fairly good knowledge of soft-play centres around the North West of England! I don't dread taking my children there – although sometimes I baulk at the cost of some! If there's a great café that's an attraction! What I see a lot as I go to centres is that some parents will use it as a chance to relax while their children burn off some energy. I totally understand this – it might be a precious bit of time-out in the middle of a rain-filled school holiday day! But I love seeing parents interacting with children in soft-play centres – diving around in the ball-pools or the soft toys (safely of course!) – and I'd like to think that after watching Swashbuckle, children will be re-creating the show in some respect in their local soft-play centre!
CBeebies: Why did you decide on the kind of games in the show?
Jon: All of the games have been designed to incorporate the physical development goals that children experience in school (co-ordination, speed, balance, aim, teamwork etc). So I hope that the audience will learn from seeing their peers working as a team, helping each other, and playing games that they themselves could replicate in some form (where if they do, there will be a physical and developmental benefit to them).
CBeebies: Some of them look pretty raucous! How did you make sure they were safe?
Jon: We went through an extensive period of games testing for Swashbuckle and safety was always our top priority. All of the props that the contestants use as part of the games are covered in foam or soft padded material - even the Tumbly Barrel is soft on the inside, and the barrels and crates are made from soft foam too! The children wear safety equipment (pads, helmets etc) where appropriate. In some games it was deemed unnecessary for the children to be wearing all of the protective clothing. We had chaperones with the children in the studio at all times and there was medical assistance in the studio should that be needed too.
CBeebies: The set looks amazing – how on earth did you build it?
Jon: It was a massive undertaking to design and build such a big set in such a short space of time. Our Designer enlisted the help of a soft-play company, and together they did a brilliant job of creating a set that had huge scale and ambition, that looked like a shipwreck, and that was also 100% safe. What we've ended up with is a 3 storey-high soft-play shipwreck. It uses 550 metres of steel scaffolding and across the whole series we've used 33,000 ball-pool balls! ALL the adults who came to work in the studio or pop in for a look were desperate to have a go … and it was certainly big enough for them to do so if we hadn't had such a busy filming schedule! I couldn't believe the size of it when I saw it for the first time, and it's VERY high up on the top deck! Bear that in mind when you see Captain Sinker up there for most of the show!
We always wanted to have a walk-the-plank moment as the crescendo for each show (if the children had won all 5 jewels), and this took a lot of planning. The children contestants would never walk the plank if they lost, but even though only the baddies would walk on it, it was important that we made it something that children wouldn't want to try and replicate themselves. As such, we came up with the idea of Cook, Line and Sinker walking the plank and landing in a lot of gunge/mess … as we call it: the slop of the Ship's Mess. I'll keep a TV secret and won't reveal exactly how we filmed what you'll see on TV, but rest assured that the actors had the necessary stunt-training and were falling very safely at all times! In fact, they loved it! They might not have enjoyed getting covered with gunk and needing a shower before we recorded another episode in the afternoon, but they were having a whale of a time … there was even a tally in the dressing up room of who fell into the Ship's Mess the most!
Look - a stowaway!
 CBeebies: What do you hope children will take away from the show?
Jon: After the Olympics in 2012, there was a reasonable amount said in the press about how it's important to teach children how to deal with competition – winning and losing. This issue was a really important one for us to tackle in Swashbuckle. The team of 4 Swashbucklers are a team who win or lose together. They're cheered on by their friends and classmates, and everyone is united in the desire to win the jewels and beat the baddy pirates. But because the whole show is wrapped up in a pantomime type setting (Captain Sinker is the baddy we all laugh at and "love to hate"), and because Gem does such a brilliant job hosting the games, there's never a sense that this is a dramatic competition with tension that could lead to tears!
I hope that the audience will see that sometimes you win – and it's great to celebrate that – but that in other times, you lose, but there are still ways of looking at that positively.