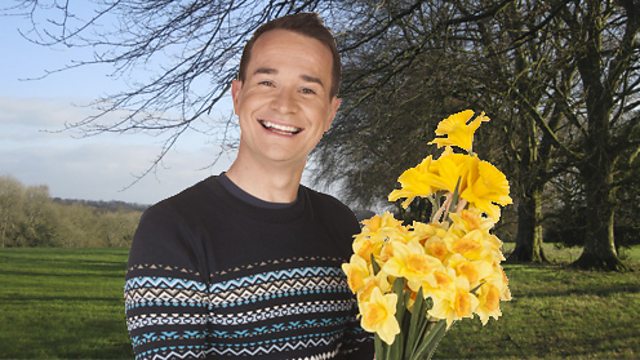 Alex
It may still feel like Winter outside but inside CBeebies, we're dusting off our Easter bonnets and hopping around with excitement about all the Easter and Spring-themed treats we've got lined up starting this weekend!
All over the bank holiday weekend, CBeebies will be celebrating Spring and Easter with a nature and baby animals theme. This will culminate in a one-off, special show, 'CBeebies Ugly Duckling' on Easter Monday at 11am and 5pm, when Mr Bloom and the Northern Ballet take the audience on a journey through dance with a new baby bird from the moment it hatches to its first flight, on a very special adventure.
There will be Easter and Spring themed special episodes from lots of our CBeebies favourites over the weekend too – keep your eyes peeled for 'Timmy's Spring Surprise' and 'Timmy's Egg Heads', 'Everything's Rosie: Never Play Tennis with an Egg', 'Big & Small: Egg', 'Let's Celebrate Easter', 'Green Balloon Club' and 'Everything's Rosie: Mama Raggles'.
And everyone knows Pantomimes are just for Christmas, right? Oh no they're not! Not at CBeebies anyway. Just because we know the little ones (and you grown-ups!) love them, there will also be a chance to catch both Jack and the Beanstalk (at 11am & 5pm on Friday and 9am & 2pm on Sunday) and Strictly Cinderella (at 9am and 2pm on Saturday) over the weekend.
Justin's House fans will be pleased to know there are two brand new 'best of' episodes going out at 11am and 5pm on Saturday and Sunday. There'll be another chance to catch the feature-length Octonauts special, 'Octonauts: Amazon Adventure' at 9am and 4pm on Easter Monday.
You can find times for all the shows in our TV Schedule
If you're planning a long drive to see friends and family this Easter, you need to go and check out the marvel that is CBeebies Radio. As well listening online, you can also download the shows as podcasts to a CD or MP3 player and then listen to them wherever you are. This Easter their programmes include everything from CBeebies favourites like Old Jack's Boat and ZingZillas to a special Easter Day story read by Darcey Bussell. Enough to keep the little ones entertained and spellbound for hours. Long car journeys will never be the same again! (By the way, if you're thinking 'sounds great, but what on Earth is a podcast and how do I download one?!' we've compiled this special guide to all the techy stuff, just for you…)
The fun doesn't stop there though. The lovely CBeebies website is overflowing with Easter and Spring treats and activities to keep little minds and fingers busy over the holidays. On our special Easter page you'll find recipes for Easter nests, Easter cards to print and colour, an Easter egg hunt game, clips to watch about preparing for Easter, the story of Easter and lots more.
We've also been working hard to bring you more CBeebies fun to mobile devices like smartphones and tablets, so little ones can enjoy CBeebies games and clips when you're out and about. The mobile site (just go to CBeebies.co.uk on a compatible device and you'll be redirected there – you don't have to download anything) now features a growing selection of games from CBeebies favourites like Numtums, Justin's House, Mike the Knight and Something Special and clips from lots of different shows to watch, including some exclusive behind-the-scenes clips from 'Ugly Duckling'.
Whatever you're up to this holiday, we wish you all a happy and relaxing Easter from everyone at CBeebies!