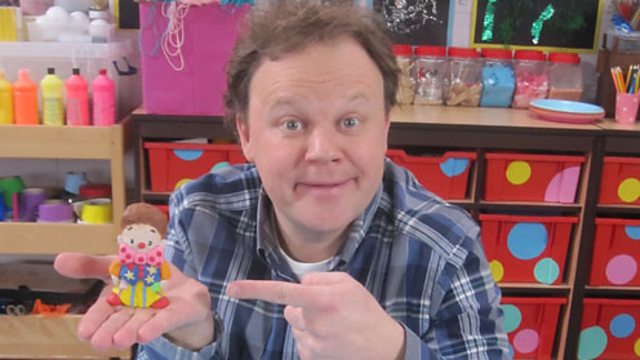 Justin Fletcher & Tiny Tumble
'Tiny Tumble' was an idea that was brought to CBeebies by animator Mark Mason. The idea was inspired by the popularity of Mr Tumble and in this series we meet Tiny a 'mini Tumble' character who has a great sense of fun and is a bit of a scamp but ultimately, he really just wants to help (a bit like a child).
The programme features Justin Fletcher and his alter-ego Mr Tumble as well as an animated section where Tiny jumps into a child's art work and goes off on an adventure. The premise of the show is that Tiny tries to solve a problem through drawing but it's Justin and children who come to his rescue and they 'sign' the solution to the problem in the story. They are fun stories with great characters and as all the animation is hand-drawn there is a comforting, nostalgic feel to it, which both children and parents will both enjoy.
Justin also does all the voices for the show and his talent in this area really brought the animations alive. We recorded him doing a 'Tumble voice' and then we pitched it up higher to be a true 'Tiny Tumble' and - a little known secret: Justin does some amazing sound effects- including that of a rocket!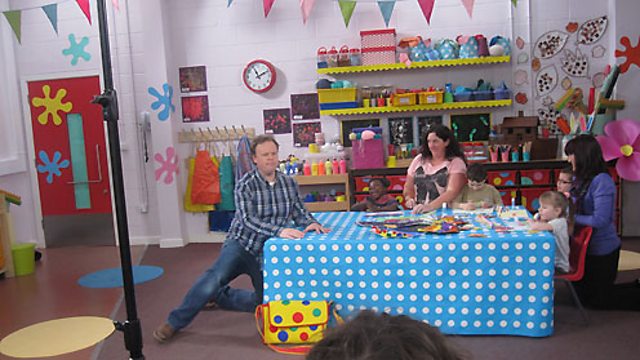 Justin Fletcher - Filming Tiny Tumble
The programme was filmed in a wonderful Primary Special school in Rochdale and all the background art work from the show has been put together by the children at the school along with other nursery children from Ribblesdale Children's Centre. This gives the animation a really distinct feel and it's great to include the art that children have created themselves. While our ambition is for Tiny Tumble is to be enjoyed by children of all abilities, the inclusion of artwork created by children with special needs is a vital part of the programme. Research has shown that children who have problems with communication and/or motor skills can struggle with verbalizing, which can cause frustration for the children, be upsetting for their parents and challenging for their teachers.
Art can provide significant benefits to cognitive and physical-development, including strengthening problem-solving and critical-thinking skills, developing a sense of goal-setting and nurturing social skills that are critical both inside and outside the classroom. This is something that we want to cover in the show as well as the online offering.
We hope that you and your little ones enjoy the series!