We've been hard at work filming Series 2 of Old Jack's Boat and it's shaping up to be even better than the first. Most of the ingredients of the first series are there again, with almost all of Old Jack's friends returning to their village activities.
Miss Bowline-Hitch (Helen Lederer) is still cycling around the village being very busy, busy - organising everyone's lives. Helen has become very adept at navigating the bike down some of the tricky steep paths of Staithes. Emily (Janine Duvitski) is still running her stall in her own eccentric way and dealing with her animated seagulls. For the new series Emily divides her time between the stall and her sweetshop. This is a new set that gives us the chance to shoot scenes in studio as well as on location. The location for the front of the shop is on Main Street in Staithes and the interior scenes are all shot in studio in London. We have to keep a close eye on continuity so that nobody walks into the shop wearing a hat which then disappears as they walk through the door!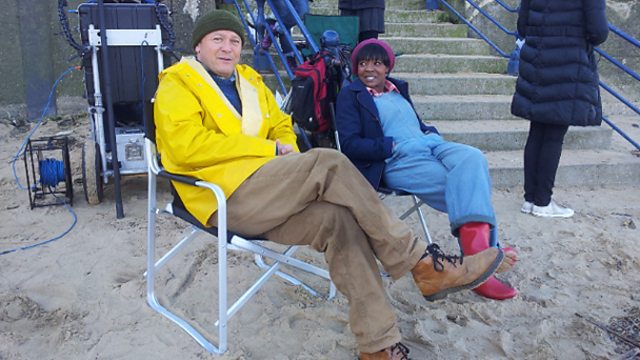 Ernie (Paul Hawkyard) is still running his fish stall (does he ever actually sell any of those fish?) Paul is currently appearing in War Horse in the West End, so his time in Staithes is very limited. However, by being a little crafty with the scripting we have been able to make Ernie appear in a lot of the episodes despite the short amount of time he could be with us in Staithes. In addition we have created another interior set –  a workshop that Ernie shares with Sam (Nadine Marshall). They're a great double act and you can expect to see some lovely comic moments from those two inside that busy, slightly eccentric workshop.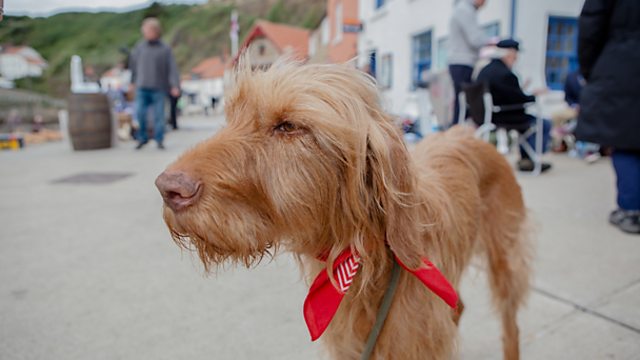 Salty Dog is with us again. Her real name is Scuzz and for the record she is a Hungarian Vizsla. Paul Hawkyard is her owner and Paul's daughter Molly has been our dog handler for this series. When Paul arrived in Staithes to film his scenes Scuzz howled with delight. Due to the huge response we had to Salty, she now has her very own show – Salty's Waggy Tales! (available exclusively on the CBeebies website right now, and coming to TV later in the spring).
And what about the owner of the Mermaid Cafe – the lovely Shelly Periwinkle (Freema Agyeman)? Sadly this year Freema was unable to shoot Old Jack's Boat due to her work commitments in New York where she's filming the second season of The Carrie Diaries. She was bitterly disappointed not to be involved in Old Jack's Boat, but the door has been left open for her to return in the future.
So – what's going to happen down at the Mermaid Cafe? Luckily Shelly's Dad, Captain Periwinkle, has taken over the running of the Cafe while she is away. Captain Periwinkle is going to be played by Don Gilet, a wonderful actor whose last appearance on CBeebies was telling the story of a naughty African Hare on Jackanory Junior. Don was most recently seen in Eastenders playing the no-good Lucas Johnson. He won't be as scary in Old Jack's Boat –promise! Captain Periwinkle is a no nonsense, cheery ex-sea captain who likes to keep everything shipshape and Bristol fashion. He is great pals with Old Jack and more importantly he also has the family ability to weave a little bit of magic where necessary. He might even wink at the camera from time to time.
This series we have a strong writing line-up again. Tracey Hammett, the unsung hero of Old Jack's Boat, has written 8 of the stories in her beautiful, whimsical, quirky style. Russell T Davies enjoyed his Old Jack's Boat experience so much last year he's back again. He's written two of the episodes, one about some mysterious shooting stars and the spellbinding Christmas episode featuring 'Young Jack' and 'Sailor Sue'. The newest addition to our writing roster is the marvellous Michael Rosen, author, broadcaster and ex Children's Laureate. Michael has written a magical story called "Blue Ears" – make sure you check that one out.
And the man himself? Mr Bernard Cribbins is in fine form. He's 85 but is wearing us all out with his energy, enthusiasm and sense of fun. Bernard has been thrilled with the response to Old Jack's Boat and has been busy signing autographs and chatting to his many fans here in Staithes – young and old. His storytelling powers are undiminished and the love and warmth that he brings to the show will be there for you to enjoy again this series.
Old Jack's Boat series 2 starts on Monday 20th January at 5.40pm