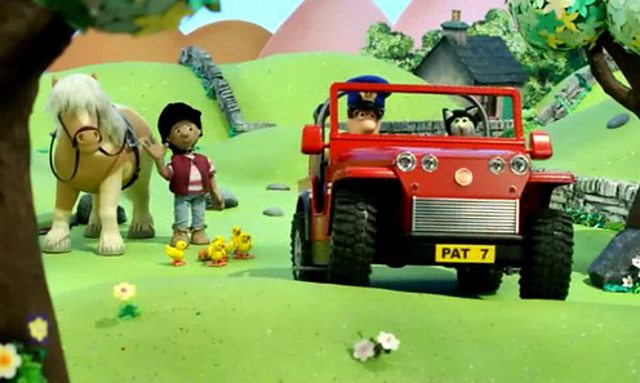 Postman Pat
Chris Bowden who works on Postman Pat tells us about the brand new series...
What can you tell us about the new series?
We have some great new things in this new series. The scripts are funnier than ever and the things that Pat and Jess are called upon to deliver as the Special Delivery Service are even more inventive, exciting and extraordinary. Pat has some great new vehicles in this series too – look out for his new off-road 4x4 in the opening credits and his snowmobile in the Fairy Lights episode.
The heart of Pat is, and always will be, his love for Greendale and his family and friends. That's what drives the stories and is, I think, what's kept Postman Pat such a beloved and iconic preschool character for over 30 years. In fact, Pat is the longest running preschool character in the UK!
Where is the new series made?
At the Mackinnon and Saunders studios in Altrincham, south Manchester. There's a long history of animation in Manchester stretching back more than 40 years. Leading the way back then was the iconic Cosgrove Hall Films – makers of Dangermouse! They gave birth to a vibrant animation industry in the city which has produced many well-loved children's favourites like Bob the Builder, Noddy and Rupert.
How long have you worked on the show?
I originally produced Postman Pat when it moved from Ivor Wood's studios to Cosgrove Hall Films in 2002 and I've worked on every series since!
How long does it take to make a series of Postman Pat?
From beginning to end around 18 months with about 13 months of that given over to shooting the animation. We shoot on 6 sets with 6 animators shooting roughly 11 seconds a day. Believe it or not, that's fast!
Why does it take so long?
Stop frame animation is incredibly time consuming. Everything you see on screen has to made from scratch; every tiny apple, plate, car, house, person and cat! Any one of these can take days, weeks or even months to build. Each episode of Postman Pat starts as a story idea which is then turned into a script. That script is then voice recorded by our talented team of voice artists which includes Carol Boyd (Linda Snell in The Archers!), Emmy-Award winning Archie Panjabi from The Good Wife and Angela Griffin.
The recorded script is then drawn as a storyboard –which is literally the whole script drawn like a comicbook. That storyboard is turned into a 'moving' comic known as an animatic and then that animatic is animated. After the animation we edit it and add the computer elements of the episodes which are mainly effects and some of the background travelling shots and THEN we put everything together in the final mix when all the elements of the show – sound, music, voices, picture are brought together, checked and edited. It's quite a process!
What do you enjoy most about working on Postman Pat?
We get the chance to tell funny, charming stories with some truly endearing characters in a really lovely world. Pat's a pre-school soap opera with a cast of very funny characters and great stories. We're all great movie buffs on the show so one of the things we love to do is pay homage to classic movies in an entirely preschool friendly way. Keep an eye out in this series and see if you can spot them!
If you watch an episode of Postman Pat closely you'll often see a funny visual gag involving Jess or one of the other animals going on at the back of the shot behind the main action. If you watch the Postman Pat and the Scarecrow episode in this new series keep an eye on the birds in the raspberry bushes at the back of the shot…
The best thing about Pat is everyone loves him and is really keen to add and build on the warmth and humour which is synonymous with his character. I can genuinely say there's not a day on Postman Pat when I've come home from work without having had a good laugh. You can't really ask for much more than that!