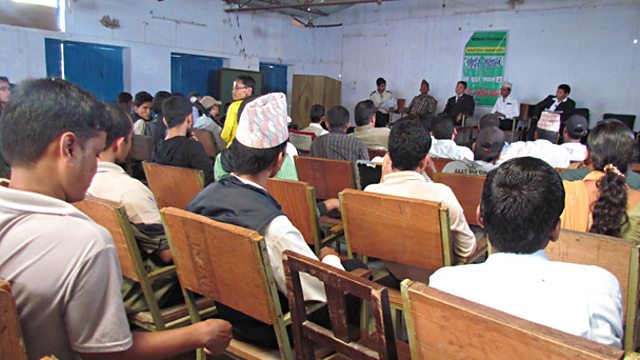 A recording of the question and answer programme in Accham province in the far western region of Nepal.
Nepal boasts 326 FM stations, a phenomenal figure for a country of 27 million people. Both commercially and community-owned, they operate in 74 of Nepal's 75 districts.
But local stations are often criticised on a number of accounts: they are accused of weak editorial standards, an over-dependence on programmes produced from Kathmandu and even of acting as mouthpieces for local politicians and their agendas.
In fact, from my experience working with stations in remote parts of Nepal, they help to break valuable local stories and are vital in giving their audiences a voice. With the help of BBC Media Action, our partner stations in remote parts of Nepal have successfully brought local government to account.
One such example is our latest local partner station Radio Ramarosham, which broadcasts in the district of Accham in the far western region of Nepal. BBC Media Action started working with them in August 2012, helping to build their production capacity and providing basic necessary equipment. One of the programmes we have helped the Ramarosham team to create is a weekly discussion programme based on BBC Media Action's national debate show, Sajha Sawal (Common Questions). The question-and-answer format allows people to ask questions of their leaders about issues that matter to them.
Radio Ramarosham's version is called Sudoor Sawal (sudoor means 'far') and the people of Accham have no scarcity of pressing issues to discuss. Their region of Nepal suffers from poor literacy rates, poor health and hygiene, a legacy of socio-economic exploitation, high infant and maternal mortality, not to mention areas prone to natural disasters and the problems of HIV and AIDs (called in Accham the 'Mumbaiya disease', meaning 'disease from Mumbai').
Sudoor Sawal broadcast its first episode from Accham's capital town, Mangalsen on 1 September 2012 and the excitement and hope felt by the audience was palpable. One member of the audience raised the issue of the area's Village Development Committee secretaries, whose job it is to deliver and implement the decisions of the VDCs. The audience complained that the secretaries were not reporting to their local duty stations but were working in a less transparent manner from their headquarters.
The impact of the programme was immediate. Directly after the programme's broadcast, the Chief District Officer representing the government of Nepal's Ministry of Home Affairs issued a circular demanding VDC secretaries should be deployed to their duty offices and their activities monitored to ensure public services were delivered. Members of the public were also encouraged to report any VDC secretary if they were not working effectively or transparently.
Sudoor Sawal is in its early days and there has been no formal survey yet of how many people are tuning in. But RadioRamarosham predicts it has reached its 300,000-strong audience in the Accham area.
Local Nepalese radio. It's stronger than you think.
Related links
From the BBC Media Action blog:
Sajha Sawal: a story of success
Elsewhere on BBC Media Action:
BBC Media Action's work in Nepal