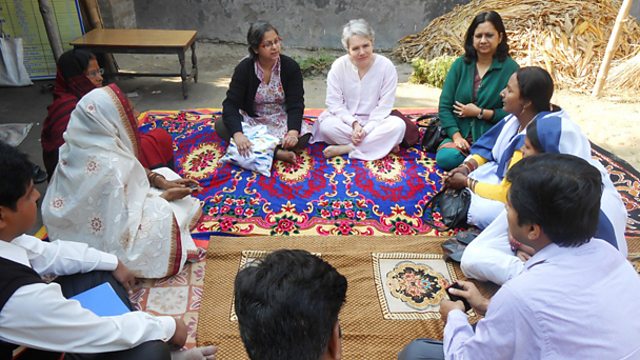 Caroline Nursey meets with Community Health Workers and the project team in Bihar, India
In a thatched hut, barely 300 square feet, in Seehpur village in Bihar, India, lives 19-year-old Rinku Devi. Her husband is a migrant labourer who lives and works somewhere in the Middle East – she's unable to tell us exactly where. Rinku got married two years ago, sees her husband once a year, and is nine months pregnant with their first child. Rinku's family are Dalits, a lower caste community that are among the most marginalised, poorest communities in Bihar, northern India.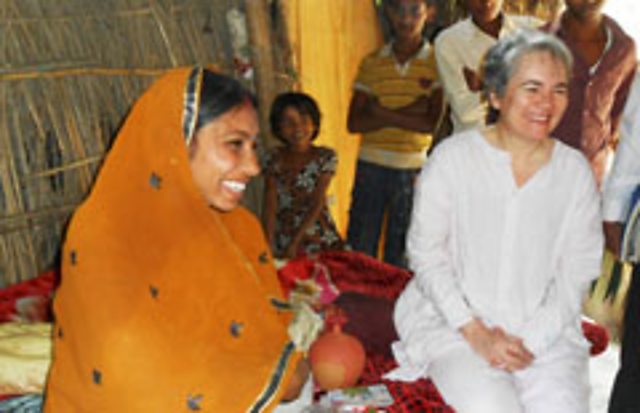 Rinku Devi and Caroline Nursey
Two weeks ago, I accompanied Caroline Nursey, BBC Media Action's Executive Director, on a visit to the Shaping Demand And Practices project in Bihar where she heard first-hand accounts from the families and community health workers with whom we work.
The project uses an innovative, multimedia communication strategy to drive demand for supportive health services by helping shift social norms and transforming practices. As a part of this project, BBC Media Action and consortium partner, Pathfinder International, have already trained 38,516 community health workers (CHWs) on the use of the multimedia job aid Mobile Kunji, with the intention of improving their interpersonal communication skills.
Rinku was visited by a CHW soon after she found out she was pregnant, a CHW who had recently been trained and equipped with Mobile Kunji. In a series of conversations with Rinku and her mother-in-law, the CHW was able to convince them to take certain steps in preparing for the birth, steps that are currently taken by no more than 16% of pregnant women and 11% of mothers-in-law.
First, Rinku registered to be able to benefit from free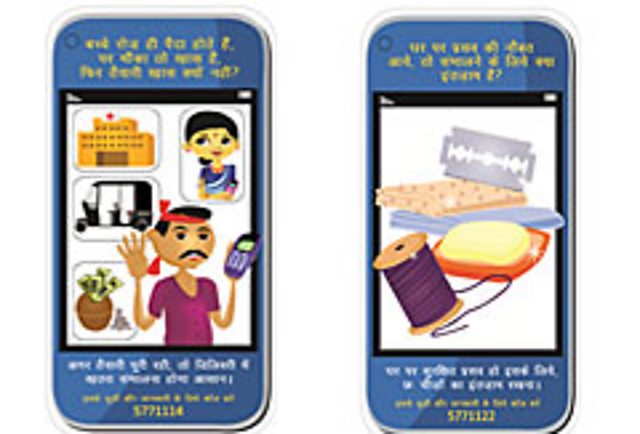 The '€˜six cleans'€™ card from Mobile Kunji and the birth preparedness card
government health services, including getting iron folic acid tablets and tetanus toxoid injections.
She told us the many things she learned over months of meetings and conversations with the CHW: that having her baby at a government facility would mean that the government would pay her a cash incentive and all the services would be free; that the state provides a free ambulance service for those in need; that a newborn baby must be breastfed immediately, within an hour of birth; that the umbilical cord should be left clean and nothing should be put on it; and that her baby must not be bathed for at least two days after birth.
She clearly remembered all the information she had been given and was determined to do the best for her baby.
Rinku decided early on that she would have her baby at the government Primary Health Centre, a few kilometres away. She has phone numbers for the Primary Health Centre, the ambulance and the CHW at the ready. Most importantly though, Rinku told us that she was prepared, just in case she couldn't make it to the hospital in time and ended up having her baby at home.
She brought out a little cloth bag to show us. In it, were her registration card, new thread, a new blade, soap, a clean soft cloth to wipe and wrap the baby and old towels – things that would be needed for her to have a safe and clean delivery at home.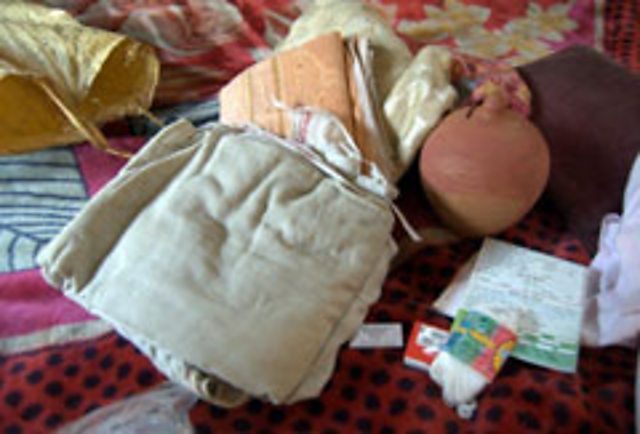 Rinku Devi's preparations
She also showed us a little clay piggy bank in which she has been saving money ever since the CHW visited her. How much money has she saved? She's not quite sure, but on shaking the piggy bank, she thinks it sounds like she's saved quite a bit!
As we left Rinku's home, Caroline turned to me and said, "It's just fascinating the way people, if given half a chance, will take hold of and absorb useful information. Rinku has taken everything on board and is so proud that she is able to make decisions for herself that will improve her life and that of her baby."
And we hope that through our project many more thousands of women like Rinku will experience a healthy pregnancy and delivery and so ensure a better start in life for their families.
UPDATE:
On 13
th
December 2012, Rinku safely delivered her baby, a little boy, in a Bihar hospital.
Related Links
From the BBC Media Action blog:
Elsewhere on BBC Media Action:
Tackling maternal and child health in Bihar
BBC Media Action's work in India