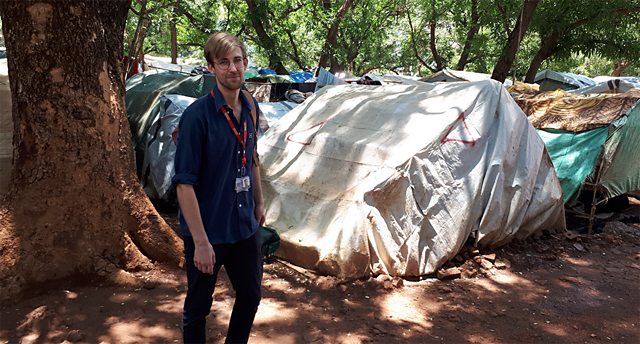 Our radio drama Life in Lulu which depicts the lives and trials of people living in a small village in South Sudan and its regular listeners include inmates at Tonj prison. Henning Goransson Sandberg, our Research Manager, talks about his visit there to understand what they took from the programme.
The prison sits on a main road, overlooking the river that flows past the city of Tonj, in central South Sudan. The doors are open to the street, and the only guard at the entrance takes a cursory look through my bag as I walk past his desk on my way in. The courtyard, where most of the prisoners spend the day looking after cows, farming or cooking food, is patrolled by guards and surrounded by a low wall.
I meet the prison director who shows us around and tells me why the prisoners are there; their crimes range from fraud, shoplifting and petty theft to rape, assault and murder. The most serious offenders have their feet chained together, he tells me.
I am here to speak to inmates who have taken part in radio listening clubs facilitated by presenters from Döör FM, the local radio station. They have been discussing Life in Lulu, BBC Media Action's radio drama about the residents of a small village. The drama, now in its fifth season, is broadcast across South Sudan and explores a number of issues including non-violent ways to resolve conflict.
Döör FM, which means "Peace" in the Dinka language, is a private radio station broadcasting mainly religious, education and public information programmes in the local dialect. The station started the listening clubs around a year ago and has since staged discussions about forgiveness, peaceful conflict resolution, the dangers of weapons in civilian hands and the dangers posed by mines and other explosives. By showing its characters making poor decisions when they are angry or drunk, Life in Lulu highlights the dangers of owning and using weapons.
Most prisoners had not heard the programme before starting their sentences, mainly because they had no access to a radio. But for the past six months they had listened weekly and discussed the show when the Döör FM presenters came to visit. The storylines seemed to resonate with them.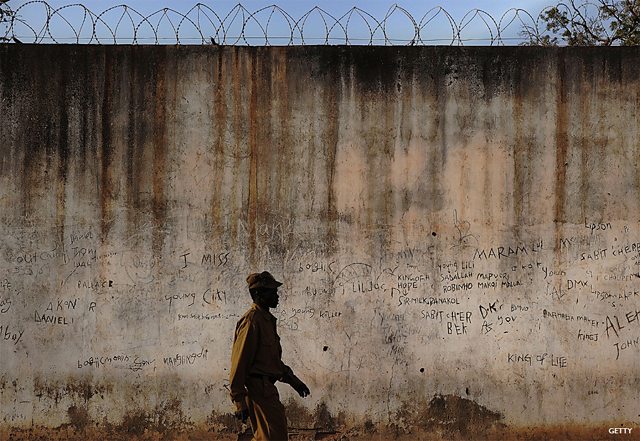 Achol has served two years of an indeterminate sentence for a gun-related crime. "All the problems that exist in this community occur because of guns," he said. "If you don't have gun according to the perception we have here is that you are not a man and you don't deserve the respect that men in the society enjoy."
He is passionate when he speaks of Life in Lulu and what he has learned. He told me that since his arrest, he had changed his mind about gun ownership. "I came to realise that guns should not be handled by civilians," even claiming, "After I'm released I will never touch any gun again … I will tell people about what I have learnt about guns in the prison and I will advise them to surrender their guns to the government so that we can remain as civilians."
Our research has shown that Life in Lulu has been successful in targeting beliefs and norms around weapons, in particular the belief that they symbolise masculinity and command respect.
Discussing the programme with others is important – as it increases the influence of the programme beyond its immediate listeners.
Talking to the prisoners I was struck by how closely the stories in Life in Lulu resembled their experiences. Deng, another prisoner, spoke about the storyline related to a revenge attack after a cattle raid in Lulu in which one person in the neighbouring community was killed:
"If they were to follow the legal procedure I think they wouldn't have killed that person just because of one cow," he said. "The government would have apprehended him and put him in prison and the problem would have been resolved amicably. That is why I am in the prison here now, because I failed to follow the legal way of demanding my right, rather than commit a revenge attack."
Deng later told us he thinks the programme has influenced how he handles conflict, "I have totally changed from the way I used to do my thing in the past, after listening to Life in Lulu. Now if I have a problem then I will sit with people and negotiate until we reach a peaceful resolution."
--
The prisoner's testimony was gathered as part of a research study and all names have been changed.
Life in Lulu is currently starting its fifth season. The programme is broadcast nationwide in South Sudan in three different languages, Juba Arabic, Dinka and Nuer. The programme is funded by the Norwegian Embassy in South Sudan.