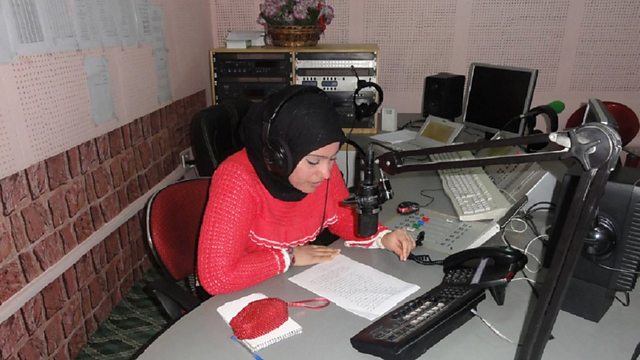 BBC Media Action set up Iraqi radio station Al Mirbad seven years ago.
Last month, Radio Al Mirbad celebrated its seventh anniversary: quite an achievement for an independent radio station in Iraq. Founded in 2005 in Basra, Al Mirbad has seen its audience through their first post-Saddam elections, days of militia control, political assassinations and sectarian violence. It has forged a strong bond with the local community.
Al Mirbad was set up by BBC Media Action as a television and radio station, but threats to staff at the height of the sectarian strife in 2007 forced television production off air. The radio programming has gone on, and has gone from strength to strength. With funding from the US State Department and the support of BBC Media Action, Al Mirbad is now expanding. Just before its anniversary, three new transmitters were installed which brought all major urban areas in southern Iraq, populated by almost ten million people, within its reach.
This expansion allows the station to reach areas that have, up until now, only had access to either state-run or highly partisan radio programming. Al Mirbad's reputation for holding officials to account through its reporting has preceded it. At a meeting of the provincial council in Kut in eastern Iraq (newly covered by Al Mirbad), a reporter told officials to "be prepared for the storm coming your way". Tackling Iraq's culture of impunity for officials and allowing citizens to voice their opinions and concerns is a key focus for Al Mirbad and one that we hope will bring positive changes to the lives of people in its new coverage areas.
With the same State Department funding, in May Al Mirbad also launched its new web platform on almirbad.com.The website now offers Al Mirbad the chance to reach an even wider audience, allowing readers across Iraq and the world to access its reports and programming. It also offers them the chance to interact further with the station, be it through Facebook, online forums or online polls.
Some may question the benefit of creating a news website in Iraq, where internet penetration lags far behind most of its neighbours in the region. Accurate statistics are difficult to come by but estimates of penetration range from 10-15%. But this is beginning to change. The speed and affordability of the internet in Iraq are improving and it is becoming more and more prominent in daily life. Interestingly, the only way for Iraqis to apply for a driving license is now online.
As on the airwaves, online news is too often plagued by poor editorial standards and partisan agendas in Iraq. There is a significant gap, especially in the south, for a news website that offers fair and balanced analysis: a gap that we believe the Al Mirbad news site will help to fill and serve to raise the standard of online journalism in the area by becoming the go-to site for news in Iraq's south.
The website that BBC Media Action has developed with Al Mirbad is specifically tailored to its southern audience, using a more everyday vernacular for its headings than its competitors, and this appears to have gone down well with visitors to the site. Users can also select news from their individual provinces and stream Al Mirbad's programming. It was important for the project team to ensure that the website would be well-integrated with social media, through the use of plugins (to place comments on the site) and a simultaneous presence on Facebook, Twitter and YouTube. Again, social networking sites such as Facebook have a lesser penetration rate in Iraq than neighbouring countries, but their usage is rising sharply. Facebook now has just under 1.8 million users in the country, but nearly half a million of these signed up in the last six months. Al Mirbad hopes to stay ahead of the curve.
It is too soon to fully assess the effectiveness of the new site, but the early signs are encouraging. On its seventh anniversary, Al Mirbad continues to head in the right direction. In an uncertain political environment where the freedom of the press is under increasing threat from government interference, Al Mirbad's work is as vital as ever.
Related links
Elsewhere on BBC Media Action: Supporting media in southern Iraq: Radio Al Mirbad