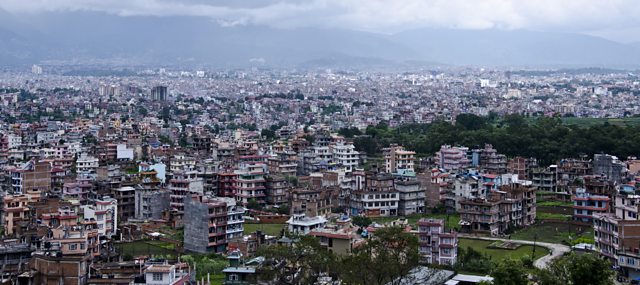 Kathmandu: Nepal's capital lies in a highly earthquake-prone region.
"Papa! What colour is an earthquake? Is it black or white?" That was what my four-year-old daughter asked me one day a few months after the September 2011 earthquake in Nepal.
It was the first time she had experienced an earthquake and she'd grown hugely curious about them. And while her simple question sounds easy enough to answer, I realised she was, in her own four-year-old way, on to something.
The 1934 earthquake in Nepal, for example, was black. Over 8000 people were killed, over 80,000 houses destroyed and more than 126,000 damaged. The 8.4 magnitude earthquake changed the face of the capital Kathmandu and several other towns and villages in Nepal. It left almost everyone in Kathmandu bereaved.
In more fortunate times, such a dark and deadly impact is avoided. Sometimes it's through sheer luck and down to the strength, location and timing of a quake.
But it can also be lessened through robust preparation and efficient communication after an earthquake hits. A quake's potential 'black' impact can be mitigated – or in my daughter's eyes, lightened to a whiter shade – if people are given the information they need to better understand what they can do.
Answers to basic questions - such as what happened, where and when is food aid coming, how can I protect myself, how can I search for my family, which roads are still in use? - can help reduce suffering and save lives. A communications blackout – common in the early stages of disasters - can leave individuals and communities feeling even more isolated, confused and helpless.
The National Society for Earthquake Technology in Nepal (NSET) has estimated that if an 8.0 Richter scale earthquake occurred today in Kathmandu, up to 200,000 could be killed immediately, up to 700,000 would be injured and 1.5 million would become homeless.
A lot needs to be done to mitigate such a 'black' situation. This is why BBC Media Action in Nepal, together with the BBC Nepali Service, is working to help make sure that if a disaster hits, people will have answers to some of those critical questions.
But we can't do this alone - local broadcasters, relief providers, agencies working towards disaster-preparedness and others all have a role to play in getting the right information out, and the more joined-up we all are, the better the results will be.
This is why we are teaming up with organisations such as Association of Community Radio Broadcasters Nepal (ACORAB) and the Nepal Red Cross, in the hope that if we work together on some of the key issues, everyone will benefit.
Our planning starts with the obvious: how to keep broadcasting during such an emergency. We have, for example, reached an agreement with the network of fellow radio stations, Ujjyalo 90, that if BBC Nepali's station in Kathmandu is knocked out, BBC will be able transmit from its facilities - which are in a newly built earthquake-resistant building in Kathmandu.
We are also preparing for a worst-case scenario, where the entire communication infrastructure is brought down. In this case, broadcasting should still be able to continue in low capacity using a 'suitcase radio' – a mini, portable studio and transmitter which is currently being put together, and which NSET have agreed to store for us at their premises.
But having the equipment and facilities isn't enough - we must also make sure we have the skills and knowledge to use them wisely. As of January 2013, BBC Media Action will be training humanitarian staff and journalists on communicating with populations in a crisis so that we will all be in a stronger position to ensure communities have access to the information and communication channels they need in the event of a disaster. Technical staff will also be given the skills to set up a radio station quickly and launch text message communication. The aim is to have a pool of skilled, knowledgeable people to run lifeline programming in emergencies.
"When will the next earthquake come?" is another of my daughter's questions and one which I remain helpless to answer.
But at least I can tell her that when the next earthquake does come, we will be better prepared. There will be a ready-to-use infrastructure, a strategic communications plan and the trained and skilled people to carry it out. Hopefully that will make a 'black' earthquake a little more 'white'.
Related Links
BBC Media Action's work in Nepal
BBC Media Action policy briefing: Still left in the dark? How people in emergencies use communication to survive – and how humanitarian agencies can help (PDF – 3.56 MB)