Angolan radio drama Estrada da Vida ('Streets of Life') tackles violence against women and shows how ordinary people can have a say in local politics. Producer Eliette directs a team of 30 people including script writers, technicians, assistant producers and actors. She explains how the show blends information and entertainment to help people claim their rights.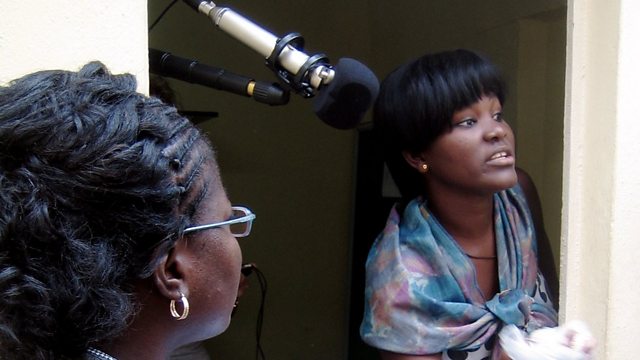 Angolan radio drama 'Streets of Life' is made in conjunction with BBC Media Action.
The programme is produced exclusively by members of the Forum of Women Journalists for Gender Equality. The forum is fighting violence against women and gender issues in the workplace.
Like BBC Media Action, the forum works with media to change opinions and promote discussions that reflect women's lives. I look after everything from researching the accuracy of storylines to deciding the dialogue in the scripts. So in a day I can work on logistics, administration, factual research, and technical jobs such as sound editing. Of all my tasks, I enjoy recording the show most because it brings the story to life. When we have the scripts we have the idea of what we are going to produce in our mind. But when we record it and I'm working with a technician I can hear the life of the drama. That's exciting.
Labour of love
It's like giving birth, when we are writing, it's as if we are pregnant with the story. Then when we do the recordings, we can hear the baby.
Angolans are coming from a period of war and economic problems. Our drama deals with gender issues and local governance. It's clear that people don't know about human rights and gender rights. Our main aim is to inform people about their rights. This kind of information could be provided in many ways but we think that mixing information and entertainment is more effective.
"People crave information. We try to do to give this without being boring. There are a lot of news programmes in Angola. They are ineffective because the language is often too complex. People do like to listen to news but sometimes they don't understand it properly. The drama tries to speak in a clear language.
"That's the difference between giving information through a drama and through a regular news programme. People remember what they listen to because they relate to what the character has said.
Drama queens
I'm Angolan, I'm a woman and I'm young: 26-years-old. So I'm one of the target audience.
As a woman I face problems with gender in the workplace. This can be sexual harassment or when you know you deserve a job vacancy but it goes, without reason, to a male colleague.
"You find a lot of men in the workplace and just a few women. That's because they think that you are going to get pregnant and have a lot of salary issues, or that this may block your creativity and your professionalism.
I feel myself reflected in one of the characters. Her name is Edna. We are the same age and we have some of the same personal issues. Edna is a single woman in her twenties. She studies law at college. She's a common girl but she wants to go up the ladder both personally and professionally. But she comes from a poor neighbourhood. These shanty towns are referred to in Portugese as Musseques.
When you come from a Musseque, it's very hard to improve your situation without getting on the wrong side of the law. However, she has the ability to improve her social conditions and she does. Even though she comes from a humble background, she has a very strong personality. Edna is the kind of person who says 'maybe I was born on in a slum but I don't need to die in these conditions'. She's the one that tries hard to show success comes when you make an effort, when you have aims and you fight for that with character.
She's quite inspirational. You end up thinking 'I can achieve that too'. Her best friend is a victim of domestic violence. She tries to help her friend to fight against that and takes her to seek help at a charity.
Her father wants to change the political situation but he doesn't have the necessary legal knowledge. Edna helps as she is studying law at college. Together, they help people hounded by corrupt government officials.
She demonstrates that you don't need to be rich or famous to change something.
--------
The drama is funded by the Governance and Transparency Fund (GTF) of the UK government's Department for International Development and the European Union in Angola.