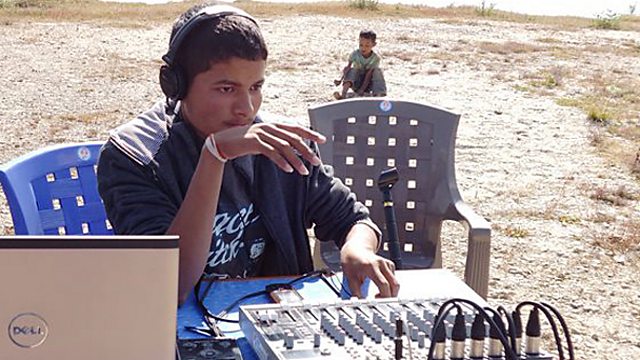 A member of the Radio Ramorashan team at the sound desk
Located in the remote hills of the far western region of Nepal, community station Radio Ramaroshan broadcasts 18 hours a day to an appreciative and growing audience.
But, like many other small FM stations in Nepal, Radio Ramaroshan is also in a daily fight for survival. Generating local revenue to cover basic expenses such as fuel, staff salaries and broadcast equipment is hard.
Since August 2012, BBC Media Action has been working in partnership with the station, providing editorial and production training with a particular focus on how to reflect local people's concerns through a live discussion show where the audience can demand action from their leaders and authorities.
The results – both for the station and its audience – have already been terrific.
As well as receiving initial face-to-face training which covered topics including research, presentation styles, programme promotion and audience recruitment, production crew from Radio Ramaroshan have shadowed BBC Media Action's national TV and radio debate show in Nepal, Sajha Sawal (Common Questions).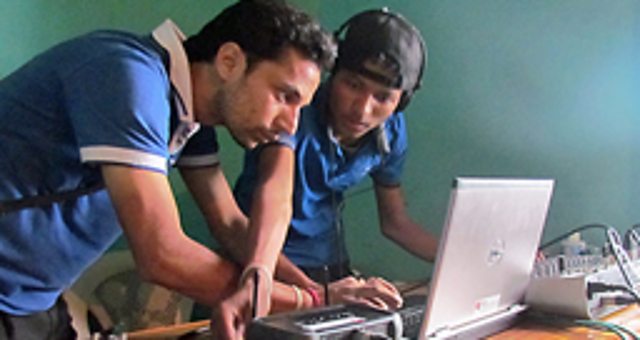 BBC Media Action teams then helped coach and mentor the production of two episodes of Sudoor Sawal (sudoor means 'far') and we've since been providing mentoring by email and telephone. We'll also train the management team on the importance of branding, marketing and sales.
Ved Prakash Timilsaina, the presenter of Sudoor Sawal – Radio Ramorashan's version of Sajha Sawal – told me the training gave him a whole new approach to his work: "The most important realisation was about the importance of knowing your audience and the importance of teamwork," he says.
Radio Ramorashan staff's appreciation for the training has been great to hear. The positive effect of the training and Sudoor Sawal on local people's lives has been even more cheering.
Sudoor Sawal, for example,has helped to reopen a padlocked Janata Multiple Campus in the district of Accham. The programme brought together the parties who had been in dispute and by putting pressure on them to end the conflict through dialogue, students were able to resume classes.
The programme has also successfully encouraged better hygiene by declaring the district of Accham an 'Open Defecation Free Zone' and a large meeting has already taken place to help provide solutions. Other issues raised by the audience have helped promote an increase in road construction and an improvement in the electricity supply in the area.
As well as shining the spotlight on the delivery of services in the area, the station is tackling attitudes towards customs such as chaupadi, the practice where women are not allowed to enter the house or touch water and milk during their menstruation period. By bringing attention to the harm that this can cause to women's health, education and protection, Sudoor Sawal has helped the area under the Janalwindali Village Development Committee (VDC) to be declared as a 'Chaupadi Free VDC' this year.
Unsurprisingly, the championing of such important local issues has resulted in a tremendous boost for the station itself.
SMS responses to the station have increased from 100 to 500 a day. "With quality programmes that are more community-centred and inclusive, Radio Ramaroshan has been able to attract a number of new adverts for its programmes," the station's managing director Binod Thapa says.
During the festival of Dashain earlier this year, local advertising raised Rs 500,000 which is a record in the radio station's history. With this increase in revenue, the station was able to hire more staff to operate the station more regularly.
With this sustainable model, Radio Ramaroshan, we hope, will continue to serve its audiences for years to come.
Related Links
From the BBC Media Action blog:
Accountability in action: Sudoor Sawal
Elsewhere on BBC Media Action:
BBC Media Action's work in Nepal