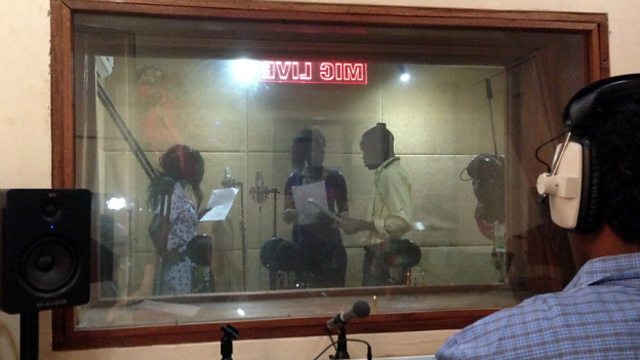 For International Day of Peace (21 September), our script writer in South Sudan blogs about her experience in Juba when the civil war first started and how a radio drama she's writing is helping address conflict in local communities.
After 20 months of conflict, president of South Sudan, Salva Kiir Myardit, and rebel leader, Dr Riek Machar Teny sat down last month (26 August 2015) to sign a peace deal.
For many of us here in South Sudan, we cautiously hope that this deal will signal an end to the fighting that has ravaged our country and bring back peace and hope to our young nation.
Unsafe overnight
As the conflict first broke out in December 2013, I was working in Juba as a BBC Media Action script writer. What was believed to have started as a fight between soldiers in army barracks soon developed into a fully-fledged conflict marked along ethnic and tribal lines. Juba became unsafe overnight.
As the days went on, markets closed, food and water became scarce and I saw neighbouring houses looted. While the situation in Juba has become less tense since then, the conflict has continued without reprieve across South Sudan– forcing almost 2.2 million people from their homes.
We responded to the crisis through Life in Lulu, a 15-minute radio drama set in a fictional village. Normally focused on health, the drama was adapted to show listeners how everyday conflict – such as domestic violence, disagreements over the use of plots of land for crops, and care for communal areas – can be prevented, contained or resolved.
For many of us here in South Sudan talking about conflict is difficult. The use of drama helps us deal with these sensitive topics. As one research participant, living in a UN camp, reflected, "The drama directly relates to what I'm going through. When I'm outside playing dominoes with my friends, they tend to call me an IDP (internally displaced person) which I don't like because sometimes I end up fighting them. I wish we could all accept one another even if we don't belong to the same tribe or community."
When writing for Life in Lulu, I reflect on these insights and weave them into the storylines.
Different perspectives
One recent storyline focuses on the stealing of farm land by internally displaced persons in a host community. The resulting conflict sees the host community trying to evict the displaced persons from Lulu.
In the drama, we show perspectives from all sides and explore the compromises everyone has to make to keep living together peacefully.
Exploring non-violent ways to resolve conflict through drama has resonated with our audiences, who've sent in appreciative text messages. As a woman from Gudelle wrote in, "This drama is really important in South Sudan. It focuses on real issues in the community."
Spurred on by this positive feedback, we're now writing the final batch of episodes for this season's Life in Lulu.
In light of the recent peace deal, we hope conflict will soon end for the country. On a more local level, we also hope the dramatisation of conflict in Life in Lulu will help people create peace in their own lives and in their communities.
Related links:
Find out more about Life in Lulu
Follow us on Twitter and Facebook
Go back to the BBC Media Action website