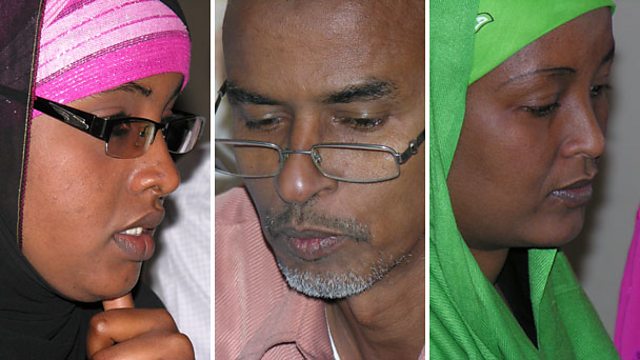 The Dareemo writing team: Rahma Mohamed Said, Farah Omar Nur and Sahra Mohammed Abdillahi.
Every three months or so, I fly to Somalia to run story-lining sessions with the BBC Media Action writing team in Hargeisa, Rahma, Farah and Sahra. The team are producing Dareemo, a radio soap opera aiming to reduce illness and deaths among mothers and babies. In these sessions, essentially, we sit around making up stories.
Dramas are never like real life, but we do want to echo the realities of listeners' lives. I've described in an earlier blog how we use social research to shape the drama, but there is another valuable source of stories: the real experience of the writers.
Fleeing violence
A huge proportion of Somalis have been displaced by fighting at some time in their lives. That's one reason why Dareemo is set in a displacement camp. Two of the three writers have been displaced, and, during my last visit, we all spent a good part of one day listening to one of these two, Sahra.
Sahra described her experience in a displacement camp after she and her family had fled the fighting in Mogadishu, Somalia's capital. There was no privacy in the camp, but it was in a heavily wooded area. She described how a woman could only get privacy for showering by going behind a large tree. But, she said, in all probability, a man, perhaps a complete stranger, would come to the other side of the tree, and ask her to pass the soap, so he could shower there, too.
Community action
At the time, we were trying to work out a storyline for one of the main characters, Ali. Ali's story is aimed at encouraging listeners to build and use latrines, and to show them how it can be done. Especially in the Somali countryside, the lack of toilets is a big threat to everyone's health. It can spread fatal diseases, like diarrhoea or cholera.
Ali's story is that he is to change from sitting back and waiting for someone else to take action, to leading the community to build earth latrines. I'd asked the writing team for any examples of community action they'd experienced or just heard about. Sahra did much better than that.
Her story of the lack of privacy was a lead in to the story of a lack of latrines. This was an unofficial camp, and there were no latrines. Then, there was a cholera outbreak, and many died. The camp's occupants came together and, without any money at all, they built latrines. They used flattened metal drums for the floors, branches and plastic sheeting for the walls, and sewn-together food sacks for the 'doors.' In the end, every household in the camp had one.
A culture of co-operation
I asked how this had all been organised, and Sahra couldn't really explain. The head writer, Farah, explained that, traditionally, Somalis have a strong culture of co-operation.
But, there it was, a ready-made storyline.
Related links:
John Tuckey's previous blogs:
From BBC Media Action:
BBC Media Action's work in Somalia