As the world marks Universal Children's Day, Julie Boutros describes how we're helping children in Syria survive and cope with the conflict. By supporting media based in the country to make tailored 'lifeline' content – animations, radio dramas, discussion programmes and a documentary – we're tackling issues around child rights, development and survival.
Children in Syria have paid the heaviest price in a conflict that has affected their daily lives for more than six years. Going to school, playing outdoors, or enjoying a healthy and safe life has become difficult for many children living in areas affected by conflict.
The media has an important role to play in reaching children - and their parents – and helping them to survive, cope and recover.
So we set a new challenge for local independent journalists and producers still working inside Syria to come up with innovative ideas for Lifeline content to help improve the well-being of children in their communities.
We received 97 applications for 6 opportunities and here is some of the content produced by those we mentored.
Animations to help children with PTSD

During war, children are exposed to violent acts: they may witness killing, have lost a family member or experienced a very difficult journey fleeing from one city to another. This may increase the chances of post-traumatic stress disorder (PTSD) developing.
Radio Rosana – an independent media outlet in Syria – wanted to help parents identify the warning signs of PTSD among children, what to do and how they could support their children at home. We mentored them to create a series of four animations.
Mais Katt from Radio Rosana, said: "We did a lot of research on the subject matter and I had to re-write the script on several occasions. I consulted with psychosocial experts and worked with a great team at the BBC who advised on the creative, dramatic and technical part of the production, as well as editorially."
Danger of walking into a minefield
Explosive weapons have dramatically affected the lives of more than 5 million Syrians, of which 2.2 million are children who are directly exposed to its dangers. This affects their daily lives – exposing them to risks while simply walking to school, or playing outdoors in places where there has been intensive fighting.

We supported an independent producer make a cartoon to help children identify explosive devices – including devices disguised as toys that tempt children to pick them up.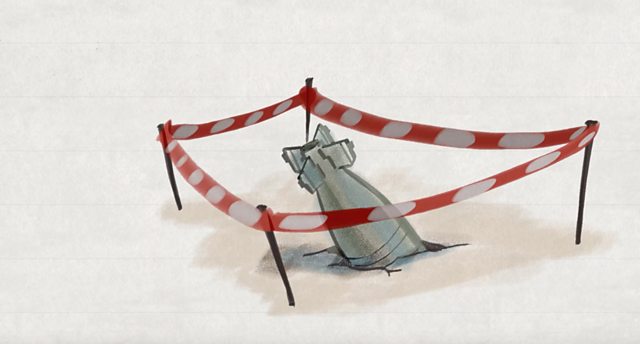 We also coached a radio station that created a series of discussion programmes. One episode on explosive remnants of war (ERW) featured experts talking about how to identify explosive remains and what listeners should do if they find one.
Livelihoods destroyed
"The war has destroyed families' livelihoods meaning it is common for children to drop out of school to earn money" says Nisrine Alaa Deen – an independent Syrian producer - who was also mentored to produce her first documentary on this subject.
"I found Ahmad after months of researching a story for my documentary on child labour. He is one of the lucky children who didn't endure family separation", she says.
But he and his brother lost two years of their education after their parents lost their business and all of their savings and ended up working with their father selling street food to earn a living.
Nisrine captured the realities of child labour on film but took a solutions-focused approach. The documentary captured how Ahmad's mother enrolled him on a new curriculum for children who have missed years of schools. Ahmad's mother was very cooperative because she wanted other parents to see that it is still possible for children to catch up on the years they have missed.
Mothers' meeting – a radio drama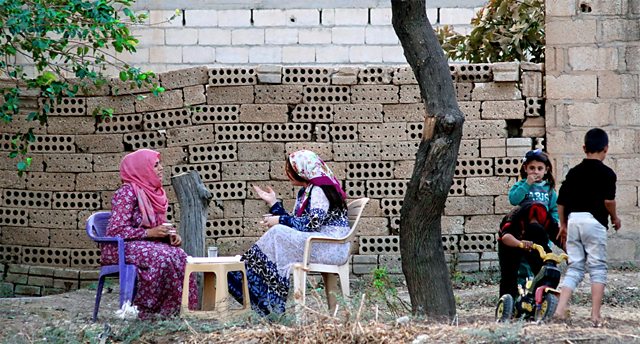 Radio station Arta FM in North-East Syria wanted to make a radio drama targeted at mothers and pregnant women in Jazeera but they had no experience of how to make one, so we connected them with the producer from Hay el Matar – a BBC Media Action radio drama for Syrians living inside and outside of the country.
The Arta FM producers also spoke to local women about their experiences and maternal health experts to shape the drama.
The result? Characters Layla and Salma – two women who meet every week for coffee to discuss, and debunk, the myths and common misconceptions held by women about pregnancy.
"Talking about contraception, abortion, pregnancy, periods and so on in conservative or rural communities can be tricky. But the women we encountered wanted to know about their children's health; to know how they could help themselves in the difficult circumstances that Syria is going through today." says Shiar Youssef from Arta FM.
For children at all ages
Life remains incredibly difficult for children across Syria but it is so important that these producers get the help they need to improve their programming for children and parents. This helps reduce the mental and physical risks faced whether as a newborn baby or a child missing out on school. Our partners use their own language: they know best what is happening in their community and how to speak to their audience to make an impact.
--
About Julie:
I've been working to support the humanitarian response for Syria over several years. Initially I was producing films for refugee centres in Lebanon and Jordan – helping to give Syrian families safe and accurate information after they'd fled their homes. We then produced radio drama – Hay el Matar – helping Syrians living inside and outside of the country to cope.
This online mentoring programme called Community voices: child rights, development and survival is a BBC Media Action and UNICEF project.