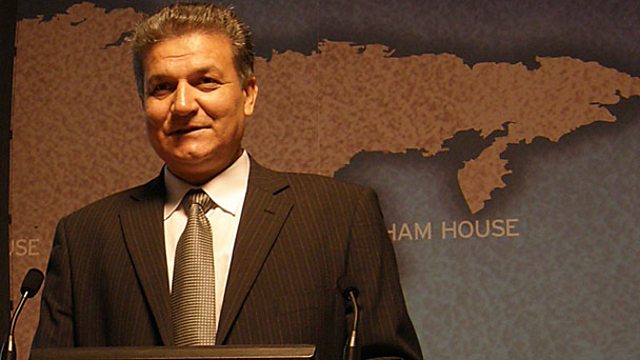 BBC Media Action Country Director for Aghanistan Shirazuddin Siddiq presented The Media Of Afghanistan: The Challenges Of Transition at Chatham House
Just under a week from now, Tokyo will host the International Co-operation Conference on Afghanistan. This is the latest in a series of conferences designed to ensure a successful transition to full Afghan responsibility for national security and the military disengagement of international forces by the end of 2014. It focuses on future donor funding for development and commitments by the Afghan government to spend it transparently. High on the agenda for the Afghan government at this conference will be continued donor support for health, agriculture and education, and to ensure more aid is channelled through the government. For their part, international donors will focus on reducing corruption and improving accountability.
The issue of support to media in the country seems unlikely to feature as a significant issue. But there are good reasons why it should.
This morning, BBC Media Action held the latest of a series of briefings and events – at
Chatham House
in London – to discuss the issues raised in our report,
The Media Of Afghanistan: The Challenges Of Transition
. The report is written by BBC Media Action Country Director, Shirazuddin Siddiqi and David Page. It argues that, from nothing in 2001, the country has developed an impressively vibrant, successful and innovative media which plays a key role in the political and cultural life of a still fragile nation. It concludes that the legacy of that support could be wasted if there is not a clearer strategy to support media in the future. Despite this danger, remarkably little attention is currently being paid to this issue by the international community.
The quality and trustworthiness of the information that Afghans have access to - and the character of the platforms they have to discuss and debate their own future - are likely to be critical to the political future of the country and the accountability of its government. Much of the current media landscape is financially dependent either on advertising or on donor support. Advertising  income – estimated at up to around $30m per year – is nothing like enough to sustain the media that currently exists. If international donors decrease their support, as they seem to be doing, two things seem likely to happen.
First, the media that has been created over the last decade will shrink, consolidate or disappear.
Second, those who can afford to subsidise media to further their own interests will have increasing opportunity to do so.
This is happening through what has been dubbed "warlord media", where powerful political figures co-opt media to advance their own factional (ethnic, political or religious) agendas. Iran and Pakistan are increasingly cited as financial sponsors of media in the country. Such co-option is likely to be concentrated on rural areas, which are of least interest to advertisers, but of greater interest to those seeking influences through proxies.
This morning's Chatham House meeting followed a launch of the briefing in Kabul in early May and a series of other meetings and events in Afghanistan, the US and Sweden with ministers, heads of media and civil society organisations in Afghanistan, with ambassadors, senior representatives of the UN, the International Security Assistance Force (ISAF) and others.
While there are clearly some different perspectives held by different people, and this should not be taken to represent the views of anyone we spoke to, some conclusions can be drawn.
There appears to be an unusually broad consensus on the importance of the Afghan media sector and the need to secure its future. The importance of Afghans across the country having access to trusted information from sources that reflect their issues and concerns and which offer them credible, independent, Afghan-owned platforms for dialogue and debate capable of uniting - rather than dividing - society was widely acknowledged as a critical ingredient of a successful transition.
There is widespread concern among those to whom we have spoken about the future strength and independence  of the media in Afghanistan, and a fear that the legacy of the largely successful investment made in the media sector over recent years may indeed be wasted.
There are more specific concerns that if the international community does not help safeguard the gains that have been made, the media may come to be dominated by political, sectarian or regional interests and that it will lose its current effectiveness and future potential as the country's fourth estate. This is particularly important at a time when the prospect of transition is raising growing concerns about the growth of corruption and the future protection of human rights and women's rights.
There are special challenges to support to the media sector. In sectors such as agriculture, health and education, more effective coordination could, as requested by the Afghan government, be achieved by channeling funds through the government in the form of budget support. Such channels are not appropriate to support to the media if the media is to maintain its political independence. One cautious suggestion made in the report, of the establishment of an independent Afghan media trust fund, was widely (although not universally) welcomed.
There is widespread frustration that there does not seem to be a clear locus for strategic analysis, discussion and action on this issue and concern that little progress will be made unless some focal point is created capable of bringing together interested actors into a single strategic conversation. The availability of funding to support the media  is important but ultimately secondary to the importance of having a clear long-term strategy.  
The fear remains that the legacy of the largest – and in some ways one of the most successful – investments in the media by the international community in any country at any time is at risk, and that this risk is exacerbated as much by a lack of strategy and coordination as by a lack of money.

Our role, as an organization linked to the BBC (although operationally independent of it), is to inform this debate rather than try to determine its outcome. But there does seem to be a need, and a widely held desire, for a process to be clearly established that can inject strategic urgency and clarity into this issue.

It may not be on the Tokyo agenda. But the stakes for the Afghan media, for Afghan society and for the international community are getting higher each day.