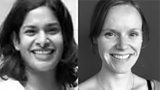 Kavita Abraham Dowsing and Leonie Hoijtink
Director, Research and Learning and Quantitative Research Officer, BBC Media Action, Kavita leads a team of 100 researchers working across 28 countries. With experience in psychosocial resilience and post-disaster care, Leonie supports the R&L team with technical advice and analysis.
Blog post in total 1
Posts
The initial findings of a potentially ground-breaking randomised control trial are exciting. But our researchers at BBC Media Action would like to know more.